Archive December 2016
- - - - N e w s S n i p p e t s December 2016- - - -
Solidarity from expatriates and Kalamata Dimos: The Pan-Messinian Federation of America and Canada presented a cheque to the Mayor, for €6000 , which will be available to 32 city families, so that these families, selected by the Department of Welfare of the Municipality of Kalamata, can shop for items needed. The Municipality of Kalamata supports 3,500 people through the Social Solidarity Income program, which means € 200 per family plus €100 for each additional person per month. The Municipality also gave extra support for the holiday period and were able, amongst other things, to procure pork for 260 families (total number of supported people 751), with the help of individual donations. kalamata gr (29-12-16)
Dire state of Greek regional Health Centres: A recent survey exposes dire state of health centers The General Hospital and Health Center of Kalavryta has an on-call team of one qualified doctor and a trainee nurse. There is no orthopedic specialist or ambulance despite a ski center operating nearby. At the Zagora Health Center there is no orthopedic specialist, nor are there plans to provide one. The nearest orthopedic surgeon is in Volos.These are some examples of short-staffing at health centers in mountain regions based on a survey by the Panhellenic Federation of Employees at Public Hospitals (POEDIN). According to POEDIN, the coverage of permanent staff at the centers reaches only 35 %. Workers hold collections to buy necessities and keep the centers running. Typically, they lack supplies of gloves, cotton wool, oxygen masks, perfusion devices, stents, surgical thread, bandages, gauze, syringes, medicines, gasoline for vehicles and oil for heating. ekathimerini (25-12-16)
Final stretch of Kalamata ring road available from Dec 23rd :The final 3.5-kilometer stretch of the privately run ring road around Kalamata, will be made available to motorists Friday. ( Dec 23rd) The new highway will significantly decrease the travel time between Athens and Kalamata/Sparta, which currently stands at about two hours. The advanced infrastructure is also expected to improve road safety. The total toll charges for a car will be € 9.90 from Corinth to Kalamata and € 10 from Corinth to Sparta. Ekathimerini (23-12-16)
Gilbert Horobin died on December 12th: GILBERT HOROBIN (1914 - 2016 ) Gilbert Horobin was a playwright, poet, novelist and travel writer. Born in Glasgow, educated there and in London. He served in North Africa and Crete during the Second World War, and after the fall of Crete became a prisoner of war in Germany. He was a long time resident of Ag Nikolaos in Southern Greece where he lived among the olive trees. Books by Gilbert Horobin Amazon (16-12-16)
Road Safety training park is open again: The Road Safety Park of the Municipality of Kalamata, is located in West Beach. Municipal policeman Maria Georgouli a specialist in the subject, offers guidance for school students. Applicants for visits should contact the Municipal Police Director, George Petropoulos, tel. 27213 60750, 27213 60742. However concern was expressed that some schools with traffic education programs have been unable to offer experiential approach and practice, and the area has not been properly maintained tharros (13-12-16)
An apparent upsurge in computer malware: Typically, your computer becomes 'locked', and you are asked to pay(a ransom!) for it to be unlocked. Malicious software family "crypto-malware" can affect all versions of operating systems and is spread primarily through email, according to an announcement of Electronic Crime. In recent days the phenomenon is on the rise with many reports of incidents corporate networks infections. The malware infects a computer in two main ways, through infected e-mail messages containing malicious attachments and through bad or infected sites. tharros (13-12-16)
University of Athens' online course: Modern Greek for non Greek speakers : Online and distance learning at National and Kapodistrian University of Athens offers a new way of combining innovative learning and teaching techniques with interaction with your tutor and fellow students from around the world. "Modern Greek for non Greek speakers: basic level" is a Greek language learning program specifically addressed to non Greek speakers which is offered for free with the enrollment to the university's online cultural courses. greeknewsagenda (13-12-16)
Heavy fines for unregistered renting: The omnibus bill currently before Parliament, includes the abolition of the 1.5 % reduction on income tax withheld at source from salaries, a reduction in the exemption of medical expenditure, a change in the taxation of seafarers and a 155-million-euro reduction in the heating oil benefit from 2018. Salary workers, pensioners and farmers will have to make payments by credit/debit card or electronically in order to meet their tax-free threshold.The bill is also understood to include clauses on taxing the so-called "shadow hospitality" sector (including those who rent out apartments on Airbnb and other peer-to-peer home sharing sites), Airbnb-style rentals will start being taxed as of January. Owners will have to register the rentals they advertise with a special state agency or risk a fine of up to 50,000 euros. They will also have to pay a special tax of 5 % per night's stay, as well as income tax equal to that of long-term rentals, ranging from 15 to 45 %. Ekathimerini (12-12-16)
My rights as an EU citizen: This non-exhaustive list of free brochures and books gives a clearer idea of what the European Union does concretely for citizens and how it can help improve their daily lives: EU funding, scholarships, trainings and other projects. It also provides useful information on eligibility criteria and contact offices bookshop europa (11-12-16)
Reductions in tariffs of electricity from January 1st: Reductions in tariffs of PPC and other alternative electricity providers arising from January 1, 2017 to implement the decisions of the Energy Regulatory Authority that reduce the charges for network charges (transmission and distribution). The rates of reduction for residential customers are as 7% and uniformly applied by all suppliers of electricity (electricity and alternative), as this is the so-called monopoly charges. Smaller reductions are also made for certain categories of families with invoices and beneficiaries Social Household Tariff. Tharros (11-12-16)
The Scouts decorate the trees on Navarino Road, Kalamata : The children Scouts of Kalamata decorated the beach .road.. They met Friday night "to work", in Navarino Road, along with the president of the Port of Kalamata Fund who it is noted was a "veteran" scout. May this example of volunteering, always given by the scouts, be followed by other clubs and players ... tharros (11-12-16)
New Community Center in Kalamata and mobile unit for other municipalities : This community center, which will be available especially for fragile, economic and social, civic groups, such as homeless, destitute, disabled, Roma, immigrants, and functioning as a complementary structure of the Municipal Social Services. Beneficiaries will be the citizens who live in the "Community Centers intervention area" and the priority of individuals and families living in poverty and social exclusion and children experiencing exclusion situations. Also, the beneficiaries of the "Guaranteed Minimum Income" program. The mobile units of the Community Centre will have a specific monthly visits program and in cooperation with the municipalities will fully meet the needs of the regions. The Enlarged Community Centre together with the mobile unit is being financed initially for 3 years tharros (11-12-16)
"Movement" on the wall of kindness:
Yesterday one bread bag and one bag with oranges was placed on the 'Wall of Kindness'. Let's remember a little more often our fellow human beings in need, especially the difficult winter season and the holidays. tharros (11-12-16)
Harry Charalambopoulos dies: Harry was a reporter for theTharros newspaper, and frequently reported on matters in the Mani. He died on November 28th 2016, aged 52. He will be greatly missed Tharros (11-12-16)
The 'Hand of God tree' :
​An old tree of which part of the trunk is in the shape of a huge closed human hand has been discovered next to the monastery of Aghioi Theodoroi, to the west of Koroni. Marjory McGinn, a Scottish journalist and writer, inspired by the tree's location and the shape of the trunk has called it the "Hand of God Tree" agood read
Note: Marjory McGinn was in Mani a couple of years ago and wrote about her adventures in 'Things can only get Feta' (4-12-16)
Adorable Animals
Of course a cat's an adorable animal BUT......
'They' sit on your car
'They' shit under it .... more
A reason for population control
National Kalamata: The women's football team is back, and needs our support
There was a gap
left by the suspension of Kalamata '91, operating in the field of women's football, to which National Kalamata aspires. The group of young girls is growing and they train three times a week (Tuesday-Thursday 3-4 pm and Saturday 10:00 a.m.), and in the program there are friendly games, with boys academies.
Head coach is Dorita Mavroidi says " It's tough times, but we are trying to rebuild a new team. The region has a history in women's football with Kalamata '91 and other efforts. We have no help, and we need to find sponsors because of travel costs etc".
Tharros
Gaia help for the Large Family assoc
Gaia's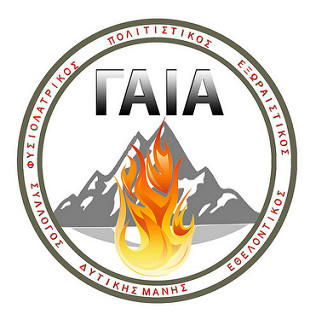 welfare store helps many local people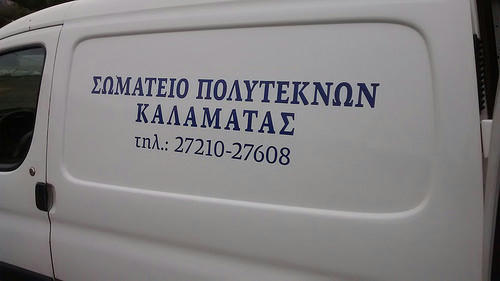 , and also provides additional supplies for other community groups in need. Recently, they made a big donation of basic supplies, to the Large Family Association in Kalamata.
You can help Gaia directly with cash, donations of things to use/sell, or by supporting fund raising events, secure in the knowledge that it will all be used to help needy people.
RECYCLE AT KATERINA'S SUPERMARKET

There are now bins outside Katerina's supermarket in Stoupa**, where you take some of your recycling on the way to do your shopping
There are separate bins for :-
PAPER/CARD
ALUMINIUM CANS
PLASTIC BOTTLES/BOXES
NB Please flatten items before putting them in the containers so they take up less space.
**They have their own compactor, so you can be sure your contribution will be recycled properly
Cost of flood damage to Messinian roads
€ 20 million needed to repair damage to provincial and rural roads in Messinia, caused by the floods of September 7th
Recently, the Technical Services Division of Regional Unity completed of the damage assessment and proposed interventions amounting to € 20 million, to overcome the problems, € 5 million of which, relates to rural roads.
In particular, according to the Directorate of Technical Works of the Regional Unit of Messinia, the request is for the following damage :-
a) The road pavement: debris - asphalt - pavement - undercut slopes backfill etc.
b) Broken concrete ditches and cross drains.
c) Bridges (undercuts foundation - raft, etc.). Even complete collapse of some bridges
d) Damaged horizontal and vertical signage.
e) The safety barriers (complete destruction after trapping sediment).
f) The lighting junctions of the national grid, which are out of service.
Some of the provincial roads damaged are: 3rd provincial Thouria - Aris - Touloupa Hani, 4th provincial Thouria - Poliani , 5th provincial Jump - Arfara, 7th provincial Messina - Diavolitsi - Epicurean Apollo, 8th provincial Messina - Aristomenis, 9th national Rizomylos - Pylos, 12th provincial Longa - Pylos, 15th provincial Filiatra - Fennel - Romanos, 19th provincial Kyparissia - Christiana 22nd provincial Lampaina - Trikorfo, 24th provincial Lampaina - Ancient Messina.
The Technical Committee Division of Regional Unity Messinia reported that by the end of the year the preliminary design techniques, final application studies and tender documents will be ready . Tharros
WARNING! Computer scams on the increase.
December 2016 : Malicious software family "crypto-malware" (see CYBER CRIME)
can affect all versions of operating systems and is spread primarily through email, according to an announcement of Electronic Crime. In recent days the phenomenon is on the rise with many reports of incidents corporate networks infections in Greece.
Internet users and particularly administrators of corporate networks are asked NOTto pay the money requested in order to discourage such illegal practices, and to avoid spreading phenomenon and should be very careful and take digital protection measures and security to prevent infection from malicious software. tharros
Always report suspicious emails relating to tax refunds:
Message from Claire:- Recently I received an email claiming to be from HMRC and saying I was due a tax refund. It was very convincing, and I was nearly caught out by it, as I know I am due a refund, but just to be safe, I did not open the link offered, and fwd to the HMRC. The next day I got a treply......
Thank you for letting us know about the suspicious email / text you have received. We can confirm that this is a scam, and was not issued by HMRC. Our specialist team will investigate and take the necessary action. Whilst we cannot inform you of the outcome of these investigations I can confirm that we do act on each submission we receive.
HMRC will never send notifications of a tax refund or ask you to disclose personal or payment information by email or text message.
If following receipt of a HMRC related e-mail / text scam you have disclosed: Personal information such as password/user ID; credit/debit card information or have reason to believe your computer has been exposed to a virus Please forward a report to us at: security.custcon\hmrc.gsi.gov
W Mani support for the Kalamata SOS Child & Family Support Centre
On December 12th, two car loads of supplies were taken to the SOS Centre in Kalamata. One was filled with supplies from the Gaia welfare store, and the other, with €350 worth of supplies, bought with the money raised by the Stitch 'n' Bitch in Mani group, through donations, and the sale of items made by the group.
On the advice of SOS, supplies included Nappies, Sugar, Cornflakes, Tinned tomatoes, Rice, Black eyed beans, Milk, and Tinned meat . The delvery was much appreciated by SOS, but is only a little of what they need to help the growning number of families that rely on them for both emotional and economic help.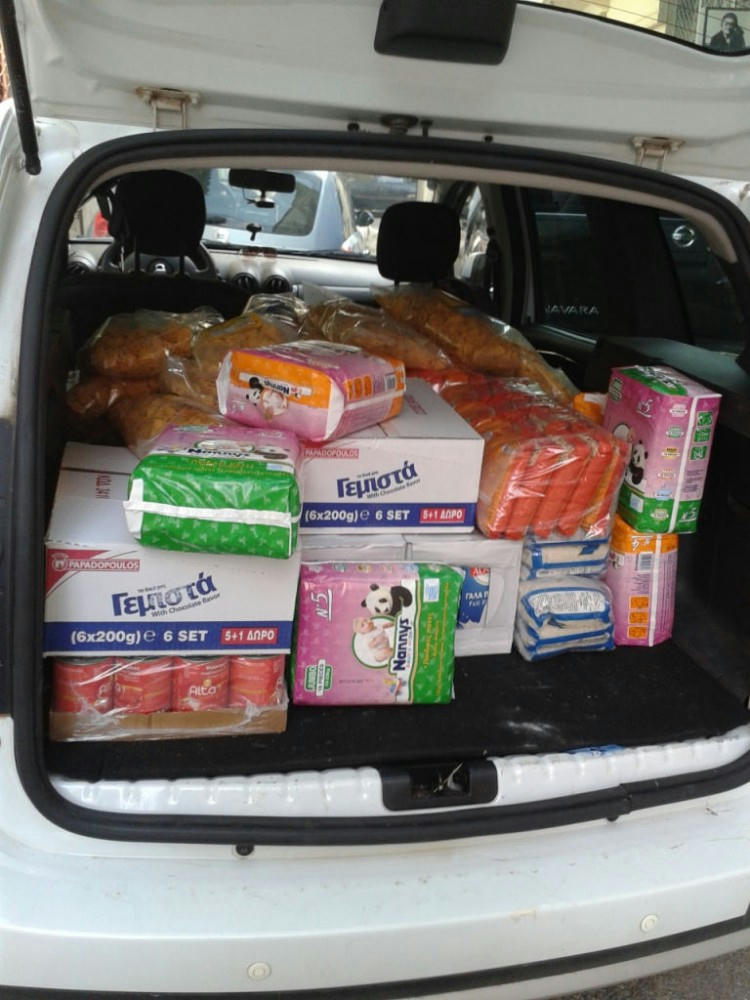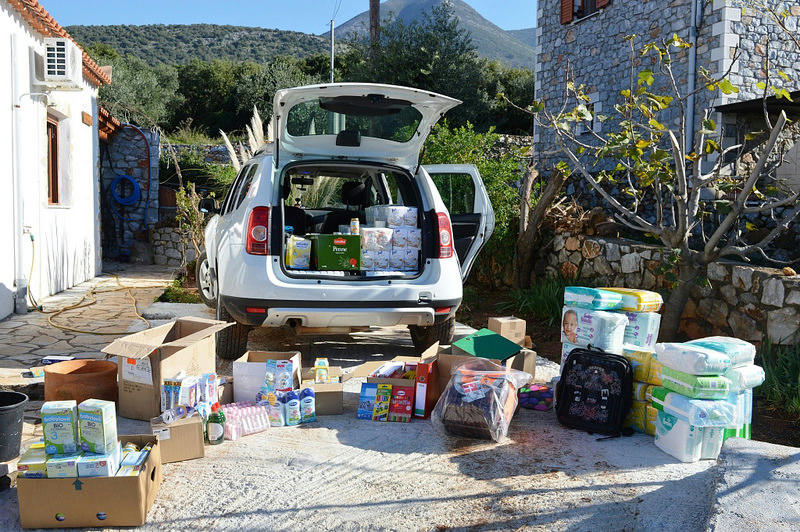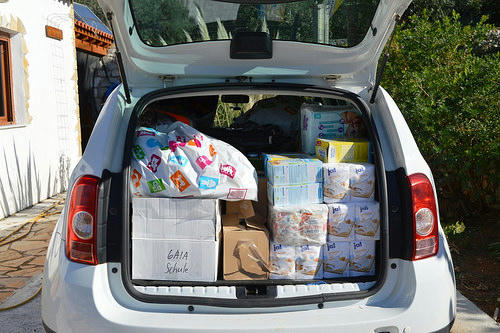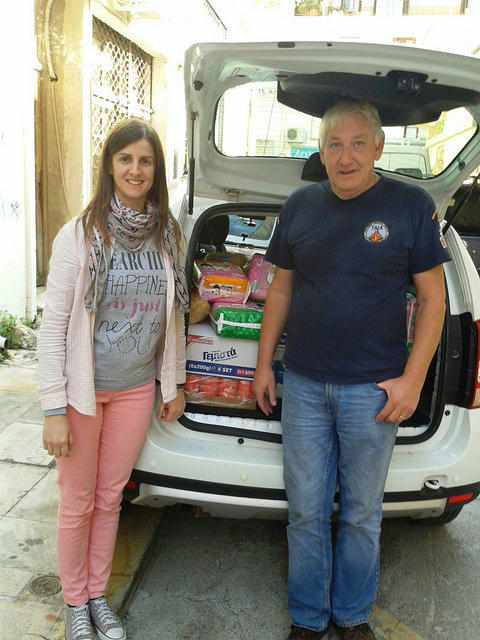 Two in every five Greek children live in poverty. There are around 1.9 million children under the age of 18 living in Greece. The lives of children have worsened: since 2008, and nowadays over 40 per cent of children live in poverty.The present conditions and general uncertainty about the future has led to increased tensions in families. Although at first, extended family networks were able to help each other, after years of struggling many have exhausted their resources. They are no longer able to meet the material and emotional needs of their children. Neglect of children, abuse and violence are often the result of long-term difficulties, and there is a need for increased support to avoid such outcomes
For more about SOS in Greece, see sos-villages.gr
Child and Family Support Center in Kalamata : SOS Children's Villages Greece, Captain Krobia 11: Tel .: 2721098660 Fax: 2721098939 :Email: soskalamata\sos-villages
Broadband reaches many rural villages
Internet in 3,700 remote villages from Thursday Dec 15th 2016
Access to broadband Internet services began on Thursday, December 15, 2016, for residents of rural, mountain, island and remote regions of Greece , which had the peculiar status of "digital exclusion". This is the project «Rural Broadband», created by the General Secretariat of Telecommunications and Post and implemented by Information Society SA, part financed by the NSRF, through which almost 3,700 settlements of the country, with more than 525,000 inhabitants, will be served.These areas will now connect to the Internet with speeds up to 50 Mbps, while enjoying all modern electronic services (e-commerce, telemedicine, tele-education, etc.) on an equal footing with other citizens of the country.
On the occasion of the completion of the project, the Minister for Digital Policy, Telecommunications and Information Nikos Pappas said: "The digital development and telecommunications can undoubtedly serve as the driving force to a much better future for Greece. As provided by the National Digital Strategy, the government in collaboration with the private sector and the use of Community funds, opens the door of the digital age equally, to all Greeks, regardless of their place of residence. It is a question of social justice. Ultimately, it is a matter of democracy. "
Specifically, the «Rural Broadband» has been developed in the following areas:
* In 804 settlements of 19 counties of Northern Greece (Grevena, Drama, Evros, Imathia, Thessaloniki, Ioannina, Kavala, Kastoria Kilkis, Kozani, Lesvos, Xanthi, Pella, Pieria, Rodopi, Serres, Florina Chalkidiki Chios)
* in 1411 settlements 15 prefectures of Central Greece (Etoloakarnania, Assam, Gujarat, Haryana, Thesprotia Mrs.
* in 1443 settlements 17 counties in Southern Greece (Argolida, Arkadia, Achaia Viotia Dodecanese , Zakynthos, Ilia, Heraklion, Cephalonia, Corinth, Laconia, Lasithi, Lefkada Messinia, Piraeus, Rethimno and Chania).
Information summary from PsM ► DECEMBER 2016 ◄
Editorial help wanted with PsM website : I am only looking for occasional help at the moment, but I would be particularly interested to hear from anyone who might eventually like to take over as editor of the website. There are various ways we could organize 'who does what', depending on the interests/availablity of whoever is helping (possibly more than one person - I have had a couple of people interested in knowing more). Please contact me initially, by email contact\parea-sti-mani Don't worry if you are new to the area, or know nothing about editing websites - I didn't when I took over, and the new website is easier to handle than the one I took over!
No need to keep 2016 receipts: Taxpayers can stop collecting the receipts for retail purchases and throw away all those they have collected to date, as they will not count toward this year's tax-free allowance. Salary workers, pensioners and farmers will enjoy a tax-free amount ranging between €1,900 and €2,100 euros, depending on their family situation, without needing any receipts.The new system for online transactions is expected to be fully operative in 2017 Ekathimerini
Support for Gaia :The appeal fund for a medical emergency rescue vehicle reached its target of €9000 at the end of October, just seven months after it was launched, thanks to generous support from the community. The new vehicle is already in regular use to support the struggling Ag Nikolaos Health Centre. Much needed donations are also coming for the repair fund, which currently stands at €1196.65. In addition to the on-going regular maintenance costs, Gaia incurred significant damage and losses during the severe storms in September. During October/November, Gaia were needed a number of times for road accidents and medical emergencies, and training continues. In late October volunteers put theory into practice during a simulated accident caused by an explosion in a factory. Local residents acted as 'casualties'.Gaia snippets Now the focus is on the Patriko Christmas Bazaar to raise money for Gaia, Apart from on going running costs(fuel, insurance, tyres etc ) they need more protective clothing for firefighters. Already plans are well under way, but more help would be very welcome.>
Ag Nikolaos Health Centre: In desperation, when 2 doctors left the already overstretched medical team in late October, the Director of the Health Centre said he would have to close the centre some afternoons and weekends, but he was officially informed, that he had to keep the centre open 24hours, and doctors would be forced to do extra shifts(unpaid!) until replacements could be arranged. This resulted in an unofficial protest and demonstration at the centre on October 21st,. by staff and concerned local people. The publicity this generated seems to have spurred the authorities into action. The Director has been assured that 2 new permanent doctors will be appointed, but this could take at least 4 months. In the meantime, the Mayor has been pressed to arrange temporary cover from either trainee doctors, about to complete training at Kalamata hospital or Army medics. Nov Archive
Greek Health Service in crisis: For the 6th consecutive year Greece has been unable to stem the flow of doctors leaving the country. Also cuts in funding mean shortages in hospital staff and supplies. There is growing concern that these shortages are affecting hospital cleanliness, which in turn, is resulting in high infection rates in public hospitals. snippets23/11
Earthquakes and storms : The serious earthquakes in Italy at the end of October had many people concerned that there could be a connection to the earthquake zone here in Greece, but experts reassured the community that "There is absolutely no connection". However, it was used as an opportunity to remind people that we must always be prepared for a major earthquake in Greece. EARTHQUAKE SURVIVAL There was also concern at the beginning of November, about the' cyclone with tropical storm characteristics' that headed across the Mediterranean. Luckily for Messinia, still suffering from the September storm damage, the path of the violent storm missed Messinia this time.
Tourism: Despite the refugee problems and Brexit, the number of people visiting Greece in 2106 showed a small increase compared to 2015, but visitors are spending less, so tourism revenue is down. ekathimerini. Both the number of passengers and the number of airlines using Kalamata airport are increasing and to cope with the increased volume of traffic, land has been bought near the airport to enable the much needed expansion of facilities for passengers. However, after two years hard work, Kalamata's dream of being chosen as European Capital of Culture, were dashed on November 10th, when the final selection was made, and Eleusis(Elefsina) was chosen. 'Kalamata 21' made the bid for Kalamata, and highlighted the many events /activities that are available for vistitors to the area. snippets12/11
Kaiafas Thermal springs - a new entry on our PLACES TO VISIT page, recommended by Christina-Maria. A place to relax in warm water and soak away aches and pains, in a beautiful location, about 2 hours drive from Stoupa. Recommended for autoimmune and rheumatic diseases, rheumatoid arthritis, hip and knee osteoarthritis, fibromyalgia, rheumatism, and skin diseases. The season officially runs from June to October, but is open until the end of November 2016. New outdoor pool planned for 2017. Accomodation can be booked at the Anilio Plaza Apartments/studios.
Waste management in W Mani: Rubbish bins are being emptied, but the problems of waste disposal are far from solved. The use of the temporary dump near Platsa, resulted in a member of the council being arrested and a fine of €15,000 being imposed on the W Mani Dimos. snippets4/11 But the Dimos still has nowhere legal to take our rubbish, so they have asked for another 6 months of emergency status. (so far it has been officially extended until February 24th 2017) And proper recycling is sporadic! According to Ioulia Exarhoulea who is responsible for waste disposal, blue bin recycling is not done regularly, because the Hellenic recycling Company has not given our Dimos a truck for recycling. This means we have to rely on a recycling truck coming from Kalmata - which does not always come, so a lot of recyclables end up in general waste** . Many local people are very concerned about the impact of the 'rubbish image' that W Mani has been created in the media, and the effect it can have on tourism, as well as on the environmental and health issues, and have been pressing the Dimos to promote recycling at source and composting. Dr Sophia, Stavroula Nikoloudi, and Voula Kyriakea, are collaborating with Gaia, Stoupa Business Assoc, and Stoupa accommodation Assoc.on plans for lectures, school visits and personal contacts to promote waste reduction. Meanwhile, in Stavropigio, building waste is now being processed at the first aggregates management unit in the region snippets 2/11
** PLEASE CONTINUE TO USE THE BLUE BELLS FOR GLASS AND BLUE BINS FOR PACKAGING, as some waste IS being recycled correctly.
Animal matters
• Kara the kitten found a home in Petalidi**
• Pups Fred, George, Sunny, Luna & Trixi have also found homes**
• But Megan needs a dedicated foster carer, after her operation MEGAN'S STORY
• Loving Mimi(Sunny & Luna's mum) still needs a home**
• Many more pups including Lefka, Leo & Sophia, are looking for homes**
New books with Messinian connections
'Behind the rustling dark' : Debut novel by Frigano resident André Verhagen MESSAGES 29/10
' Cartes Postales from Greece' by Victoria Hislop. Victoria was in Kalamata on November14th as part of her book tour promoting the Greek version ArchNov
'Dashing for the Post: The Letters of Patrick Leigh Fermor' edited by Adam Sisman snippets 12/11
New format adverts on the PsM : In order to make better use of the space for adverts, and enable them to be displayed more clearly on tablets and phones, we have changed the format of the adverts that appear at the bottom of each webpage. They are now 'stacked' in 3 columns, and the basic shape is more like a business card. The remaining 'banner' ads are from external advertizers, and are triggered by a user's search history.
What's new
• Gary Ward (A Taste of Home) is now offering a traditional Fish 'n Chips frozen ready meal MESSAGES
• Cribbage Socials are now a regular fortnightly event on Mondays LOCAL EVENTS
• Stoupa Art Club has its own website STOUPA ART CLUB
• Sophia Kostea, a Professional Dietician-Nutritionist will be in Neochori on Mondays to see clients
• A small estate of 6 new houses is being built in olive groves at the back of Pantazi
---