Archive April 2017
- - - - N e w s S n i p p e t s April - - - -
Dangerous fish caught near Kiparissia: A huge lagokefalos, about 70 cm and weighing around 3.5 kg is one of the largest ever caught in the Messinian Bay. The toxic fish is a scourge for anglers, and in recent years has been rapidly spreading in the Mediterranean Sea. Lagocephalus (Lagocephalus sceleratus ) is a fish that lives mainly in the Indian and Pacific Oceans, but since 2003 has been found in both the Mediterranean and the Aegean, migrating from the Red Sea through the Suez Canal . Consuming it, without removing certain parts that contain the poisonous toxin tetradotoxin , can cause respiratory disorders, circulatory insufficiency, muscle paralysis and even death.Tharros (29-4-17)
Peloponnese crime stats for 2016 show increase in burglaries, but reduction in serious crime. According to information released by the Greek Police, cases of thefts and burglaries in the Peloponnese, have increased compared to last year(2015) while there is a significant reduction in robberies and other "heavy" crime incidents. .There has been an increase in the detection rate. Nationwide, there is a decline in robberies associated with serious crimes, but an increase in robbery-related petty crime concerning small amounts, eg handbag grabs, mobile phones, supermarkets and kiosks thefts. There has been an increase in the detection rate, and the new Mobile Police Units are help to strengthen the police presence in remote areas, and to further develop friendly and human approach to citizens. tharros ( 29-4-17)
Seamen's strike on May 1st : the Panhellenic Seamen's Federation (PNO) has announced a 24 hour strike on 1 May and all passenger ferries across Greece will remain docked in ports from midnight on 30 April until midnight on 1 May; you should contact your ferry company or travel agent for advice gov gr (25-4-17)
Discounts on ΔΕΗ electricity bills: In times when prices are going up everywhere, all discounts are welcome. Since July 2016, it is possible to save 15% on your ΔΕΗ electricity bill - simply by paying on time. As described on the ΔΕΗ website (15% discount). This discount will be deducted from your next bill if you pay before the due date shown on the invoice. It is also possible to pay online, INCLUDING from your bank account in another EU country. The banking details for SEPA transfers are described on YOUR ELECTRICITY ACCOUNT page. (24-4-17)
Electricity bill shock: Soaring PPC accounts have been arriving in the last month, causing distress to consumers. Complaints are arriving from everywhere. eg A single-person household that used a single panel for heating all winter received a PPC account with the total amount payable of €500. A household of two people who usually pay € 180 at this time of year, received a €375 euro bill. However, the increases are mostly NOT because of increased consumption, but the adjustable charge of SGI (services of general interest) The SGI tariff methodology, approved by law in 2012, provides a tiered charge based on the quarterly consumption, and the rate goes up as consumption increases . For consumption up to 1,600 kilowatt hours in 4 months, the SGI costs € 0.00699/ kWh, but over 3,000 kilowatt hours the rate is up to € 0.04488/ kilowatt hour, and the pricing for all your consumption is calculated at the highest consumption rate you reach! Tharros (22-4-17)
Donation of 143 ambulances from the Stavros Niarchos Foundation : The Stavros Niarchos Foundation announced details of the new donation in the health sector to the National Center of Emergency (Ambulance), amounting to 14 million euros.. The donation is part of the Initiative Against Crisis and covers the supply of 143 ultra-modern ambulance vehicles and their full maintenance for eight years. However, the aim of SNF is to support and supplement the institutions to address important needs, and not their replenishment. The vehicles will be available in all regions of Greece, the islands of the Aegean and Ionian Sea, in order to meet the basic need for open access to secondary and tertiary care of all tharros (22-4-17)
Road improvements section Stoupa - Ag. Nikon, completion extension to the end of May :The project involves maintenance/improvement of the road from Kalamitsi to Ag. Nikon. It is particularly important, as it is the only road connecting Kalamata to Mani region and therefore receives traffic volume, especially in the summer months. The original completion deadline expired in March 2016 and was extended to March 2017. This project encountered problems relating to section Stoupa - Ag. Nikon namely from Kalamitsi to Nomitsi. They have only been interventions in the most dangerous positions. Kalogria : 90% of the project has been completed and the remaining construction of the widening of Kalogria road requires the movement of a PPC pole and fencing, the main reason for the delayed completion Tharros (22-4-17)
Burning prohibited in rural areas from May 1st
-The Governor of the Regional Fire Management issued the Peloponnese No. 1/2017 Fire provision, which concerns the calculation of the time limits for the use of fire in forests, grassland and farmland. Among other things, from May 1, 2017 to October 31 2017, burning on agricultural land is prohibited without authorization from the competent fire department and the necessary security measures. kalamata gr (20-4-17)
Two Greek microsatellites launched on April 18th: Two Greek construction microsatellites, the UPSat and DUTHSat, the first from the south and the second from northern Greece were launched along with 26 other similar microsatellites, from the Kennedy Space Center at Cape Canaveral in Florida. The Microsatellites (CubeSats -as is the common name) were transferred onto a rocket-carrier «Atlas V», destined for the International Space Station (ISS). Due to successive technical problems in the hydraulic rocket "Atlas" systems, the firing was postponed several times. The microsatellite UPSat, the first is open source and free software, developed by researchers from the Polytechnic School of the University of Patras. The "little brother" of UPSat, the DUTHSat, was built at the Polytechnic School of Democritus University of Thrace. These satellites, despite their small size, have a variety of sophisticated sensors and will be used for data collection and study of the upper layer of Earth's atmosphere. The 28 microsatellites will be launched one after another into space, in order to start their scientific work. Watch the launch of the rocket «Atlas V» with the Greek microsatellites on YouTube Orbital ATK's Cygnus Cargo Spacecraft Launches to the ISS - Tharros (19-4-17)
Alternative methods of using wind energy : Following concerns about the huge wind farm installations proposed for the Mani, WIND TURBINES IN MANI, and the reference to the wind turbines being 'old' technology, Helen Suddards has investigated some of the new, alternative ways of harnessing wind energy, that are more environmentally friendly. These are VORTEX , ENERGY KITES and WIND TREES for details see Wind power surges ahead (16-4-17)
New Primary Health Care Units for K'mata :
The universal coverage of health needs, equal access of citizens to services and financial protection of citizens, currently paying out of their pocket, are the key growth drivers of Primary Health planning by the Health Ministry. The new system will be launched in 62 regions, the development of 240 Local Health Units, covering 25% of the population. Local Units will be staffed with a total of 3,053 young doctors (general, internists, pediatricians) and nurses, social workers and health visitors. Offering holistic care, with emphasis on prevention and health education. The Kalamata Municipality will assist the Health Region to find space to operate clinics in Kalamata, as soon as possible. The new system annual operating costs are estimated at EUR 1.5 million for Kalamata, and the funding will come initially from EU funds. As the system gradually expands, national resources will be used , as the aim is for "the new Primary Health Care System is for it to constitute an integral part of the NHS. " Tharros Note: More about the new scheme in GreekNews Agenda (13-4-17)
Increasing International reputation of the Kalamata Archaeometry Laboratory : It was founded in 2009 by Professor Nikos Zacharias, as part of the department of History, Archeology and Cultural Management. The laboratory has a modern equipped laboratory at European level, and offers an English Language Masters course to students who previously went to the UK to study, and hosted the "World Congress of Archaeometry" in 2016, sponsored by the Karelia Foundation. The basic equipment of the Archaeometry Laboratory includes six stereo microscopes, a petrography-metallographic microscope, XRF device, material processing plants, and a scanning electron microscope which makes both magnifications up to 100,000 times while analyzing objects. Since its establishment, the Laboratory has teamed with universities and research groups from Italy, Germany, Oxford, Spain, America, Australia. Professor Nikos Zacharias is continuing to develop the facilities and reputation, with an Underwater Archeology Laboratory, and plans for three self-funded graduate programs for the department, within five years, making Kalamata a top destination providing higher quality education. Tharros (11-4-17)
Taygetos Challenge featured on Greek 'Skyrunners': This year, The Taygetos Challenge in Kardamyli was the first of a series of 7 'Skyrunners' races , organized by Salomon and sponsored by Cosmote TV. A video promoting Skyrunners, gives a good impression of the Kardamyli Event

(April 7) . Skyrunning Greece. For running enthusiasts the other 6 events are April 23 Parnassus Path, May 29 Ursa Trail Metsovo, June 24 Olympus Marathion, July 22 Zagori Mountain running, Sep17 Ypati Hercules Marathon and Oct 1 Alpamay pro trailrace Parnitha. For more about Skyrunning see skyrunner gr ( 9-4-17)
Free museum Days in Greece : Greece, being so rich in history and culture, not surprisingly has some of the best museums in the world! Below are dates and days with free admission to museums and archaelogical sites in Greece!
April 18 - International Day of Monuments, May 18 - International Museum Day, June 5 - World Environment Day
Additional Days : All Sundays from November 1 to March 31, Οfficial holidays, and the 1st Sunday of each month, except for the months of July, August and September XpatAthens ( 8-4-17)
The Forest Maps saga continues :
Because of the continuing problems associated with the new forest maps, a further extension has been made to the time during which objections can be submitted. The Forest Department Messinia wrote to the Municipality of Kalamata, saying that any objections to the forest map Messinia can be submitted until May 8 Monday. For residents abroad, the deadline is Monday May 29th.Tharros Nearly a year ago, in May 2016, controversial changes to forest maps were abandoned after a protest campaign Ekathimerini, but the isue did not go away. In January 2017 the issue hit the headlines, when new draft maps were published ArchiveJan, and protests have continued ever since. On March 3rd, About 1,000 Maniots, from Athens, Gytheio, Areopolis, Stoupa, Kardamili and Kambos held a protest rally in Athens ArchiveMar ,and this week there have been public meetings in Kambos and Kardamyli snippets (4/4) (8-4-17)
Cause of recent plane noise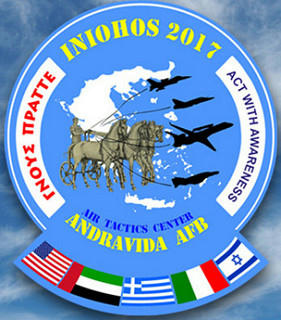 : Starting on March 27th, an 11 day international Air Force training exercise has created an unusual amount of plane noise in Mani. Pilots from Israel and the United Arab Emirates have been flying alongside one another as part of a Greek air force training exercise.
The United States and Italy are also taking part in the this year's ' Iniohos' exercise, the Hellenic Air Force announced on its website. The 11-day drill will consist of "complex air operations" and also include naval and ground forces haf gr (5-4-17)
Kalamata "Green Points" for garden waste to start from April 3rd: 6 "Green Points" have been set up in urban Kalamata , and land owners warned that if they do not clear their land, and those who disregard this, will be faced not only with a financial penalty specified by the municipality, but may also be sued by the Fire Dept. However, those unable to cleanse the land themselves can get help from the municipality. The "Green Points" for pruning gardens and fields, become operational in East Center, in West Center, the nursery of the municipality, in Nedonta, in Municipal Railway Park near the lake, in the Industrial Park, and the site of the new City Hall. The product from the crushing of the waste will be used by the municipality as a soil improver for the flower beds in public areas. The "Green Points" will be fenced with green shading net, so there is no visual pollution, and will have information signs for the world. Already 70 notices have been issued to land owners who need to clear their land, and thes include a number who live abroad. kalama journal (5-4-17)
New 'Common Quiet Hours' In Greece : The Greek Police have announced the seasonal common 'quiet hours,' with the summer season beginning April 1st. Summer Period (April 1st through September 30th): 15:00 - 17:30 & 23:00 - 07:00 Winter Period (October 1st through March 31st): 15:30 - 17:30 & 22:30 - 07:30 Offenders of this particular law, should be reported to the Police. The complainant, if they choose, can make a report in writing.. xpatathens (5-4-17)
More local protest meetings re Forest maps:The Mani Protest Committee is continuing its campaign "...to correct the injustice taking place against Mani property, on the forest maps." Everyone everywhere is being called to support Mani , and protest gatherings are planned for Wednesday, April 5, at 8.00 pm in the main square of Kambos, Avia and an open meeting Friday, April 7, at 8:00 pm, in the main square of Kardamili These events will be collecting signatures and fundraising to cover the costs of the appeal to the State Council, which has already been done, Mani will not bow its head in much difficult times - the struggle continues. Tharros
Click on image to enlarge >>> (4-4-17)
New competition for handling garbage in W Mani : For another year there is a risk of trash in the streets! The project budget is €248,000 and the submission of tenders began on March 29th, and will be closed on April 20th . Meanwhile at a recent Council Meeting it was decided to extend the declaration of a state of emergency for a period of 6 months more, for public health and environmental protection reasons, because of garbage. Last year the the first open competition for waste disposal in West Mani, was unsuccessful and ended in the state of emergency that has been in force for nearly a year already. tharros (3-4-17)
Patrick Leigh Fermor's house in Kalamitsi can still be visited until the end of April. Scheduled visits will take place every Thursday at 17:00 and every Saturday at 11:00, upon arrangement with the Benaki Museum. After that, preparation for the long awaited repair works will start. The architectural survey has been approved by the Board of Architecture of the Peripheral Unit of Kalamata and the required certificate from the Forest Inspection Service has been issued. However, changes in the procedures have occurred due to the recent completion of the Forest Mapping Program, which is now in effect for the region of Messinia, causing delays to the issuing of the final permit, - at the same time, the project tendering is being prepared. See UPDATES on The house of Patrick and Joan Leigh Fermor(Benaki Museum) (1-4-17)
ORESTEIA film shoot
Message from Peter & Linda:- Thank you to all who came to Pidima on April 12th, to take part in the Dance of the Poor People . Fifty odd people turned up at the shoot, which was exactly right; more would have made it a bit unwieldy. We should have finished the whole project within a few month, with luck. DANCE OF THE POOR PEOPLE There is still the music to do and another scene, hopefully at Ancient Messini.
Pantazi cats appeal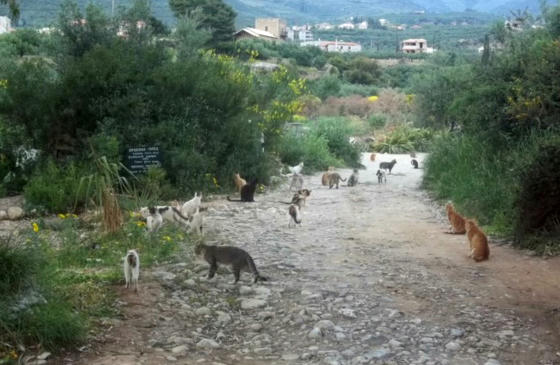 Chris Spybey and Sue Lilley have been feeding and caring for the cats of this colony, on their own since 2010. What began as 12 cats has now grown to around 40 following the September 2016 super storm and numerous people just dropping off cats and kittens.
Can you please help them either by dropping off unopened cans of food, on a regular basis (Chris and Sue are there AM and PM every day), or by making a money donation to MIAO specifying that it is earmarked for the Pantazi cats.
Note : you can make a donation to MIAO at Mani Money in Ag Nikolaos
Mobile phones now believed to be a threat to children
As part of the conference "Non-Ionizing Radiation Protection and Potential Impact of Health** ", organized under the auspices of KEDE Dr. Theodore Metsis, mechanical electrician, Environmental engineer, said, according to a report in the "Daily" that research institutions, academics and notable scientists warn that with the radiation levels recorded today, within the urban fabric, it is not safe to add new applications, The 5G technology and smart meters replacing analog electric meters etc, will increase the radiation affecting our daily lives.
"The health effects from the radiation from wireless technology, include increased risk for cancer, cellular stress, increase of harmful free radicals, genetic damage, structural and functional changes in the reproductive system, disorders of learning and memory functions. Also, direct impact in the form of headaches, lack of concentration, insomnia, memory disorders, reduced immune system, allergies, etc. are daily symptoms from staying close to the antenna, " said Loukas Margaritis, Professor of Radiobiology, Faculty of Biology, University of Athens.
"The State shall take the necessary measures to protect their citizens, following the example of other countries where the framework has become more stringent," said the president of ISA George Patoulis while adding that " every user of these devices should comply with the standards of protection, and limit exposure. "
Advice for safe use of wireless equipment: includes :-
- Use the phone sensibly and for short calls
- Children under 12 years - advisable not to use mobile phones
- Do not put the cell in contact with your head
- Do you use the phone in a car, train, airplane or lift
- Do you use the phone when there are small children or pregnant women around you
- When you use the phone, keep a distance from others - Do you put the phone in your pocket
- At night, close your mobile phone and disable Wi Fi
- Don't play games on mobile phone
- Avoid Wi Fi and make use of fixed - wired systems
- When the signal you receivel is bad, do not make calls
- If you have access to a fixed line, make use of this as a priority
- Disable Wi Fi options, Bluetooth, Data etc, when not in use
According to the speakers, numerous scientific studies and findings recommend reduction in overall radiation exposure and suggest, among other things, the following: To review the law and amend the exposure limits, based on the new biological data, following the example of other countries. Take steps to reduce children's exposure. Make use of wired networks in kindergartens, schools etc. Avoid placement of antennas near schools, day care centers, nursing homes, hospitals or other buildings where sensitive groups of people stay for a long time. tharros
**Note: According to a WHO report in October 2014 (updated Aug 2016) A large number of studies have been performed over the last two decades to assess whether mobile phones pose a potential health risk. To date, no adverse health effects have been established as being caused by mobile phone use. WHO Fact sheet
Afternoon clinics at Kalamata hospital
From May 1st the afternoon clinics in Kalamata Hospital will start, following a decision recently taken by the Governing Council of the institution. They will operate once a week, on Wednesdays, and the opening hours will be from 15:00 to 20:00.
Afternoon clinics will begin to operate with 11 doctors, 11 nurses and 5 administrative and other staff. An appointment for these clinics can be made via the phone number 14500.
- Sapountzis Apostle, Gastroenterologist
- Denaxas Constantine, Gastroenterologist
- Sorarouf Alessio-Ivan, Ophthalmologist
- Nanos Panagiotis , Ophthalmologist
- Konstantopoulou Kalliroi, Ophthalmologist
- Bristogiannis George Nephrologist
- Apostolopoulos Konstantinos, ENT
- Adamopoulos John Hematologist
- Oikonomou Konstantinos, Vascular specialist
- Christopoulos Konstantinos, Orthopedic
- Katsos Athanasios, Orthopedic
K'mata Events to mark the Stray Animal Day
In
recognition of the Stray animal Day on April 4, the Filozoikos Kalamata Group prepares events designed to raise awareness of the rights and protection of animals. In this context and in cooperation with the Youth Center, a small celebration will be held next Wednesday,
April 5: 8.00-10.00 pm, in Othonos Square, where the particularly demanding and valuable work of FOK will be presented. At the same time and in view of Easter, handmade candles are available in selected locations, and a Bazaar will be organized in order to strengthen the "piggy bank" for strays in Messinia, where the needs are enormous. Besides the hundreds of animals housed or cared for by volunteers, every day there are more cases ... countless puppies and often incidents of seriously injured or sick animals
April 7th: Children from the SOS Children's Villages visit temporary home for strays Of particular importance is the visit that will be made by children from SOS Children's Villages in the afternoon of 7 th April to the temporary place for strays in Messina. The Lilliputians visitors will have the opportunity to play with the puppies being cared for there, having just a need for play and interaction with people. Children will thus have an experiential contact with the animal, a symbol of love and devotion without self-interest, will tour the area with carers and will learn how to be the the ideal animal lovers themselves and future protectors of the rights of our four legged friends.
Painting Competition to highlight the Penny Marathon in the summer For the third summer Messinia will host the Penny Marathon in July, with races and cycling held simultaneously in several Greek cities and in Australia to inform and raise awareness about the issue of strays. A children's painting competition has been held to highlight the project. The best will grace this year's shirts for the event It is open to elementary school children who are invited to show off the event and its purpose.
More information from pennymarathon.com
tharros
'They Did it' in Ag Nikolaos on April 2nd!

On April 2nd at 10:30am we meet at the harbor car park! Let's clean Agios Nikolaos beach

Stavroula Nikoloudi
Zorbas the Greek - Local history or myth?
While Stephan Bartholomä (Zorbas Travel) was working on the documentation for a German radio station, he discovered some local history.
Myth destroyed:The simple wooden lodge, in which the author Kazantzakis, actually spent a lot of time, was not on the rocks to the right of Kalogria beach close to the 'Prinkipas' spring, but about in the center of the beach below the high cliff and got completely destroyed in an earthquake in 1926 by a huge boulder.

Myth confirmed: At the time, a widow did live with her children in the house 'Sourmelina'**. And most likely, this woman inspired Kazantzakis to create the figure of the beautiful widow in the novel!

Myth destroyed: Although Zorbas certainly was a womanizer, here in this area, he can not to be blamed for anything. He just went to Kalamata from time to time to 'go shopping'...
**'Sourmelina is now a holiday home - see Zorbas travel
Sourmelina
Information Summary from PsM
► APRIL◄ 2017
Will you have a working phone when there is a power cut? COSMOTE and other phone companies are phasing out traditional plug-in landlines, and replacing them with VOIP systems (Voice over IP) This means that even if you have a corded phone, it will NOT work if there is a power cut. If you wish to find out if your land line will work during a power cut, please ring Cosmote customer services 13888 (They have a very good service in English) For more general information see Will your landline telephone work during a power cut?
Stoupa Cultural Centre Action Group disbanded: Last year, The Stoupa Cultural Centre action group was formed to raise money for much needed repairs to the Centre. Unfortunately, despite the best efforts of the group to work with the Dimos, the responses they received '...were not positive'. The Mayor said the Centre would be fixed this year because it is the Nikos Kazantzakis 60th anniversary (author of Zorba the Greek). Because of this, the decision has been made to disband the Action Group. Apart from the money already spent on improving the outside lighting, money raised will be returned to the donors. Stoupa Cultural Centre
'A Taste of Home' deliveries : Following requests, Gary did a trial delivery to Petalidi on March 17th, but has decided it is not worth continuing at the moment. However, he has new customers from the area and will be meeting them in Kalamata or at the new Lidl's in Messini, in future. If he gets more customers interested, he will reconsider a regular Petalidi delivery.
Note: If you live 'over the other side', please spread the word. MESSAGES4/3
Air travel news: There is now a long-term car park at Kalamata airport Tips....other The number of destinations/flights from Kalamata continue to increase, with Begrade being the latest addition. snippets(4/3). Flights to Athens are increasing too, but Athens International Airport (Eleftherios Venizelos) was recently certified as carbon neutral - good news for the environment! snippets8/3 The hotel 'Pantheon' near Athens airport has lowered its prices!
AMAZON phishing scam : There are some very convincing Amazon phishing and other scam emails doing the rounds again, asking for confirmation of order etc ! AMAZON have published advice about what to do if you have the slightest suspicion about an email that claims to be from them - First, DO NOT FOLLOW ANY LINKS OR OPEN ANY ATTACHMENTS, Second fwd the email to stop-spoofing\amazon
For detailed advice from Amazon, including a video, see Help & Customer Service
Americans may need visas to visit Greece, as soon as May : The European Union Parliament wants to reinstate visas for Americans traveling into the 28-nation bloc, arguing that the U.S. still requires citizens of five E.U. member nations to apply for an entry visa. Lawmakers passed a non-binding resolution on Thursday (March 2nd) calling for the E.U. Commission to impose visas on U.S. citizens by May, ahead of the summer tourist season. Time com
GAIA news : An 86 year old woman went missing on the afternoon of March 7th, in the Exochori Area. Many volunteers from Gaia have been helping with the search for many days, plus villagers, but the old lady has not been found. The search continues, and the Police are asking anyone who may have seen her to contact LIFE LINE, 24 hours a day, on the National SOS Line 1065. PICTURE. Better news is that Gaia now have a 'new' Unimog fire truck ready for action Gaia Snippets and they have just received another big delivery of donations from Germany, which includes food, medicines ans school supplies for the Gaia welfare store.
Cremation in Greece a step closer: Unlike other countries, priests are public servants, like the military, the police, but the Church is still very much against cremation, even though it is legal in Greece. However, all the Greek-speaking Orthodox priests abroad offer the funeral service, knowing that then the deceased will be cremated. And now, Interior Minister Panos Skourletis, recently answering the question from SYRIZA MP Anna Vagena, announced legislation which will allow individuals to have cremation. The decision enables relatives, after the exhumation of the deceased, to incinerate the bones instead of paying every year, for the bones to be kept in ossuaries. Snippets(10/3) Note: for more information see Death & Dying in Greece
A cautionary tale about home improvements: In November last year, a local resident employed a reputable Home Maintenance company to install a central heating system, but 3 months later, in desperation, because the system was still not working properly, the home owner got another company in to sort out the problems. Unfortunately the Home Maintenance company would not accept any reponsibility for the delay, or the stress and extra expense that resulted, and offered no compensation. This unfortunate case raises a general issue, that if you have any work done, even reputable companies can sometimes 'get it wrong'. As a safeguard, if possible, retain some of the payment until you are sure the work has been completed satisfactorily, and equipment is working as it should!
Flora and fauna News
• Linda Cox in Meg Mantineia, is caring for 2 abandoned pups that need homes PUPS
• John Phipps is offering free advice about bees, wasps and hornets MESSAGES(4/3)
• Butterfly conservation project on Taygetos - helpers wanted in June BUTTERFLY PROJECT
• MIAO is still trying to rehome a black & white spaniel found in Riglia, just one of 12 dogs, MIAO is currenly trying to rehome
• MIAO has published emergency treatment advice for dog owners on how to deal with poisoning and snake bites ANIMAL WELFARE
• WARNING - Cats are getting their heads stuck in unsquashed food cans in garbage - PLEASE SQUASH CANS
•To cope with the excessive number of unwanted kittens MIAO is using temporary infertility injections, but it is NOT and easy/safe option!
• The Cyclamen of Greece - Κυκλάμινα της Ελλάδας Greek version available though Mani Money MESSAGES(7/3)
• New UN plan to ban all fish subsidies, to tackle depleted fish stocks SNIPPETS (10/3)
Petition to stop wind farms blighting the Mani : In November last year, Nikos Gondicas was urging residents not only of Mani but the wider region, to protest about the plans for the installation of dozens of wind turbines for electricity generation. The rush now, is because of the forthcoming revision of the subsidy scheme, resulting in a hurry to reap the maximum subsidy, and the companies that promote them have intensified their efforts to get the decisive approval to start projects.
Petition to stop water privatization in Greece: The Greek Parliament had to agree in transfering the large water companies EYDAP and EYATH to the newly founded superfund, controlled by the creditors, for privatization. Otherwise they would not be given the next credits.This aroused great outrage and resistance is growing. "The access to water is a human right. Water is a public property and not an object of trading." For more information and to sign the petition see Water is a human right
Maniots protest in Athens, about forest maps: About 1,000 Maniots, from Athens, Gytheio, Areopolis, Stoupa, Kardamili and Kambos held a protest rally, on March 3rd, in Syntagma Square in Athens, demanding the immediate withdrawal of forest maps. Holding banners with slogans such as "Immediate withdrawal forest maps" and flags with the cross writing "Victory or Death" Arch Archive Because there has been so much public outcry, the review period has been extended from 60 to 105 days snippets25/3
What else is new?
• Diagnostic Lab in Stoupa has closed, but a new one is due to open in July DIAGNOSTIC LAB
• To steki tou Michaeli is open in Tseria TO STEKI
• Leonardo Gelateria in Ag Nikolaos reopens on April 1st
• Friday Craft Bazaars(Fayres) at Pefko in Stoupa have restarted LOCAL EVENTS
• ART FARM is now open on Sundays for traditional food MESSINIA EVENTS
• Crack down on smoking includes e-cigarettes MarchArchive
• Maniots are different! results of a new DNA study snippets( 13/3)
• New 5 star hotel planned for Kardamyli snippets (23/3)
• Extension of the state of emergency in Messinia, until September 7th snippets(10/3)
• Money approved to repair to storm damage in W Mani MarchArchive
• Spectacles can be recycled with glass or plastic locally, or at Opticians in the UK Messages (20/3)
• The International Cloud Atlas is now available on-line Environment
---