Archive August 2017
Hello from Annamarie
Dear Readers
I am sorry we have not been able to avoid a break in service from the Parea sti Mani, but there were a number of last minute problems with the hand over of the website, just before Claire retired. I am gradually taking on the role of coordinating the editorial team, and hope to start regular posts from 1st September.
However, we have just published a new event which will help raise much needed funds for GAIA. Apart from money to register their rescue vehicle as an ambulance, they now need to replace the engines of two of their vehicles that were wrecked during their battle with the Vasiliki Forest fires in mid July. 9th-summer-musicAt 20:30 on Saturday August 19th, in Frigano, there will be a showing of the award winning film 'In the Nest of Time' **. Tickets are 5€, which includes a free drink. All proceeds will be donated to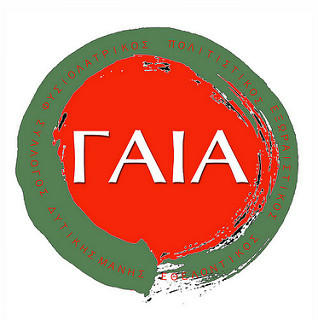 GAIA.
If you have any other ideas for raising funds, news/information that you think would be of interest to our readers, or issues you think we should investigate, please send details, including links and pictures if possible, to the new contact address for the Parea sti Mani contact\parea-sti-mani Also please let us know of any updates about events etc.
We look forward to hearing from you.
Annamarie Petsis
Coordinating Editor for the Parea sti Mani
PS As we are all very new to this, please be patient, but don't hesitate to tell us if we have got something wrong.
** ' IN THE NEST OF TIME'. A Documentary Film by Alexandros Papailiou and Charas Fragou.
The journey, the actions, the motives for the choice in their life, their small and great moments, while they, older by fifteen years now, answer the question what real life and true desire is. What is the benefit and what is their relationship with Poverty and Wealth respectively? How did they interpret and allocate their day-to-day time? What are the consequences of the time shelter that they have gradually built?
The viewer willl see all these taking place within the rich ecosystems of Greece and the local communities struggling to eventually redefine development and real life.
- - - NEWS SNIPPETS August - - -
Improvement works at some W Mani playgrounds: € 24,405 has been approved by the Mayor, for major improvements to the playgrounds in Kambos, Kardamyli and Exochori. These include cleaning, repairs, fencing, and new seating as well as playground equipment Tharros ( 30-8-17)
37 cases of West Nile virus in the Peloponnese : By August 23rd, 37 cases had been reported, up 8 on the previous week, but so far only in Argolida & neighbouring areas. The District of Peloponnese recommends vigilance, but not worry. The situation is being monitored daily, but it is noted that cases have been reported within a relatively limited geographical region. It is expected that further cases will be diagnosed in the coming period, especially in view of the awareness of health professionals, and cases of infection by the virus in other geographical area, cannot be ruled out, especially as some people with the virus can be symptom free. Although for most people, it is a mild infection, so far 3 elderly people have died. As the virus circulation areas in the current period can not be safely predicted, ΚΕΕΛΠΝΟ stresses the need for individual mosquito protection measures throughout the territory. Tharros (30-8-17) (See also below on 20/7)
NB: The most effective way to avoid West Nile virus disease is to prevent mosquito bites. Be aware of the West Nile virus activity in your area and take action to protect yourself and your family Prevention measures
Water supply problems in Karamyli: In mid August, it was reported in Tharros, that there had been serious problems with the water supply in Kardamyli for most of August. There was growing anger among residents and complaints to the municipality, as they suspected that the water supply was being restricted in some areas, to ensure tourist were not without water. However, the problems in the Mani area, with drinking water supply in the summer months are universal, because of the high demand. When interviewed, the Mayor Mr. Marambeas, stressed that there are NO "selective" water supplies. The problem is high demand which prevents tanks on higher ground from filling quickly enough. Kardamili takes water from Viros, and the source water has been reduced, so these problems have been created Tharros (25-8-17)
Warning to Property Sellers :The Greek government has just restored a document that was originally removed three years ago to the list of documents required for all property transactions. The federation of property owners (POMIDA) stressed an amendment publication in the Government Gazette states it is now obligatory again to attach a municipal certificate stating that the seller has paid his property tax (TAP) in full to all sale contracts. Worse, there is no grace period to gradually reinstate this document. Ekathimerini MP(4-8-17)
Information Summary from PsM ► AUGUST◄ 2017
PsM : Change of Editor and committee : From August 1st, the PsM website will be 'on holiday' for a while, but still public. Updating will continue as soon as possible, but when the new editorial team takes over, they will be very dependent on help from readers, for information, news, and ideas, so don't hesitate to let them know if you discover something new in the area, an event that is new /changed, problems that may affect the community etc. From August 1st, the new general contact email for the website will be contact\parea-sti-mani For more on ways you could help, see YOUR HELP From the beginning of August there will also be some changes to the Parea sti Mani committee - newcomers will include Nikos Thomeas(Greek Options), Annamarie Petsis Jones(Olive Grove Villas) and Christina Constantios (Gaia & Patriko)
Summer events in the area: The Kalamata Dance Festival is over, but there are many other dance, theatre, music and cultural events over the summer. Some of the published programs for August and September are already on this website, but please remember that many are subject to change at short notice, as they are weather dependent, and check with the venues nearer the time. The 9th Music Summer continues at Mani Sonnenlink, has details of a wide range of events in Kalamata and the surrounding region. The Theate Kazakos is having its 12th Milea Festival of music and theatre, during August, and there will be a number of concerts at ART FARM in Meg Mantinia. In addition, many bars/cafe will have live music on a regular basis, including Patriko cafe-pub in Stoupa Patriko Summer
Fund raising events to come:
• In Stoupa on August 8th, "We sing for Gaia" will be raising money for Gaia LOCAL EVENT
•The next Ann's Bazaar for Charity will be on August 5th. The fees for these monthly bazaar plus donations, go to Cancer Research UK and to date Ann has raised €5,380 with a further €250 to pay in.
•The stall fees for the Friday Arts & Craft bazaars at Pefko help raise money for Gaia, contributing around €100 a month. LOCAL EVENTS
• The next Bazaar raising money for MIAO will be on August 19th.
• There is a Charity Cricket match planned for Kalogria on October 4th, a repeat of the very successful event held last year, to raise money for Gaia
If you know of any other fund raising events/activites, or want to organize one - Gaia urgently need more funds - please let us know, so the PsM can help publicise it.
The 'CLEAN MANI' Assoc and the Dimos Proposed Cleaning Regulations : Members of the new CLEAN MANI Assoc, have been learning about other voluntary cleaning associations in Sparti and Patras, and how they have been succesfully developing recycling schemes, and some of the problems associated with such schemes. Funds are coming, in as more people join the Association and stood at 1140 € by July 14th - more than enough for the official registration of the Association, and some will go towards educational schemes. So far they have organised 2 events - a successful cleaning morning on July 21st and a Recycling Event for Children which will be on August 2nd. Vounteers have also spent a lot of time discussing the problems of waste management and reduction with the Dimos. The 'state of emergency' re-waste managment continues in W Mani, and the effect can be seen in recent pictures Ritza Beach in Kardamyli , but the Dimos has just produced a consultation document with proposed Cleaning Regulations, and they are asking the public for comments/ideas. The full document is 28 pages in Greek. The full document has been emailed to members, but anyone can get a copy from Dr Sophia. If you have any ideas/suggestion about the proposals, you can send them to Dr Sophia. More information on

ΚΑΘΑΡΗ ΜΑΝΗ, CLEAN MANI
With two heatwaves already this summer, forest fires have caused signicant damage in Messinia & Lakonia. The month started with serious fires near Koroni & Upper Melpeia, very close to residential areas, and surrounding Koroni with flames Snippets 1/7. These were scarcely under control before fire was threatening villages in Kotrona Lakonia, and other villages of Eastern Mani. Winds in the area were at least 5 Beaufort. The large Canadair firefighting aircraft were late to come to the area because they had been sent to fires in Kefalonia. Fortunately no one was seriously injured. It was a particularly worrying time as there were major fire alerts in many parts of the country, and all fire service employees and volunteer firefighter were being mobilized. Then on July12th, a potentially very dangerous fire broke out in an inacessible part of the Vasiliki Forest above Exochori. While it did not threaten residential areas, firefighters from Gaia and many other fire fighting teams, put themselves at great risk, tackling the fire on foot.. After 2 days and nights the fire was extinguished ArchiveJuly.
Helping/protecting the community is taking its toll on Gaia funds: The fire in the Vasiliki forest was a major challenge for all the firefighters, because of its inaccessability, and the need for firefighters to tackle the fire on foot. For many hours, the Gaia Unimog and 4x4 vehicles were 'rushing' to and fro along 35km of forest track to get water to the fire.This took its toll on the vehicles, as the engines were severely overloaded and were destroyed, one of which had only recently had €850 spent on it.. Gaia's 'ambulance' has also been needed on a number of occasions because of the continuing staff shortages at the Ag Nikolaos Health Centre. GAIAsnippets. Also because of the high risk of fire, fire patrols are out regularly. All these vehicles need fuel! The Gaia VEHICLE FUND 2017 was initiated to raise money for the registration of the 'ambulance', but Gaia have had to use some of the money raised, just to keep vehicles on the road, and they are now facing the cost of replacing two engines, and hoping there are no more serious fires near here. Money is coming in, and many Greeks make 'donations in kind', to help Gaia, but more is urgently needed.
Now easier to check for planned power cuts in Messinia: ΔΕΔΔΗΕ publish details of planned power cuts and for some time, we have had a link on the PsM 'home' page, to the relevant web page, but our tech guy has made a better link, so you only see an alert in RED, if there are power cuts planned for any parts of Messinia. If there are, the link will show you which municipalities will be affected and the times. HOME
What else is new?
• The medical diagnostic lab has reopened in Stoupa
• New Dental Surgery( Bornovas Mix). in the same building as the Diagnostic Lab 27210 79143 (Was/is? also in Messini)
• The hand made pasta company "Ta Maniatika" now has a shop on the main road between Stoupa & Ag Nikolaos
• Award winning 'Kayak' Ice Cream is available at Greggs Plateia
• 'Gee Relaxation' - Gee is offering a range of therapies in your home.
Environmental threats to theTaygetos area: It seems that despite many protests from groups concerned about the potential ecological damage that wind farms could cause, the Environment Ministry confirmed that they have approved the resumption of works on the disputed Saggia ridge wind farm. The protests will continue, but it does appear that the government are determined to allow these works to continue and ignore the environmental considerations. snippets7/7. The environment is being further threatened by the excessive and destructive picking of endangered herbs on the slopes of the Taygetos. Despite the total ban on the collection of Taygetus mountain tea (Sideritis Clandestina), Diktamo (Oregano dictammus) and Taygetus Oregano , it is proving impossible to police, given the lack of resources available and the difficult terrain. snippets8/7
The Mediterranean - Fish in a Global Market: A new report from the WWF about the serious problems created by the increasing and unsustainable demand for seafood from the Mediterranean EU countries. Already an estimated 93% of assessed fish stocks in the Mediterranean itself are threatened by overfishing, and face an uncertain future. European Mediterranean countries account for 36% of all fish imported from outside the EU - nearly 5 million tonnes every year, and this has a global impact! Educating consumers about their choices is central to saving and restoring fish stocks in the Mediterranean and beyond.Seafood & the Mediterranean
Local Internet news
Faster internet access is now available in much of Mani : Since the end of June, OTE has been accepting applications for connection to the new fiber optic network Messages30/6 Since then, a number of people have been benefitting from new connections, but not all, as the final speed you can get, can still be limited by the last bit of the link to your property. For the latest information on VDSL2, cross-talk and vectoring see INTERNET OPTIONS
The increase in hacked email accounts, is putting more and more people at risk of getting their email account data hacked and misused. But you can now check whether your email has been hacked - see LEAK CHECKER (English & German) All you need to do is enter your email address, and you will get a report, if it has been hacked. No news is good news! Cyber crime
Advice about air conditioning: The recent heat waves have encouraged more people to consider installing A/C units, and the chairman of the local professional association for air conditioning engineers, considers air conditioning vital for all Greek homes these days. However, he warns of the importance of getting the appropriate unit for the space, and professional installation and maintenance. He noted that most units are NOT properly maintained. The initial cost of a good modern A/C unit can be as little as €300, and if it is correctly installed and maintained, it is also an ideal heating method for the winter, as it costs only about a third of the cost of heating oil AC advice
Stoupa Cultural Centre is to be repaired and renamed: It was announced recently that the W Mani Dimos has approved a budget of up to 60,000 euros for repairs and maintenance of the Stoupa Cultural Centre. It is understood that it is being renovated this year because it is the 60th anniversary of Kazantzakis' death, and it will be renamed the Nikos Kazantzakis Centre. However, there is growing anger about this planned extra expenditure on top of the 205,670 euros that has already been spent on the centre, especially because so far, almost all the events at the Cultural Centre have been organised by voluntary groups, not the Dimos, and there are other more pressing needs in the community, such as the repairs to playgrounds. Summary also in German
'Drink Time' by Dolores Payas is now available in Greek: "Drink Time" - "A love letter" to "Paddy", Greece & the Mani! is a short memoir of the colourful adventurer, Patrick Leigh Fermor. Dolores spent many hours in his company, and was honoured that although he was "frail" and "tired", he welcomed her into the last years of his life, in his home in Kardamyli. This book is a token of gratitude, for having been able to share that time. "Paddy" loved Greece and, even more, he loved the Greeks, and of course, the jokes, wit, and vitality of the Greek character. He was in love with life, and shared this appetite for life with those around him.JulArchive
Campaign to return the Venus de Milo statue: There is growing support for the campaign to return the statue of Venus to Milo to the island of Milos. In early June 2017, the Municipality of Milos started collecting signatures to support the campaign to return this world cultural symbol to her home, by 2020. Messina City Council is the latest Municipality to support Milos and the Central Union of Municipalities of Greece(KEDE) in their campaign. For more about the campaign in English see takeaphroditehome
MIAO/ΦΟΜ need help with many more animals: In July, 10 more dogs needing 'forever' homes, were added to the PsM Lost&Found page, but MIAO now also has a

album, Up for adoption. ' This album from Mani International Animal Organisation is always up-to-date, so here you find only those animals we are looking for their forever home right now! They are all vaccinated, chipped and have their international papers done! And they are - if old enough - spayed, because spaying is the main task of animal welfare. Please contact us if you are interested to help - with food - by sponsoring one special animal - by donation - by sponoring sterilization - by giving a forever home to one or more of these animals '. In the past, MIAO have rehomed a number of animals in Germany, but this is getting increasingly difficult because of changes in the law.
More animal matters
• The Party in Pigi for MIAO on June 28th, was a great success and raised around €1000

What a party
• Transport for a cat from the UK to Mani, wanted in the autumn TRANSPORT
• The Kalamata Penny Marathon planned for July 16th, was postponed, and will take place in September snippets 10/7. 26/7
• The sick young 'Drinks store dog' , that needs treatment, has been found, and is being treated by MIAO
• Little Felix has been found a home
• Do you know the owner of the fatally injured cat found on the main road on July 12th?
• Archelon are delighted to report that the number of turtle nests in the Kiparissia area this summer, has reached 1,000 Animal Welfare
FOLLOW UP
Gaia Pangyri July 22nd :Thank you everyone who supported the Gaia Panagyri. It was another very successful fund raising event for Gaia. The net takings were around € 5,000. It sound a lot, but please remember, this is the money they rely on for day-to-day expenses throughout the year. This means that very little will be left for the vehicle fund. Also, because of the serious damage to two vehicles in the recent Vasiliki forest fires, they have a big repair bill coming up, so please keep the donations, and fund raising ideas coming in, and/or support Gaia with a regular membership subscription. It is only € 25 a year.
'Let my eyes see everything' : This event was organized by the Progressive Cultural Association of Neochori / Lefktro on July 8th. It offered traditional sounds and dances with the dancing and singing group of the association and with the collaboration of: the orchestra of the modern conservatory of Messinia and 'Maria Callas' graduate's association from the Kalamata School of Music. It was held at the Primary school in Stoupa, but it is hoped that such events could be held at the Stoupa Cultural Centre, once it has been repaired. YouTube Tänze beim Neochori Syllogos
Petition about Kalogria Beach : By July 27th 670 people had signed the petition of protest to the Dimos about the overcrowding with sunbeds, and asking for the laws restricting numbers to be enforced. KALOGRIA PROTEST
Restoration of Patrick leigh Fermor's House in Kardamyli :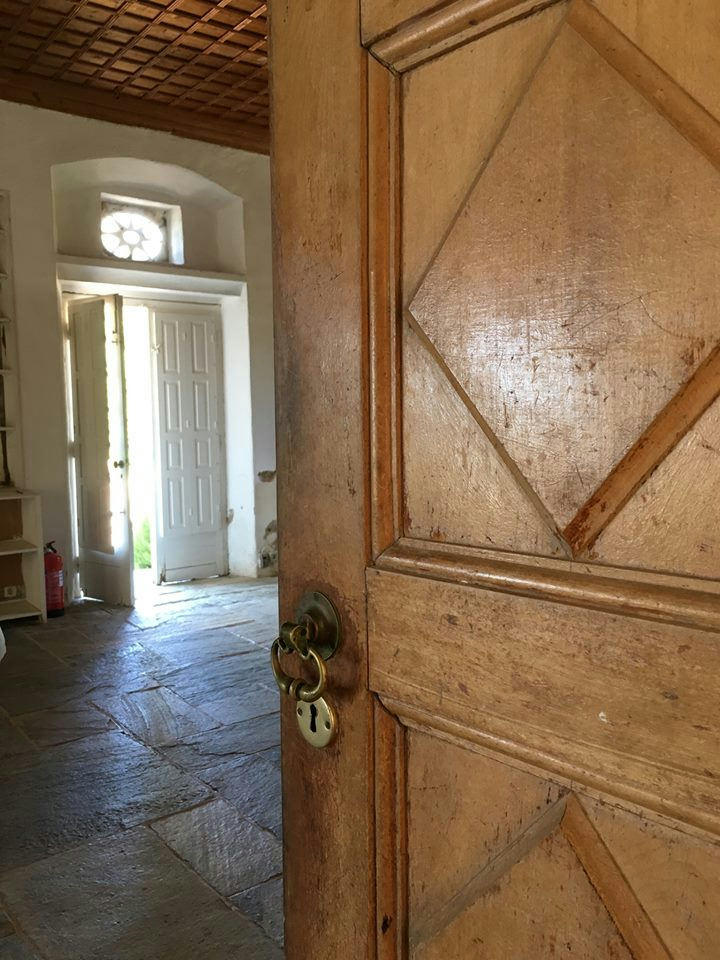 The long awaited work to renovate Patrick Leigh Fermor's House is now under way, funded by the
Niarchos foundation
. A visitor to Kardamyli and contributor to the blog about
Patrick Leigh Fermor,
visited the house in July, before work began, and was shown round by Elpida Beloyianni who is in charge of the restoration. All of Paddy and Joan's effects had been moved to Athens and the house is now empty. The exception is the amazing table in the main room, which is too heavy to move. There is a huge amount to do to upgrade the house for its future role as an educational and creative centre to host intellectuals and scholars
(writers, researchers, artists, poets, etc)
who are looking for a quiet and hospitable place to work.The house is likely to be closed for 18 months for the work to be done.
According to Michael Torrens, the final details of the renovation were being agreed with the contractors in July. He had seen the project plans, and they are sensitive to the preservation of atmosphere. However, he said that to achieve the wishes of Paddy and Joan in their deed of gift, there have to be changes that will upset some purists. But it was never supposed to be a museum. It is designed to be a place relevant to contemporary creativity. The work is being done by Pastras & Associates / Architects & Engineers, Kardamyli High Street Mani Kardamyli who have published pictures of the house, showing some of the unique features

Detail + Pastras & Associates / Architects & Engineers
---