Archive January 2017
- - - - N e w s S n i p p e t s January 2017 - - - -
NSRF Funding for business development :
By March the new NSRF action will begin to upgrade existing micro, small and medium enterprises in the service sector (retail, catering, private education[nurseries & kindergartens]). The action involves the upgrading of existing micro, small and medium enterprises in the retail and service sector around the four categories of interventions: energy saving, information technology, health & safety of premises, and enhancing supply chains. The indicative budget for the action amounts to € 50 million (public expenditure), and the period for investment projects will be 18 - 24 months. Tharros
Note: National Strategic Reference Framework NSRF = ΕΣΠΑ (27-1-17)
All drones must be registered: From mid-February amateur users must register electronically, but those interested in acquiring unmanned aircraft for business purposes must also be educated about it and insured against property damage to third parties, and for bodily injury up to one million euros. The CAA has now clarified the operating procedures of training centers and licensing of pilots with the new Regulations. Specifically, pilot licences will be issued for five weight categories: for drones with maximum take-off mass of 1 kg, 1 to 4 pounds, 4-25 pounds, 25-150 and 150 and more. The license will be granted after a theoretical and practical training and examinations specified by submitting the necessary documentation and fee, the amount of which is not specified in the Rules. The practical training includes from 3-18 hours flying Tharros (27-1-17)
Recycling toys/games: This action of the Local Thematic Network for Environmental Education "Reduce - Reuse - Recycle", is coordinated by the Environmental Education Center, in Kalamata. The program is to support the work of schools, through play and creative volunteers, under the auspices of the Regional Directorate of Primary and Secondary Education Peloponnese. The Program includes toy collection, the lending of games and accompanying training material to institutional bodies for children and families, and support for "the game as an educational material,"
Note: all games can be collected, even if they are incomplete, or damaged, regardless of type, size and material as the only criterion is that they are games that have been used and are no longer needed. For delivery of collected toys and offers of help, you may contact the School Operations, CCI Kalamata (Thucydides 2 tel. 62 299 27210) or messinia\sch kalamata journal (23-1-17)
Children's Creative Centres (KDAP) in Kalamata : At a meeting in Kalamata a few days ago, the first steps were taken to implement the scheme. KDAP will provide occupation for children outside school hours, with activities organized during their free time. A range of activities are to be provided, including, without limitation, Remedial Teaching, Information Technology, Visual Arts, Music, Dance, Theatre Play, Sports etc. Creating KDAP for children, including for those with disabilities, will be financed from EU funds through EETAA and will offer creative activities for children from economically weaker strata, and will also create a significant number of jobs. Expression and entertainment programs in KDAP, will help encourage the development of personal and social skills, sports and physical education tharros ( 22-1-17)
Kalamata proposed as European Youth Capital 2020: Kalamata was a finalist in the bid to be European Capital of Culture 2021, and the organisers were disappointed that Kalamata did not win. However, with the valuable legacy of organization and effort of that was made for that bid, Manolis Makaris has proposed that the city applies to be "European youth capital" in 2020. Receiving the title 'European Youth Capital' would be a unique opportunity for the city of Kalamata. Bringing young people to the fore, enhances self confidence and The European Youth Capital is a rather new but very successful institution. The title of 'European Youth Capital' is given by the European Youth Forum to a European city for a whole year, during which are organized activities for young people related to cultural, sporting, social, political and economic life. Among other ideas, it includes cultural events (concerts, exhibitions, sports events, discussions and Colloquium) and meetings of voluntary youth organizations from across Europe in cooperation with the European Youth Forum. Tharros (16-1-17)
Chance for the public to correct revised forest maps: On January 23rd, the two-month period starts for submitting objections to the new Forest Charter of Messinia, now officially posted. During the revision period, the inhabitants of the interior and exterior can submit objections to the plans. Last day for objections from the inhabitants of the interior is March 23rd of 2017, while for residents abroad, it is April 12th 2017. The submission of objections relates exclusively to the nature or form of a displayed woodland area and not to ownership. In particular, objections may be submitted either because an area is classified forest or grassland or rocky or stony area (and is not) or vice versa. There will be a transition period, while the objections are reviewed, during which time matters relating to land use will be suspended. Tharros (16-1-17)
Success of RED bin clothes recycling in Kalamata :
According to information provided by the RECYCOM company, which recycles the clothing and footwear deposited by citizens in the RED bins, Kalamata ranked 2nd out of a total of 18 municipalities nationwide. In 2016, the clothing-footwear recycling company RECYCOM received 35 tonnes of clothing-footwear overall, from the bins placed in Kalamata, thereby contributing to establishing a sound recycling network and co-responsibility awareness culture, which is a prerequisite for sustainable development. This is 12 tonnes more than in 2015. The company gave the City Grocery 1,910 various pieces of food and hygiene items (eg legumes, pasta, flour, sugar, bleach, coffee, olive oil, etc.) The company continues to contribute goods to the Municipality of Kalamata in order to help more needy families. tharros (15-1-17)
Foreign plates carry risk of high fines: Temporary circulation of vehicles in Greece with foreign plates is legal provided certain conditions are fulfilled, such as being in Greece for no more than six months of the year and that their owner's main residence is outside Greece. If owners of cars with plates from other European Union states do not meet these requirements, they face fines of between 2,500 and 10,000 euros, while in the case of vehicles with plates from third countries, the owners may be charged with smuggling and face a fine three times the cost of vehicle registration and tax payments in Greece. Their vehicles will also be confiscated Ekathimerini (15-1-17)
E-spending discount details are out - Some people still need to keep paper receipts! :The Finance Ministry has finally issued a list detailing the types of electronic spending – credit and debit cards, e-banking and money forwarding – that will count toward the income tax discount granted to most taxpayers as of this year. Non-Greek EU citizens are exempt from the measure even if they submit an income tax declaration in Greece....BUT....Crucially, as the measure exempts those aged 70 and over, those with a disability rate of 80% or more, and non-Greeks who are citizens of European Union or European Economic Area countries who pay income tax in Greece, they will still have to collect paper receipts to secure a tax discount. Ekathimerini (14-1-17)
New demonstrations and blockades from 23 January: Farmers in response to the new tax and social security burdens, are planning new demonstrations and blockades from 23 January. From January 1st 2017 they will have to pay 14% of their income for contributions to pension, 17% in 2018 and 20% in 2019. Many farmers are already suffering because " Right now the biggest problem is that there is no production. Both in the olive crops and citrus, which are the two big "packages" of the Peloponnese, there is no production. " When there is no production, they cannot pay taxes, cannot pay insurance contributions, cannot live as farmers. Tharros (12-1-17)
Ban on hunting for a week.
It has just been announced that there will be a ban on hunting throughout Greece, which will take immediate effect, and last until January 18th. This is because of the need to take emergency measures for the protection of all species of wildlife, due to ongoing adverse weather conditions (snow, long and intensive, total frost, habitat area reduction due to snow cover, etc.) affecting all living species. Some restrictions may continue for the rest of the hunting season tharros (11-1-17)
New Design for the SUNNYCLIST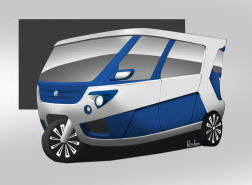 : Sunnyclist, the world's greenest vehicle, continues to evolve. Having won awards already, with the basic design, they hope to have the improved version on the market by the summer of 2017. " We work hard to fulfill our promise and offer an uncompromised new design. It took us longer but we think it was worth it. So here is the new look of the improved Sunnyclist that you will be able to drive the second quarter of 2017." SUNNYCLIST (Greek & English) There were 3 original models, ranging from €6500 to €6984 +VAT For details of how the project evolved from an idea in 2011 see project. They have also produced a fully functional miniature - an exciting educational toy for children Sunnyclist miniature (8-1-17)
All shops should accept card payments by February 1st:: Businesses that accept payment cards are required by February 1, 2017 to inform consumers about the acceptance of cards as a means of payment, and show clearly so that is not open to misinterpretation and to indicate the information at the entrance of the store. Those who violate this obligation will have an administrative fine of 1,000 euros imposed. tharros (6-1-17)
Quicker consensual divorce: While previously the waiting time for consensual divorces exceeded a year, now the process could be completed in less than half an hour, as the parties will not need to go to court at all. The notary, who will issue the necessary deed without further formalities, will be responsible for consensual divorces. Under the new arrangements promoted by the notarial act, custody and care of the children, and communication of divorced parents, can be agreed, so bureaucracy can be done away with . tharros (6-1-17)
Winter Sales: The winter sales start on Monday January 9 and will last until Tuesday, February 28. tharros (6-1-17)
PsM income from advertising in 2016 : Thank you to everyone who used the Parea sti Mani website to advertise your goods and services. In 2016 we raised €1315 for the community. This includes €125 from 'small' ads. Most of the money went to Gaia, for their vehicle appeal, repair fund, or appeal for needy local families, but we were also able to make small contributions to the Ag Nikolaos sports field fund, and MIAO. (4-1-17)
NOMAD Christmas Delivery - A Success story
' Our final departure of the year (which we call the "Christmas Truck") had a record number of customers' goods this time, with almost 120 different families depending on us to deliver to Greece and the island of Crete in particular, before Christmas, not to mention several customers who we were moving to and from Greece with all of their worldly goods! We had planned for months for this, only to have our plans scuppered as our truck was stuck for more than a week, unable to move due to the strike! BUT thankfully some quick thinking and hard work by our team, led to a solution being found, and the truck arrived in Crete in time for our Crete Express customers to collect their Christmas presents, groceries and shopping before the Christmas holidays.' Note: NOMAD support several Greek Charities (4-1-17) NOMADnews
Response to Greece's public health meltdown : Data and anecdote, backed up by doctors and trade unions, suggest that Greece is in the midst of a public health meltdown. Figures released by the European Centre for Disease Prevention and Control recently revealed that about 10% of patients in Greece were at risk of developing potentially fatal hospital infections, with an estimated 3,000 deaths attributed to them. Although the data referred to outbreaks between 2011 and 2012 – the last official figures available – Giannakos (head the Panhellenic Federation of Public Hospital Employees) said the problem had only got worse Acknowledging the shortfalls, the government announced last month that it planned to appoint more than 8,000 doctors and nurses in 2017. theguardian (3-1-17)
Over 100 migrant arrivals on Greek islands in 24 hours :A total of 112 migrants and refugees landed on Greek shores in the first 24 hours of 2017, with 46 arriving on the eastern Aegean island of Chios and another 66 on Samos. While they were mainly from Syria, 11 different nationalities were represented. Ekathimerini (3-1-17)
Increase in indirect taxes from January 1st : From January 1st, a number of indirect taxes, have come into force which will extract more than € 1 billion from consumer pockets. These increase include :-
Excise duty on fuel : Petrol 3 c / liter, diesel the charge reaches 8 c / liter and on diesel LPG 10 c / liter.
Coffee : At least 10c / cup, and around 25% on average rate for coffee packets purchased off the shelf
Cigarettes: At least 50c/ packet of cigarettes, €1 on a pouch of tobacco. Also an extra charge on the liquid for electronic cigarettes.
Telephony bills: 6% increase on land lines and internet Tharros (2-1-17)
Nationwide Social Solidarity Income scheme
​
The Social Solidarity Income (SSI or KEA from its Greek initials: Κοινωνικό Εισόδημα Αλληλεγγύης) is a welfare programme just launched by the Μinistry of Labor and Social Solidarity and aimed at providing a safety net to households living under extreme poverty. Extreme poverty is defined as income below a certain threshold (for example, 1.200 euro for one person or 2.400 euro for a 4-member family - in total during the previous six months) and assets below a certain value.
The program is based on three pillars:
a) income support,
b) connection with social integration services, and
c) connection with activation services aimed towards the integration or reintegration of beneficiaries into the labor market.
In the pilot phase of the program, which started in July and ended in December 2016, 30 municipalities were selected and the SSI was given out to an estimated 48,000 beneficiaries, 50% of which had zero income.
The application to be included in the program is done via the electronic platform https://keaprogram.gr, which is connected electronically to Taxis (the taxation information system), Ergani (the database for all salaried workers), Helios (the integrated system for all benefits and pensions) and is approved or not, automatically.
During the programme's roll out, Community Centers will play a key role. Community Centers will be operate as "one-stop shops" for a wide of social services, in collaboration with the Directorate of Social Services of each municipality. Greeknewsagenda
Great concern about the new Messinian Maps
"On January 23rd, the two-month period starts for submitting objections to the new Forest Charter of Messinia, now officially posted. During the revision period, the inhabitants of the interior and exterior can submit objections to the plans. Last day for objections from the inhabitants of the interior is March 23rd of 2017, while for residents abroad, it is April 12th 2017" Tharros
There has already been a huge outcry since the publication, because it seems the new maps are based on old data, and there are many mis-classifications of land which could cost land owners a lot of money! Apparently
" ....aerial photographs of 1960 were used, when the whole country migrated and farmers left the countryside in search of better living conditions abroad.... The special charges for objections, are calculated depending on the size of the area of which is in dispute, and the character, and start from € 45 for an area up to 1,000 sq.m. reaching €3,600 for an area of more than 300,000 sq.m. and brings amid crisis, a large financial burden for thousands of homeowners. The draft forest maps "eliminate" (almost) entire villages, homes and properties with cultivated farmland almost all over the area .... " newsmessinia blogspot
More information in Greek on

Antreas Pifeas
(Notice of residents meeting, calling all Maniates to attend, to be informed, discuss and plan what to do.)
Because of the growing concern, there will be a public meeting for all Mani residents,
on January 27th
at the Cultural Centre in Stoupa at 17:00
Petition for the Ag Nikolaos Health Centre
In October 2016, after the loss of 2 more doctors, and no sign of them being replaced , the Director of the centre, Dr Gioulos, published proposals for closing the Health Centre some days. However, he was told that the centre must remain open 24 /7 and that there would be temporary doctors seconded until permanent staff could be appointed. Note: For details see Ag Nikolaos Health Centre.
Now, with still no solution, the increasingly concerned staff have launched a petition. Soon there will be forms for people to sign, in central locations in all villages of the municipality of Western Mani . Whoever is far away, can support the protest online. The petition in Greek, is on

Kostas Xydeas, but you can sign below
THE PETITION (rough translation)

Dear fellow citizens of West Mani,
We regret to inform you and simultaneously ask the support of all of you.
In recent months The Health Center has been facing serious problems with staff shortages. Despite the efforts of the Director most days from noon until dawn, only one doctor is on site at the Health Centre. This means that if a patient needs a doctor to accompany them to Kalamata Hospital, for several hours we will not have a doctor in the Health Center. Which puts the lives of us all, at serious risk.
It is necessary to find a solution to prevent the threat to lives. It is important to be heard and to act together in order to avoid the worst.- a health center without staff, with the inevitable culmination of closing. The disrepair and the marginalization of the region will also have an adverse effect on tourism.
Let's fight for the obvious, our health!
Revised bus schedule from Jan 23rd
Notification from KTEL buses Tharros


ROUTES KALAMATA - ATHENS DAILY
(will be effective from 01/23/2017)
Time
05.00 Kalamata - Athens (Fast)
06.30 Kalamata - Athens (Normal)
08.00 Kalamata - Athens (Express)
10.15 Kalamata - Athens (Normal)
12.00 Kalamata - Athens (Express )
13.30 Kalamata - Athens (speed only Isthmus)
15.00 Kalamata - Athens (Normal)
16.30 Kalamata - Athens (Express)
18.30 Kalamata - Athens (Normal)
20.30 Kalamata - Athens (Express)

SATURDAY As daily except 05.00
SUNDAY As daily except 05.00


SCHEDULES ATHENS - KALAMATA DAILY
Time
06.30 Athens - Kalamata (Normal)
08.00 Athens - Kalamata (Express)
09.15 Athens - Kalamata (Normal)
10.30 Athens - Kalamata (Express)
12.15 Athens - Kalamata (Normal)
13.30 Athens - Kalamata (Express)
15.00 Athens - Kalamata (Normal)
16.30 Athens - Kalamata (Express)
18.00 Athens - Kalamata (Normal)
19.30 Athens - Kalamata (Express)
21.00 Athens - Kalamata (Normal)

SATURDAY As daily except 18.00
SUNDAY As daily except 06.30
and 08.00 at 07.30 and Express is Normal
Maria Garzon at the 3rd International Documentary Festival of the Peloponnese,
opened on Friday, January 20, 2017, at 8:00 pm, in the auditorium 'Theodoros Angelopoulos', the Labour Centre of Kalamata. with a screening of the documentary 'Viktor Ullman: Biography of a recording', directed by John Grigoropoulos and Michael Aristeidou
John Grigoropoulos of Messina and his partner Michael Aristeidou won the "Fisher Audience Award " for this film, in the recent 18th Thessaloniki Documentary Festival. The two directors tried to make known the unique story of a gifted pianist when recording rescued tracks, with the fingers of the versatile Spanish pianist Maria Garzon, . The artist with the two directors chatted with two pianists, who lived and shared music with Ullmann, Edith Kraus and Alice Hertz-Sommer.
(The evening will close with a piano recital by Maria Garzon)
During the Second World War, in the Czech Republic, an experimental group was created in, Theresienstadt. concentration camp. Tthousands of Jewish artists were gathered with a view of forcing them to produce "culture" to be used for propaganda purposes by the Nazis. Among the thousands of artists was, an already known composer Viktor Ullmann. The seven sonatas for piano written during his imprisonment in the concentration camp were presented for the first time in Theresienstadt by pianists Edith Kraus and Alice Hertz -Sommer.
In 2014, on the occasion of recording these pieces by pianist Maria Garzon, Alice, Edith and many others, speak of Viktor Ullmann as an artist and as a man.
Earlier, at 6:00, the film 'The Landfill Harmonic $$- A Symphony of the Human Spirit ' by Brad Allgood,
Graham Townsley, will be shown
The documentary follows the Recycled Orchestra of Cateura, an orchestra from Paraguay using instruments constructed entirely of garbage. When their story went viral, the orchestra was catapulted on to the world stage. Under the guidance of idealistic musical director Fabius Chavez, the orchestra must find the path to a strange new world of marquees and sold out concerts. However, when a natural disaster affects their country, Fabius must find a way to protect the orchestra and provide a source of hope for the city. The film bears witness to the power of music to transform, and the resilience of the human spirit.
The evening will close with a piano recital by Maria Garzon and Poetry Recitation by Kostas Chalkias kalamata times
All projections, as well as parallel events and seminars, will be free to the public.
** Maria Garzon inspired people when she played at a fund raising concert for MIAO in Stoupa in 2015 MIAO CONCERT
$$ About the Landfill Harmonic YouTube
'The Torch of Peace' Events in Kalamata
The Torch of Peace was in Kalamata
on December 26th from the Centers for Peace "Sri Chinmoy",

Runners started from the main square and went through the streets Aristomenous, Psara and Navarino and arrived at the "Philoxenia" before returning to the central square of Kalamata. Kalamata will be the focus of the events of Peace Centres "Sri Chinmoy" until 5 January.

Participants residing in the city will implement a range of sporting and cultural events focusing on Kalamata, while in their program are visits to archaeological sites and other attractions.

YouTube video(Greek& English) Peace Run στην Καλαμάτα
Sri Chinmoy Peace Centres have been created worldwide in over 60 countries to promote Peace, Culture, and Sport, as a continuation of the work of Sri Chinmoy (1931 -2007), who was a remarkable writer, poet, musician, painter, athlete and teacher of meditation. His belief was that the transformation of humanity and the achievement of peace will only be realized thanks to the reconciliation of spirit with matter and had developed over the years unparalleled intellectual, artistic and sporting activity by founding organizations Sri Chinmoy Marathon Team and Peace Run. He was a respected and loved personality in the world, with notable friends such as Nelson Mandela, Mother Teresa, Carl Lewis, Muhammad Ali and many others.
Every year during the Christmas period the annual global meeting of members is held with participants from around the world (USA, Canada, Europe, Australia, Asia) . More than 500 participants take part and the 2016 meeting is being held in the city of Kalamata, From December 23rd to January 3, 2017. In collaboration with the Municipality, a range of events have been organized.
Monday, December 26, 10:00 Central Square Kalamata The Torch of Peace run -
The Torch Peace Run was founded in 1987 by Sri Chinmoy and has involved more than 10 million people in 150 countries and international runners groups have traveled more than 500,000 km. When running together for peace and harmony, then we can live with Peace and Friendship! Each of us regardless of age and nationality, can change the world - giving a living example to all, and made the first step!
Friday, December 30, 20:00 ( venue not fixed )"Oneness - Dream" A capella Choir sings - The choir consists of 14 members from different countries - Finland, Iceland, Norway, Switzerland, Germany, Czech Republic, Austria, Scotland, England, USA, Italy, Australia, New Zealand and Colombia and will perform the songs of Sri Chinmoy which have been presented in churches and archaeological sites around the world. Unique melodies that will take us to a harmonious blend of different spiritual traditions.
Monday, January 3, 2017, 20:00 Auditorium Theodoros Angelopoulos - Theatre performance " The New Year" The "Cosmic players" is a troupe composed of actors and musicians from around the world, which unites the public interest in the topic of Peace: personal, spiritual and universal. They have traveled the world from Brazil to Bali to entertain and inspire the audience with games, stories and music of Peace. A show that celebrates the sacred and creative ambition that unites all human beings of the global family. Members of the international group offer a message of hope for the new year, a dramatized adaptation of the writings of Sri Chinmoy.
The city of Kalamata was chosen from among many others not only because of its rich history, its unique beauty and archaeological sites within walking distance, but also because the members of Peace Centres wishing to enhance the local community, highlighting the region throughout the world and showing that beyond the major tourist destinations, there is a Greece that deserves to be explored.
" Cooperation from the Municipality of Kalamata and local bodies has ben exemplary and we feel the need to thank all the institutions and citizens of the town who helped organize the event in the name of Peace and Friendship." Tharros
For more information see http://www.peacerun.org/
Information summary from PsM
► JANUARY 2017 ◄
PsM Website news: Message from Claire:- My next absence will be from January 30th until March 3rd 2017, and although I have someone learning about the website, it may be too soon for him to work on the site, so, as during previous absences, I shall be monitoring things from afar, and may not be able to respond to emails very quickly, as I shall have limited internet access. If you have anything you want published during this period, please let me know as soon as possible.
Paying road tax on line: All you need to print out your annual circulation tax form, is the registration number and your tax number. PAYING on line is ALSO possible, but you need a Greek bank account that supports payment of these types of bill online. For people living in Mani, just paying at a bank , post office or at Mani Money is probably easier, but the on-line facility can be very useful for temporary residents who are not here in December.
NB - the tax needs to be paid by December 31st, and there are heavy fines for non-payment! ROAD TAX FORM ON LINE
Is your Greek car insurance valid? A number of people in Crete were informed by the police that they had no insurance cover even though they had recently settled their insurance affairs.This could happen for a number of reasons, one of which is insurance fraud.The Hellenic Information Centre has launched a website through which everyone can check in real time if their insurance plan is valid. The process is simple, just follow the guide and check your vehicle's cover! INSURANCE COVER The link also in (Tips.....Other)
Always report suspicious emails relating to tax refunds : Recently, computer scams in Greece have been on the rise, with many reports of incidents of corporate network infections in Greece. Internet users and particularly administrators of corporate networks are asked NOT to pay the money requested in order to discourage such illegal practices, and to avoid spreading phenomenon. Also, if you receive an email apparently from HMRC, relating to tax, always report it. They will investigate, and take the necessary actio.
NB HMRC will never send notifications of a tax refund or ask you to disclose personal or payment information by email or text message. ArchiveDec
Good news about waste management in W Mani
Recently, There has been a lot of effort locally to organize and promote recycling
We have updated our summary page *** RECYCLE WHAT WHERE *** with information from the items below.
• A Facebook group has been created καθαρος τοπος (clean place) to publicise local news/information about recycling
• There is now a bin for for recycling small electrical appliances, at the Ag Nikolaos Health Centre Bin for electricals
• There are now collecting bins for recycling outside Katerina's supermarket (separate bins for PAPER/CARD, ALUMINIUM CANS, PLASTIC BOTTLES/BOXES) For location, see map on Katerina's
• There is a collection point for bottle caps at the Gaia Base (ΕΔΟ ΚΑΠΑΚΙΑ ΜΟΝΟ) Picture
• Ag Nikolaos is leading the way by publishing a map of the location of various recycling and rubbish bins LOCATION OF BINS
• SOLID WASTE MANAGEMENT IN W MANI, is a document now being circulated in Greek, Albanian & English, explaining how and where many things should be recycled
• Ioulia Exarhoulea, (Department of Environment and Cleanliness) is planning a household composting program COMPOSTING
Severe problems for Ag Nikolaos and other regional health centres: In early December, the Director and the staff of the Health Center of Ayios Nikolaos and local residents as one, united for a common cause, to ask the State to resolve the pressing issue of the operation of the Health Center, which has long been inadequate. PROTEST LETTER. Unfortunately, Ag Nikolaos is only one of many regional Health Centres that are gtting desperately short of staff and supplies and having to rely on volunteers and donations.snippets25/12
The road damage legacy of the Sept floods: Recently, the evaluation of the damage to the Messina road infrastructure was finally completed. It is estimated that it will cost €20 million to repair the damage. Preliminary design techniques, final application studies and tender documents will be ready by the end of the year. Hopefully repair work will start in 2017. Archive Dec
Reductions in tariffs of electricity from January 1st: : All electricity providers will implement the decisions of the Energy Regulatory Authority that reduce the charges for network transmission and distribution . The rates of reduction for residential customers are 7% and uniformly applied by all suppliers of electricity (electricity and alternative), as this is the so-called monopoly charges. Smaller reductions are also made for certain categories of families with invoices and beneficiaries Social Household Tariff. Tharros
'Seeing and Believing' a new Book by Gillian Bouras: "Once upon a lifetime, twenty-five years ago or more, I wrote a book called A Foreign Wife. In it I recorded my experiences during my first five years in the Peloponnesian village to which I had unexpectedly migrated in 1980". Life in the Peloponnese continues to delight and challenge Gillian Bouras: Seeing and Believing resumes the narrative as her sons create their own families and time delivers a fresh crop of joys and heartaches, to which she tries to adjust. MESSAGES
Your rights as an EU citizen: This non-exhaustive list of free brochures and books gives a clearer idea of what the European Union does concretely for citizens and how it can help improve their daily lives: EU funding, scholarships, trainings and other projects. It also provides useful information on eligibility criteria and contact offices bookshopeuropa
Gilbert Horobin dies aged 102: Gilbert Horobin was a playwright, poet, novelist and travel writer. Born in Glasgow, educated there and in London. He served in North Africa and Crete during the Second World War, and after the fall of Crete became a prisoner of war in Germany. He was a long time resident of W Mani where he lived among the olive trees near Ag Nikolaos. Books by Gilbert Horobin Amazon
What's new?
• Broadband reaches many rural villages - From mid December up to 50 Mbps will be available ArchiveDec16
• From January 2017, Airbnb-style rentals in Greece must be registered & will start being taxed. There will be heavy fines for unregistered properties snippets 12/12
• Final stretch of Kalamata ring road available from Dec 23rd snippets23/12
• New mass sports programs include "Exercise for the Third Age" OTHER ACTIVITIES
• Road Safety training park reopens Snippets13/12
• Free on-line course - Modern Greek for non Greek speakers greeknewsagenda
• New Community Center in Kalamata and mobile unit for other municipalities snippets 11/12
FOLLOW UP
Patriko Christmas Bazaar : On a brilliant winter day, the sea front at Stoupa was transformed. It was lined with some 32 stalls, offering treats and gift opportunities plus a wide selection of snacks. Feed back indicated it was quieter than other years. There were not many Greeks in Stoupa, a lot of Brits were away, and there is not much money around after a poor olive harvest etc. BUT it seems people supported charities. A splendid €1200 was raised for Gaia!
Other successful fund raising events during the holiday period: The Quiz and Raffle + Auction on Boxing Day raised a splendid total of € 883, which was shared between Gaia, MIAO and the Ag Nikolaos sports field fund. The Christmas events raising money for MIAO, included the Party for MIAO at Neriedes and raised € 872 plus some donations, for the animal welfare group.
Support for the SOS Child & family centre in Kalamata: The lives of children in Greece continue to worsen, and nowadays over 40 % of children live in poverty.The present conditions and general uncertainty about the future has led to increased tensions in families. At first, extended family networks were able to help each other, but many are no longer able to meet the material and emotional needs of their children. Neglect of children, abuse and violence are often the result of long-term difficulties, and there is a need for increased support to avoid such outcomes. The SOS centre offers a life line. Just before Christmas, Gaia (from their welfare store) and Stich 'n' Bitch(blankets plus supplies bought with € 350 raised by the group) took two carloads of supplies to the centre. ArchiveDec Other initiatives to support the centre over the holiday period, include the collection of non-perishable food (until January 15th), 10% of proceeds from the sale of the cookery book "Journey to the world of flavors" , and until January 31st, Dry cleaning H 20 (Laconia 96, Kalamata) is collecting clothes in good condition, which are taken to be cleaned, packed and delivered to the SOS Center.
Supplies from Nehemiah Gateway : The Mani friends of Colmberg in Germany, in association with Nehemiah, acted immediately and generously donated goods and money, when they heard of the devastating rainstorms in September. They collected food and clothing for the needy, toys and items for school use, as well as boots and tools for GAIA which were sent by truck to Ag. Nickolaos. Herr Stamminger and his wife were in Mani in November to help with the unpacking and distribution of the donations. gaia snippets
---