GAIA ETHELONTES MANIS - NEWS
gaia.d.manis\gmail
Tel 69 7238 8217
Facebook
JANUARY 2016 - TIME FOR A CHANGE
For various reasons, PsM no longer publishes a regular monthly report about Gaia's work. Instead, we have started a GAIA SNIPPETS page where we can publish items of news, information etc. relating to Gaia
As the article in INSIDE the MANI 2015 showed,
Gaia is now part of a complex network of voluntary and government organisations, providing for the welfare and protection of our community
. Since Gaia was established in 2000, Gaia volunteers have fought fires, rescued people and animals and helped many people in a variety of ways.
Here is the most recent monthly report
Our local volunteer group Gaia Ethelontes Manis, help our community in many ways. Whether it is firefighting or rescuing animals from swimming pools, giving First Aid or clearing roads after a storm, searching for missing people or helping the needy with supplies from their welfare depot, Gaia is there to help. Below is the monthly report highlighting a few items. For examples of Gaia's day to day work, see earlier reports below, or the GAIA NEWS ARCHIVE
NEWS OCTOBER 2015
During September,
although still in the high risk fire season, Gaia were not called to many fires, and those they did attend, were controlled fairly quickly, at least in part,
because vegetation had been cut back
. The main calls on Gaia were for accidents and medical emergencies. Cars colliding on the main road in Stoupa, a car crashing into a fence in Ag Dimitrios, an unconscious patient in Stoupa and a head injury from a fall in Ag Nikolaos were amongst the calls. Gaia volunteers gave 1st Aid, directed traffic, transported the sick and injured to the Ag Nikolaos Health Cenre and/or Kalamata hospital, in the absence of an ambulance. One patient had a crush injury to the upper arm which needed surgery. Due to the seriousness of the situation, arrangements were made to transfer her to England for surgery there.
A date for the diary - There will be a Christmas charity bazaar at Patriko on Sunday December 13th. Funds raised will be shared by Gaia and other local charities.
Gaia has a new website : https://gaiamanisblog.wordpress.com/2015/09/18/gaia/
There were on-going problems with the old site, because of their domain name. The new site is in Greek with some English, but we will continue to publish a monthly Gaia report here on the Parea sti Mani website.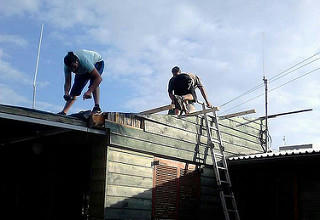 Repairs to the Gaia Base: In between call outs, Gaia volunteers continued with fire/foul weather patrols, and maintenance work. One major job tackled during September was the repair of the roof of the Gaia Base, which was leaking badly in heavy rain. They were very fortunate that their visitors from Nehemiah Gateway and the 'Friends of Mani' in Colmberg, who had brought welfare supplies from Germany, not only donated 1,200 euros for materials, but also did the work, which included removing several dead rats!!! They had come to Mani hoping to help with the new building planned for the Gaia Base, but the building permit has not come through yet.
.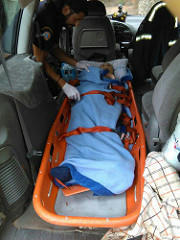 Emergency transport: Even when an ambulance IS available, getting injured and elderly people from their homes in the villages, can be very difficult - many properties are only accessible by steep, narrow tracks - ok for donkeys, but not vehicles! This is where Gaia volunteers are often called to help, especially now they have a 'body basket' stretcher. On September 21st, a very old patient was transferred to the Ag Nikolaos Health Centre from a remote house along wet, slippery cobbled streets. Just a day later, they used a body-basket again, to transport a very old man from his home in Exochori. The stretcher fits in the back of one of the Gaia vehicles which acts as an emergency ambulance.
More pictures on Facebook
.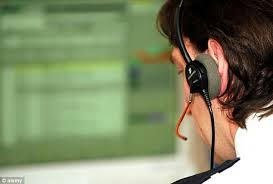 Inadequate information wastes time! Gaia were called out by the Kalamata ambulance service, to look for someone in the Neochori area who had reported someone who had apparently broken their foot. The caller had given no details, and could not be contacted, and the name that was given was unknown to local residents. After an hour spent phoning round and searching, Gaia volunteers found a man on Pantazi beach who knew about the call, and it was about a woman who had NOT broken her foot, but her hand!! Meanwhile, the woman, who was not seriously hurt, had made her own arrangements to go to the hospital - Gaia were not needed, and had wasted time, money and fuel, because of inadequate information!! PLEASE anyone who contacts emergencies services, give AS MUCH DETAIL AS POSSIBLE about an incident, AND a contact number (and stay by the phone!!)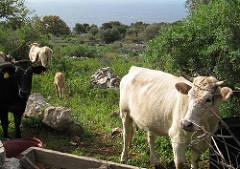 The trouble with cows! In this rural area there are few fences and cows are often hobbled and just left to roam freely in the olive groves. Unfortunately they sometimes wander on to the roads, and especially at night, can be a serious road hazard as they are not easy to see. They can also be a threat to pedestrians. In September, Gaia volunteers had to deal with 2 incidents in involving cows. On Sept 6th they were called to Riglia, where cows were wandering along the main street. The volunteers 'encouraged' the cows to move out of the village. But tethering is not necessarily a safe option - a few days earlier, volunteers had to rescue cows that were tethered in an olive grove, when they were threatened by fire.


RECENT DONATIONS
The donations Gaia receive are many and varied, but all are welcome, either to use, or pass on to a range of charitable groups. However, it is not possible for Gaia to keep details of all donations, as people often just leave things at the base. Receipts are given for cash donations/payments, but if you would like a receipt for on-line money transfers, or things donated, please ask, or email gaia.d.manis\gmail
1200€ from 'The Friends of Mani' in Colmberg, for building materials, and repairs to the Gaia base
A Conform Med. Air wheelchair cushion donated through Hans Stamminger, by the maufacturers, Wolff Kunstsoffe GmBH, for a local quadraplegic patient
3 body-basket stretchers + food and clothing, from Nehemiah Gateway
2 blankets from Stitch 'n Bitch for the children of a family being supported by the Gaia-Dimos welfare team
A large table from Theresa Stoker
30E from Sheila Chamberlain's Chasamba classes
------------------------------------------------------------------------------------------------------------------------------
Gaia news Archive - Links to the monthly news reports Mar. 2011 - Oct. 2015
From March 2011 to October 2015 we have stored the monthly Gaia news pages. They are stored as PDF documents which you access by clicking on the appropriate date. if the display is not good, you can download the file, and open the PDF directly.
2015 ------------------------------------------------------------------------------------------
2014 ------------------------------------------------------------------------------------------
2013 ------------------------------------------------------------------------------------------
2012 ------------------------------------------------------------------------------------------
2011----------------------------------------------------------------------------------------------
---