ARTICLES FEATURING GAIA
BAD LIPPSPRINGE FIRE BRIGADE HELPING GREECE -
How Gaia got their new medical emergency rescue vehicle.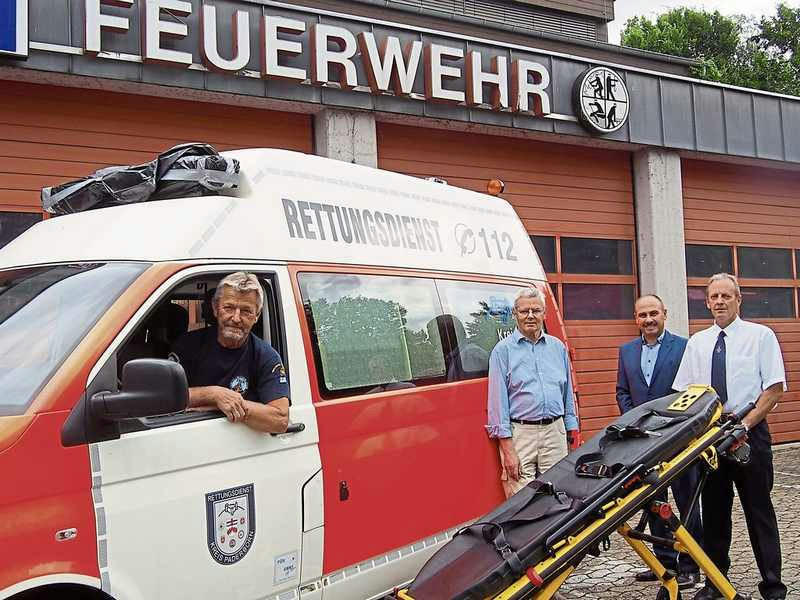 Brotherly help knows no boundaries. Ag Nikolaos is a small village on the Greek Peloponnese peninsula where Erhard Seidel (Gaia volunteer) has lived for ten years now. Erhard has two siblings, who live in Germany. The three are in close contact to this day. When his brother Detlef Seidel, whose home is in Bad Lippspringe and who has been engaged for many years in volunteering, learned of the concerns and needs of the fire service in Agios Nikolaos, he offered his support: Through contact with the Mayor Andreas Bee, the local fire brigade was asked if they could help their Greek colleagues. The request was met with open ears! In the following months, the fire department was looking for suitable equipment.....
<< From left to right, Erhard, his brother Detlef , who lives in Bad Lippspringe and is a member of the town council, the mayor Andreas Bee and the fire chief Michael Heck. Pictures below show other equipment/clothing donated to Gaia

Detlef Seidel hilft ausgewandertem Bruder und dessen Dorf auf dem Peloponnes :Bad Lippspringe (WV). Brüderliche Hilfe kennt keine Grenzen. Und wenn dann noch die Bad Lippspringer Feuerwehr mit dem Bürgermeister helfend unterstützt, kann einem kleinen Dorf in Griechenland geholfen werden. Erhard Seidel hat sich inzwischen wieder auf den Heimweg gemacht. Von Bad Lippspringe bis in den Süden Griechenlands sind es mehr als zweitausend Kilometer. Die Rückreise erfolgt nicht per eigenem Pkw, Bahn oder Flugzeug. Nein, Seidel sitzt am Steuer eines Krankentransportfahrzeugs, auf das die Menschen in seinem Heimatort dringend warten.
Der Krankentransportwagen, Baujahr 2009, hat etwa 320 000 Kilometer auf dem Buckel und ist nach Aussage Seidels sehr gut gewartet. Zusammen mit seinem Bruder Detlef hat der 63-Jährige das Fahrzeug vor wenigen Tagen aus Ahden abgeholt und erlebte dabei eine Überraschung. »Als großzügige Zugabe fanden wir im Fahrzeuginneren eine leicht betagte, dennoch aber sehr gut brauchbare Krankentrage vor. Über dieses Geschenk des Kreises haben wir uns natürlich sehr gefreut«, sagt Seidel zum Abschied. Inzwischen, nachdem letzte Formalitäten geklärt sind, hat der Mann aus Agios-Nikolaos wieder die Heimreise angetreten.........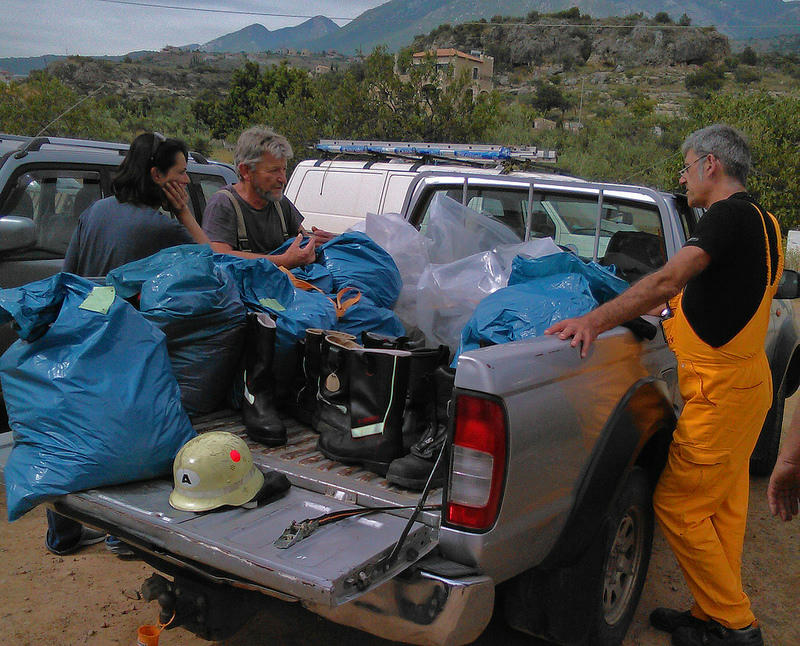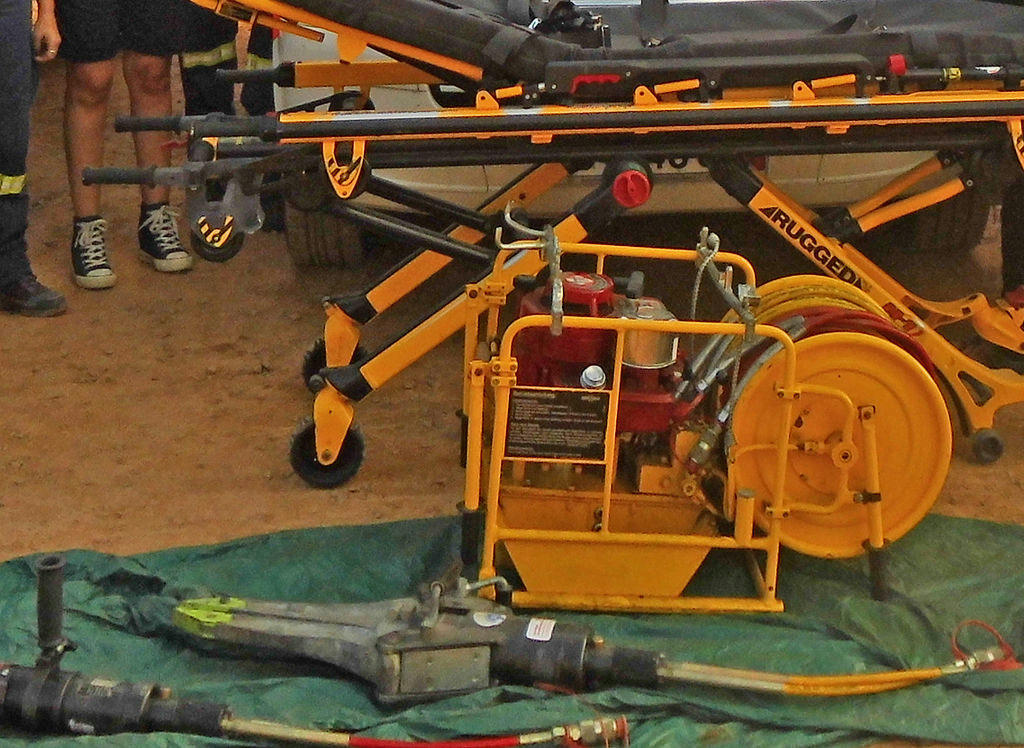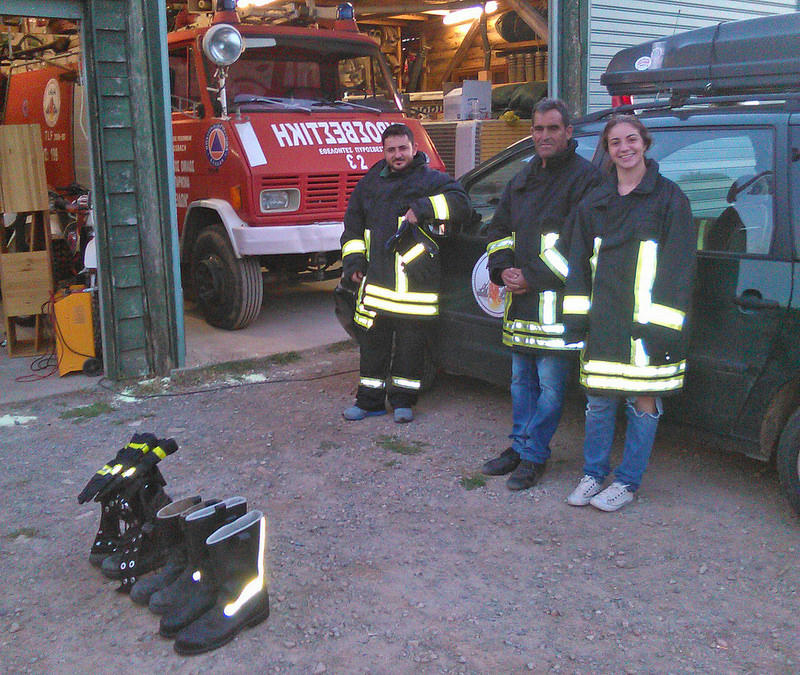 ,,
THE GAIA NETWORK - Extract fromINSIDE the MANI 2015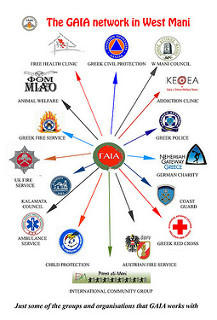 << click to enlarge
Article by Christina Constantios (President of Gaia) :-
This year our publisher/editor Mat Dean asked us to present Gaia in a different way. I immediately thought of categorizing our incidents and presenting the 3 most tragic, 3 funniest, 3 most important etc, but when I tried, I realized it would not be possible, because every one we are involved with, is a mix of tragic, important, life changing and sometimes funny - each one is unique.
It troubled me a lot, and we held a special meeting where I asked the team their opinions. To us 'tragic' means not only the outcome, which in most cases is a positive one, but the impact the incident has on people's lives too, and the danger involved. Thinking back over recent months, one serious incident that we all felt typifies our work, was the Kardamyli incident last November, when a wall collapsed on a young male tourist who was sight- seeing.............. more

---
WORKING WITH THE NEHEMIAH GATEWAY - German appeal for Gaia

Since early 2013, Gaia has been working with the German based aid/welfare organisation, Nehemiah Gateway through their Greek branch Nehemiah Gateway Greece. In October 2014, an NH appeal in Colmberg for welfare supplies for Greece, got huge support . Colmberger Hilfe für Griechenland Folgendes berichtet Hans Stamminger, unser Projektkoordinator, über die Spendenaktion am 11. und 12. Oktober 2014: Nehemiah Gateway Facebook "Unsere Sammlung wurde zu einer Riesenaktion! Spender kamen nicht nur aus dem Verbreitungsgebiet der Fränkischen Landeszeitung, Teil Westmittelfranken, sondern auch aus dem Bereich Fürth und Nürnberg sowie aus dem Landkreis Schwäbisch Hall. Zahlreiche Personen aus unserer Gemeinde haben spontan mitgeholfen. Bedanken möchte ich mich auch........ More
EXTRACT FROM 'INSIDE THE MANI 2014'

Since its formation in 2000, Gaia has grown in ways that no-one then could have forseen. It is now easier to say what Gaia DOESN'T do for the community, than list all the ways in which they contribute to the quality of life in Mani. Here are a few examples of what they have done over the past year, in addition to environmental protection.
FIRE FIGHTING AND PREVENTION
In Mani, the main threat to the environment in the summer, is the risk of fire. With the nearest fire stations an hour away in Kalamata or Areopoloi, the terrible fires in 2007 prompted the local community to raise funds for Gaia to acquire two fire engines. Since then Gaia have steadily built up their fire-fighting capabilities with generous donations of equipment and expertise, from many sources. Now Gaia has well-trained fire-fighting teams who are on fire watch throughout the year, especially during the fire season, which runs from May to November, and are available 24/7 for fire call-outs, even on Christmas Day On December 25th 2013, they were called to extinguish burning rubbish dumps that were giving off toxic fumes......... Read the full version in INSIDE THE MANI 2014.(on-line version pages 62-67)
...................................................................................................
EXTRACT FROM 'INSIDE THE MANI 2013'

You can read the full article in the 2013 edition of INSIDE THE MANI or view it online - click on INSIDE THE MANI 2013 and go to page 64
"The more people donate and do, the more others are encouraged to help "
This statement summarises the essence of the local volunteer organisation, GAIA. When help is needed, they give it , often funding things from their own pockets rather than waiting until funds are available.If you have been following their development over the last few years, you will see how an idea developed into the reality of their base in Agios Nikolaos.. It is an impressive HQ and seemed to go up in an incredibly short amount of time. The two fire trucks are now housed in a garage along with all the equipment needed to perform their various tasks and the volunteer's quarters are now more comfortable with bunks, woodstove and cooking facilities. In fact, its grandness prompted some to question if it was all really necessary. The answer to this is that it is a tangible measure of the generous donations, enthusiasm and unconditional support that many people have given to the idea of a fully operational fire station and rescue centre...........
---
"GAIA" - During our trip, we encountered an organisation called GAIA in the southern Peloponnese, which was named after the eponymous Greek goddess. It is based in STOUPA on the MANI peninsula. The nearest public fire brigade is stationed at least one-and-a-half hours drive away in Kalamata or Areoplois. In times like these it is not even certain that the fire brigade has enough money for the petrol it takes to get to Stoupa.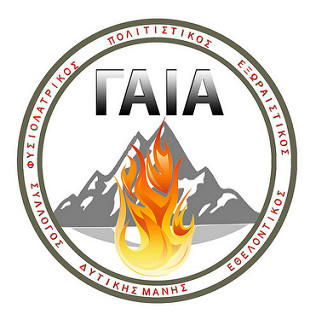 GAIA is not only a voluntary fire brigade but also operates Search & Rescue as well as protecting the environment. GAIA was founded four years ago and has achieved a lot in this time. Its team improvises and makes the best of what it gets.
Our aim is to collect **60.000 Euros annually from various large, Greek insurance companies for the basic security of GAIA. We believe that insurance companies benefit financially if tasks, which are carried out by GAIA, can be accomplished swiftly on site. These include putting out fires that occur on a daily basis in the region during the summer months, the recovery of tourists, injured and animals, the minimizing of damages after accidents or even simply sustaining a clean environment.
We are not just asking you for money, we are striving for our part to organise premium equipment for GAIA, which will constitute a respectable financial value as well.
If you would like to help GAIA, become a member (€25 per year), donate or help us acquire equipment. Become a member! "
** A great idea but so far not realised.
Georgia Spanou obviously made a big impression too, as hisLETTER TO GEORGIA shows. (Sorry, the web site containing this letter has ceased to exist!)
..........................................................................................................................
GAIA FEATURED IN 'THE GUARDIAN' TRAVEL SECTION ON MARCH 22ND 2013
Based on Andy Bostock's interview with Christina Constantios, Gaia's work for the community was celebrated in 'Good news from Greece! Local holiday ventures are on the up' Enterprising people all over Greece are defying the financial crisis and using the riches of their local area to develop new types of holiday a world away from old-style package tourism - http://www.guardian.co.uk/travel/2013/mar/22/greece-islands-new-holiday-ventures#start-of-comments see below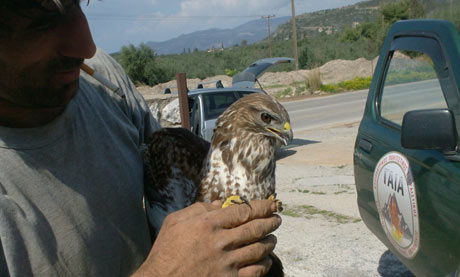 Doing it for themselves in the Mani peninsula
The inhabitants of the Mani peninsula, the "middle finger" of the Peloponnese, Greece's southern mainland, have long been known for their independence and self-reliance. When the Greeks rose up against the Turks in 1821, the fighting started in the Mani, where leaders such as Petrobey Mavromichalis (Black Michael) rejected the usual Greek cry of "Freedom or Death!" in favour of "Victory or Death!". The Maniots were already free.
This wild and independent spirit survived the crushing poverty that was the Mani's fate for much of the 20th century - and especially lately - and is typified by Gaia, a local volunteer organisation that does everything from fighting wildfires to cleaning the area's golden beaches before each year's tourist season begins.
The Mani's renaissance began in the 1990s, when visitors tired of the over-commercialisation of the islands started to explore the mainland. Kardamyli, in the outer, northern Mani had long been a favourite of more bohemian travellers (the writer Patrick Leigh Fermor built a house there in the 1960s), but what attracted the holiday companies was the sandy beaches of Stoupa, just to the south. Development was low-key and careful, though. Families that owned property by the beaches soon adapted to new businesses. One such is Patriko, a cafe-bar built in a well-restored stone house on Stoupa's beach. Its lively courtyard, filled with English, Dutch and Greek holidaymakers for much of the year, hides a more industrious secret, however - for behind the scenes, Patriko is the hub of Gaia.
Gaia began back in 2000, but really came into its own after the financial crisis hit in 2008. Out-of-the-way places such as Kardamyli and Stoupa seemed to be the first to have their services cut back, and even in a good year are still an hour's drive from resources such as hospitals and firefighters. The volunteers of Gaia run two fire engines, co-ordinated by radio from the back room of Patriko.
While wildfires remain the most obvious threat to the natural environment of the Mani, Gaia turns its attention to multiple other tasks. Many of its volunteers also work in the tourism industry, and have realised that one of the big draws of the area is its natural beauty. If this is to endure, someone has to take responsibility for it, and in these troubled economic times it seems that the local community has to step up.
Fortunately the community spirit in this rural area of Greece remains strong. Christina Constantios, the owner of Patriko and a leading light of Gaia, says she could not have continued without the support of her family and the wider neighbourhood. Her daughter now keeps the business running, giving her time to run the charity, while local support from Greeks and the foreigners who have made the Mani their home, is vital. In 2012, apart from firefighting duties, Gaia volunteers were involved in planting trees, clearing hiking trails, repairing storm damage, responding to accidents and emergencies and, of course, keeping those stunning beaches in pristine condition.
When asked what visitors can do to help, Christina says that donations of money and equipment are always welcome. But her most important message is just that people should visit and enjoy this beautiful and unspoilt corner of the Mediterranean.
• For more details about Gaia see gaiamanis.weebly.com or contact Christina Constantios on +30 697 238 8217. EasyJet (easyjet.com) flies from Gatwick to Kalamata, an hour's drive north of Kardamyi and Stoupa AB Andy Bostock is author of the Bradt guide to Greece: The Peloponnese (the new edition is out in May)
.......................................................................................................................................
YOUTH GROUP FEATURE IN FLASH MAGAZINE FEB 2013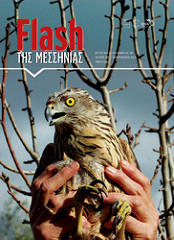 The success of Gaia's Youth Team is featured in the latest issue of Flash. The article in Greek can be seen onFLASH FEBRUARY .** If you scroll down to issue 282 you will see a list of articles. Below are some translated extracts:-
"In Greece nobody respects anybody, nobody is responsible for anything! " It is a comment that we hear constantly, with the expectation that "only when we become responsible and when one starts to respect each other, will we emerge from the crisis." Well, in Mani some children are getting the best lessons about responsibility, respect, etc. . The children in the Youth Group of "Gaia", the Voluntary Association of Western Mani, are learning about fire protection and fire fighting, protection and cleanliness of the environment, and providing first aid to the injured in car accidents etc. "We want to help these children gain social consciousness, to understand what it means to respect not only fellow human beings, but the environment, animals, life in general," said Christina Constantios
"Anastasia Baku from Stoupa also invites classmates to come to" Gaia ". She assures that the training is not difficult, but it is very interesting, because children learn very important things. And 11 year old Nicholas Angelopoulos of Stoupa, notes that his classmates have only to gain by watching the lessons of "Gaia." At the same time he stressed that he likes the most is to extinguish fires.
"Our main purpose is to teach children to work in groups and how to work under pressure in very simple things, like, say, if you get a pan fire at home, "noted Christina Constantios. She stressed that this initiative of the Association was not easy to implement, mainly because the volunteer instructors have to sacrifice something else in order to find the time to do the lessons"
The normal work of "Gaia" continues unabated action in terms of the rescues, firefighting, and environmental support etc. But now that the crisis has created many social problems, "Gaia" has expanded its business and social solidarity. Christina told us "We launched the Shed of Solidarity, which brings together a number of things that people need, especially medicines, clothes, necessary things for disabled patients. We have very close cooperation with the Health Center St. Nicholas, the Social Practice of Kalamata, the Red Cross. Our goal is mainly to collect these things rather than dispose of them, which is not our specialty. The doctors and the Church knows very well where things are needed "
** RELEASE OF A GOSHAWK - Another article in the February issue features the release of a goshawk. Mrs. Mary Ganotis spoke about the work of ANIMA , the Animal Welfare centre in Athens, and the need to create a centre to care for wild birds and animals in Messinia .Her brother Stephen Ganotis (teacher) with his lyre, interpreted carols and songs from all over Greece in an atmosphere of joy and emotion.
---