ANIMAL WELFARE - NEWS AND INFORMATION
This page is in two sections. The first part is news items and requests. The second part general reference information about all aspects of animal welfare.
NEWS AND REQUESTS
First turtle hatchlings in Kiparissi : At dawn on Saturday, July 22, ARCHELON volunteers spotted the first signs that hatchings were leaving their nests. "It is a day of joy and excitement as the effort of dozens of people is rewarded with the miracle of life! ".
REMINDER from ARCHELON : Some guidelines for anyone who may be on a nesting beach at this time:
Turn off your lights! Do not light fires on the beach! Avoid walking on the beach in the evenings, to interrupting turtles that are travellings to the sea! If you see turtles coming out of the nests do not catch them and do not put them straight into the water! They have to find their own way and practice so that when they get into the sea they can avoid their predators! Open a corridor to help them and, if it is day time, protect them from the sun until they get into the sea! Tharros (28-7-17)
1,000 sea turtle nests from Neda to the Arcadian River :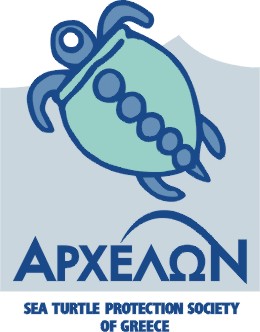 The Kyparissia area hosts one of the most important spawning areas of the sea turtle in the Mediterranean ( second after Zakynthos), and in 2013 it became the first Mediterranean station, with the core of the biotope** being located in the southern part of the bay, 10 km of beach between the Neda River and the Kalo Nero area. So far this year, the number of nests at the core of the biotope has reached 1,000, and spawning is continuing, which highlights the importance of this rare ecosystem and the need for the Greek State to adopt an integrated area management plan, which will include effective protective measures, while allowing human activities and mild growth with respect to the ecosystem! More than 40 Archelon volunteers are on the beaches of Kyparissiakos Gulf, every day, checking & protecting the nests and the ARCHELON Information Station on the coastal road of Kalo Nero, is in full swing. Additionally, during the night hours, specially trained volunteers mark female turtles after spawning to study turtle biology and their life cycle." This year we are inviting you to visit and to know about the sea turtles, the action of the Association and how you could contribute to our efforts. The Station runs daily from 10.00am to 10.30pm. In anticipation of the first hatchlings, we hope to find their way to the sea unhindered. " Tharros (July 2017)
**biotope :the region of a habitat associated with a particular ecological community
***** PET OWNERS IN MANI BEWARE POISON ***** Two days ago a much loved dog belonging to a local Greek family in Stoupa sadly died after eating poison. This dog lived very close to the church in Stoupa and it is highly probable that he consumed the poison somewhere closeby to the start of the footpath that leads to Agios Nikolaos.
Further information received this morning from another Stoupa resident who has a compound with livestock close to the footpath. He found raw mince inside the compound where he also has a dog. On investigation the mince was found to contain broken glass & needles.
ALL PET OWNERS BEWARE - KEEP YOUR PETS CLOSE AS THERE MAY BE MORE POISON OUT THERE.
PLEASE SHARE EVERYWHERE BEFORE ANOTHER BELOVED PET IS KILLED. (24-6-17)
Note: What to do if your dog is poisoned - see POISON and below
The legal rights of animals have been emphasised by the Greek Supreme Court The Deputy prosecutor has issued a circular to Greek prosecutors instructing them to treat seriously all cases of abuse and neglect of animals. Many of these cases have been given low priority in the past, prosecutors are urged to deal with cases quickly and apply more severe penalties. Stricter application of the law could encourage increased reporting of such abuse. Tharros (May 2017)
Reporting incidents of animal neglect/cruelty : This document is an English translation by M Wicks(MIAO) of the article written by Vangelis Diva, and gives practical advice for all of us, on why and how we should report incidents. Vangelis Drivas is a policeman, psychologist and associate of www.zoosos.gr , and warns that people who abuse animals may go on to domestic violence, and urges people to report crimes against animals, to prevent the perpetrators from doing more harm. He attended the seminar "The cycle of violence: from animal abuse to domestic violence" which was held recently at the Benaki Museum, to inform and educate officers of the Greek Police force. Report Animal Abuse (January 2017)
Police urge citizens to report animal cruelty : Throughout Greece in the first nine months of 2016, there have been over 940 reports of abuse, torture or killing and 156 people have been arrested. In the past two years, 2014 and 2015, data from the Police show an increase in reported incidents and in particular, the complaints submitted to the competent services rose from 809 in 2014 to 1,307 in 2015 , the number of people who were charged increased from 522 to 658. Note that torture, abuse, poor and ill-treatment of animals, of any kind, and especially certain forms of violence, such as poisoning, hanging, drowning, burning, crushing, amputation, and the wanton killing of animals, is punishable by imprisonment or a fine, or with both. The Greek Police encourages and urges citizens to inform the local police authority whenever they perceive such behavior. Tharros (October 2016)
Large turtle returned to the wild: The largest turtle ever rescued by Archelon (Demetrius Paul) - his shell was 80cms - was returned to the wild on August 16th, after being treated successfully for a severe head wound. The release took place on the beach of Romanos, in front of the hotel Costa Navarino. This location was chosen because the hotel management agreed to cover part of the costs of Demetrius Paul care. Also, for seven years the Costa Navarino protects nests in Romanos beach. May people watched the release Tharros (August 2016)
Long term protection pays off: This year marked an improvement in the preservation status of both Caretta Caretta Sea Turtle and the Mediterranean Monk Seal in the global Red List of Threatened Species of the International Union for the Conservation of Nature (IUCN). Caretta caretta recently changed category from "endangered" to "Vulnerable" and its Mediterranean population is listed now as of "Least Concern" . Also, after 25 years of systematic efforts to preserve the species, the first results are now starting to show in IUCN preservation status for the Mediterranean monk seal which dropped down one category in the endangered species list, from "critically endangered" to "endangered".The Mediterranean seal is still at risk of extinction but a step has been made in the right direction for its protection and there are signs of recovery. It was noted that Greece hosts the largest and most important monk seal colony at present. Greeknews agenda (17-7-16)
Mourgi Supermarkets support KAWS : With every purchase or Pedigree/Whiskas dry food, Mourgi supermarkets offer a free meal to animals being cared for by the Kalamata Animal Welfare group IMAGE

Katherine Papoutsoglou (27-4-16)
Kennels re-open in Petalidi: After a year in Australia, Phil and Helen Cooke are back in Petalidi and can once more, offer accommodation for both cats and dogs. The site is ready, but not their website, so for more information contact 6940979772, 6940979837 or email philcooke250\yahoo.co (April 2016)
Kalamata dog owners fined : 5 dog owners who failed to comply with Greek animal legislation were fined 300 euros each. Kalamata mayor, Panagiotis Nikas, stressed that there is no way for remission of fines and urged dog owners to care for their animals and comply with the relevant legislation. (this includes having relevant vaccinations and microchips - the police are equipped with microchip scanners) kalamata journal (April 2016)
ΦΟΚ (Αnimal Wellfare K'mata) want old newspapers for sick dogs and puppies

Katerina Pesonis and wood or pallets to build dog shelters

WOOD Contact philozoikos.omilos.kalamata\gmail or 69479 62410

ΦΟΚ Εικονικες Υιοθεσιες (Sponsor a dog) (February 2016)
Adopt a virtual pet in Kalamata: Animal lovers in Mani who are unable to care for pets in their own home, can now help a Greek animal get a better life, by adopting a virtual pet through the Kalamata Friends of Animals Club. ΦOK cares for animals which have no hope of getting a home either because they are permanently under treatment for an illness or because they have a disability, or because they are old, and of course, there are animals that are simply strays for no particular reason. By becoming a "virtual parent" you have the opportunity to help making sure they stay in a safe place where there is no danger from poison and cars. With the donation of a fixed monthly amount for shelter, food and medical attention, the association will help a stray pet to live better ! You will receive photos and news, and you will also be able to visit upon request. For more information, please contact us at tel. 6947962410. Tharros (Jan 2016)
Good news about Loggerhead Turtles (Caretta Caretta) : Thanks to the long term work of conservation groups, especially in the Mediterranean, the classification of loggerhead turtles by IUCN (International Union for Conservation of Nature) has been changed from 'endangered' , which was assigned in 1996, to 'vulnerable'. The change is the result of a recent assessment by the Marine Turtle Specialist Group of IUCN, and based on updated scientific data. However, this does NOT mean that turtles are no longer at risk, just that they are not in danger of extinction in the near future, on condition that their current protected status remains the same. The new classification depends on the relatively good condition of the Loggerhead Turtle in the Mediterranean. archelon (January 2016)
New Greek Law for pets on buses : From January 8th 2016, a new law to make it easier for people to travel with their pets, gives people the legal right to take small pets on the metro, trains, buses and trolley buses, so long as they comply with certain conditions. For instance, smaller dogs can be transported without a cage so long as they are on a leash, are muzzled and have their animal passport or health card, which has been updated within two years. Or pets can be transported in special transport baskets with maximum dimensions 50x40x70 cms. within the passenger compartment. The number of pets may be restricted on some routes/ services. There are special arrangements for companion dogs for disabled people. Some people may be concerned about the new arrangements, for health reasons, but pets cannot be refused transport, just because of passenger/driver objections. Drivers of buses that do not comply with these rules shall be subject to disciplinary action. allabout (January 2016)
Kalamata Municipality providing funds for stray pets : In an effort to dispel the last bad impression created, the Municipal Authority detailed their plans for the management of stray animals, which include funds for the Friends of Animals Kalamata, for sterilization and electronic tagging of strays, food, the building of temporary animal shelters with automatic feeders. The vet Sotirios Baxevanaki has been appointed to provide veterinary services ie monitoring the shelters, and providing 1st Aid for sick and injured animals. tharros (January 2016)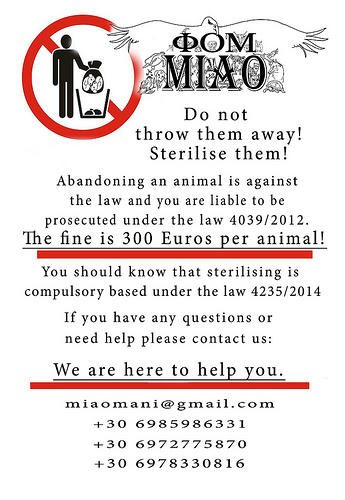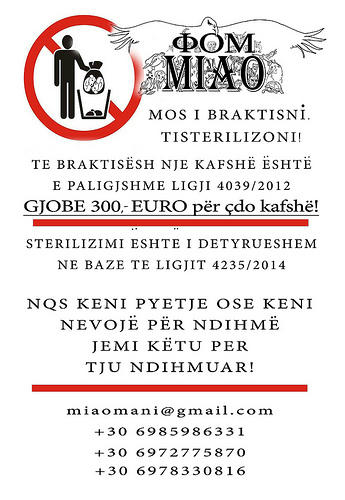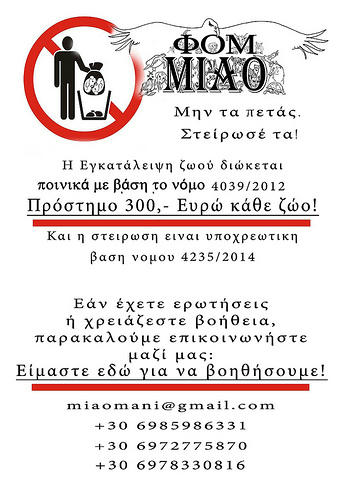 Rabies in Greece: 2016 NO increased risk : In 2012 there were the first 2 confirmed cases of rabies in Greece since 1987. Since then, rabies has been spreading south, but still limited to Northern Greece "......by March 2014, a total of 45 rabid animals (37 foxes, 5 dogs, 2 cattle and 1 cat) had been detected in those regions previously reported by the Greek authorities to be considered a higher risk of rabies. " RABIES IN N GREECE So far there have been no reported cases in the Peloponnese BUT, there appear to be more foxes about this year, and following the report of some bold fox behaviour, we have advice from Kostas (vet) " If you see a fox with strange symptoms (aggressive, a lot of drooling, disoriented...) you should inform the Kalamata Veterinary Assoc immediately" Διευθυντής(Director) Λακωνικής 87 2721095836 Γραμματεία (Secretariat) Λακωνικής 87 2721086146 Φαξ(FAX) Λακωνικής 87 2721095482 (October 2014)
Warning for cat-owners: Following the death of a kitten, a reminder that "Advantix"- Spot on for dogs is poisonous for cats. Not only direct application, but also, "Cats must be separated from dogs during treatment and do not allow your cat to come in contact with a treated dog for 24 hours." This applies to a number of remedies containing permethrin, including Exspot, Advantix spot on for dogs, Preventic Spot on, Permethrin and Fleetic spot on. Remedies containing deltamethrin or flumethrin can also be poisonous for cats. (28-9-14)
Transport of hunting dogs
- From the beginning of September 2013, it is illegal to transport dogs in plastic or wooden boxes, attached to the back of a car. The fine for so doing is 2000 euros. The Police now have the power to stop the vehicle, and can take back the hunting license if any dog is without a microchip, not vaccinated or in the box at the back of a car. (3-9-13)
REFERENCE INFORMATION
24 hour emergency VET: If your pet is injured/taken ill during the night, you are unlikely to get a response from any vets in Kalamata. Local vet Kostas Antonopoulos recommends a veterinary clinic in Athens, called Αττικό Νοσοκομείο Ζώων, Attiko Nosokomeio Zoon, which works 24 hours a day. "Just call them in an emergency, or put your pet in the car and drive straight to them", is his advice. You find them under attikovet.gr, and their phone numbers are 210- 66.40.552 - 555. (June 2017)
Mani Strays : Based in Kardamyli, this is another organization in Mani, helping to care for stray animals (not MIAO)
"We are a few individuals who created an autonomous group. We try to help with the care, hospitality and adoption of the stray animals in Mani Peninsula. We solely rely on donations and volunteer work and we explicitly use all our funds and human power for this cause "
For more information please call Lisa at 6937258606.
Εθελοντικός, μή κυβερνητικός οργανισμός για τα αδέσποτα της Μάνης (May 2017)
Emergency treatment for dogs ( Snake bite and poisoning ) : MIAO notes to help people take prompt action, which could save a life, if their dog has eaten poison POISON 1st Aid or is bitten by a poisonous snake SNAKE BITE 1st Aid. They remind responsible dog owners that they should carry a rescue kit, when out walking dogs. "You need an emetic, Filtalon, and Atropine to stop the spasms, and a needle. This is in case the dog swallows poison. You need Solu-Cortef, and a needle, for the snake bite. You can buy all you need at the local pharmacies. When you read the instructions you see how much Filtalon, Atropine and Solu-Cortef you should carry around with you. It depends on the weight of your dog. The drugs do not have to be refridgerated, but they need to be in a container that protects them from sunlight" (March 2017)
Note: For poisoning treatment in Greek and German see entry for July 2013
Rabies risk by country: GOV UK has published a guide to the risk of rabies in each country. The latest update was December 2015 . The risk in Greece has not changed since 2014 and is currently confined to Epirus, Western Macedonia, Central Macedonia, Eastern Macedonia and Thrace, Thesssaly (April 2016)
Finding a lost dog: Tip from a grateful dog owner, who, with the help of this advice from a group of hunters, found his dog after 12 days of fruitless searching in a heavily wooded area. FINDING A LOST DOG (December 2015)
What you can do if you find a dead dog: First, check for signs of poisoning such as foam/froth at the mouth. MIAO would very much appreciate being informed, and can help report the matter to the local Police (the Dimos will not be interested). If possible take photos of the dog, to help identify the owner. Notices can be put up in local stores or the Post Office. The local vet or MIAO can also be contacted to check if the animal is microchipped. If it is, the owner can be found through the national database. (February 2015)
Leishmaniasis - This potentially fatal disease for dogs, is common in the area. MIAO was given advice about prevention and treatment by a German parasitologist who has been a researcher for over 20 years in this field, and worked with the Veterinarian University in Thessaloniki. There is no 100% protection, but if you take some measures, the danger can be successfully minimized. For detailed information, please see LEISCHMANIASIS (April 2014)
Petlocator helps to find missing animals: With the help of mapping and Google, this website will collect and provide information for those looking for their lost pets. To subscribe, volunteer or register a lost pet contact http://www.petlocator.gr/ (12-3-14)
'Zoo SOS' reports what is happening to animals in Greece: On the Zoo SOS website you will see distressing articles about cruelty, but also the good news - the increasing awareness of animal needs and prosecution of people who neglect and abuse animals. zoosos_gr ( 24-2-14)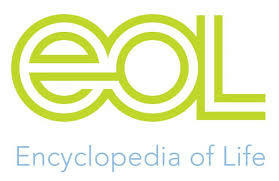 The Encyclopaedia of Life(EOL) - What is EOL? : Knowledge of the many life-forms on Earth - of animals, plants, fungi, protists and bacteria - is scattered around the world in books, journals, databases, websites, specimen collections, and in the minds of people everywhere. Imagine what it would mean if this information could be gathered together and made available to everyone - anywhere - at a moment's notice! This dream is becoming a reality through the Encyclopaedia of Life. (EOL) YouTube The Mission: To increase awareness and understanding of living nature through an Encyclopaedia of Life that gathers, generates, and shares knowledge in an open, freely accessible and trusted digital resource ( 26-12-13)
Jellyfish about - are they dangerous? According to a 2008 report by the Mediterranean Science Commission (CIESM), global warming is transforming our sea beyond recognition. This institution reports that, since the 1980s, the Mediterranean marine biota has known rapid, dramatic changes which include alteration of food webs, mass mortalities or population explosions such as the occurrence of jellyfish blooms. However, many are not dangerous to humans. Here is a website to help you identify what you see.JELLYFISH SPOTTING (18-8-13)
Treating a poisoned dog - To be really effective, an antidote needs to be give within 10 minutes, so the best way to 'be prepared' is to get a kit from your vet, learn how to use it, and carry it with you when out with your dog. Here are the instructions in ENGLISH - GERMAN - GREEK Medical stuff can't be stored in public places, but in an emergency, 3 local people with personal kits are willing to offer them to anybody who needs them, Ag Nikolaos - Agi at Neriedes bar : Stoupa - Christina at Patriko :Kardamyli - Anna at Café Androuvitsa (July 2013)
ANIMAL WELFARE LAWS 2013 - The far-reaching Greek animal welfare laws came into force in 2013, although some aspects allow Municipalities until 2014 to comply. MIAO/ΦΟΜ have prepared information on some of the aspects relevant to the general public and also have the full laws for reference see ANIMAL WELFARE LAWS (July 2013)
NINE LIVES GREECE : Nine Lives Greece is a network of volunteers dedicated to the reduction of the stray cat overpopulation through catch-neuter-release programmes. Each year, they get around 600 stray cats in Athens neutered/spayed, while they improve the quality of life for over 250 existing street cats through daily feeding programmes and veterinary care, and rehome many others.
PET CEMETERY IN MESSINIA: Kostas Antonopoulos(vet in Stoupa) notified us about a new Pet Cemetery in Gargarlianoi. It has been set up in a lovely quiet spot, by two friends of his. For a reasonable price your pet can have a great resting place. They will pick up your pet from your home or any vet clinic. http://koimitiriozoon.gr/gallery.php (4-11-12)
COMPLAIN ABOUT ANIMAL MALTREATMENT ON LINE: The Greek National Tourism Organisation (GNTO) has put up a website where you can file a complaint about maltreatment of animals. Should you become a witness of maltreatment of animals in Greece, please don't hesitate notifying the GNTO by filing that complaint. To get to the official complaint form click on COMPLAINT FORM(Word) or download COMPLAINT FORM(Open Office) or print and send COMPLAINT FORM (PDF). (20-10-12)
ANIMAL WELFARE ASSOCIATION SPARTI: Founded in 2008 this is a registered charity which is partly funded by the municipality of Sparti. They house stray animals and have housing for 60 animals, but rely on donations to provide food for the animals. They have a neutering/spaying program. They arrange adoptions for dogs and cats. They deal with many complaints about neglect and cruelty and if necessary, take the offenders to court For more information and contact details see http://www.animalwelfareassociationsparti.org/about-us.html (14-10-12)
REPORTING ANIMAL CRUELTY : If you see cases of animal neglect/cruelty you can report the matter to The Greek National Tourism Organisation. Link: https://www.facebook.com/veterinary.gr/posts/529230027129687 Animal cruelty and neglect is now punishable by law and should also be reported to the local police station.(17-7-12)
PET TRANSPORT TO THE UK : If you need a pet taken by road to the UK, perhaps Peter and Maggs could help. They frequently travel to the UK with a van and could take a pet container with them. Tel: 6982302193 or 27220 26357 or see tham at the English products stall at Fadderfriends bazaars (4-9-11)
TRIP PLANNING WITH PETS For up todate advice and information on travelling in/out of the UK see http://gouk.about.com/od/tripplanning/f/PETS.htm (August 2011 )
HELP FOR STRESSED CATS Feliway is a synthetic copy of the feline facial pheromone, used by cats to mark their territory as safe and secure. By mimicking the cat's natural facial pheromones, Feliway creates a state of familiarity and security in the cat's local environment.As a result, Feliway can be used to help comfort and reassure cats, while they cope with a challenging situation and/or help prevent or reduce the stress caused to a cat during a change in their environment. see FELIWAY. (Feliway is available from the vet in Stoupa)
Pet Health Care : Ann found a useful website for all pet owners. Among other things it covers advice on when to call a vet, first aid, a veterinary medical dictionary and explanation of tests and procedures. see PETEDUCATION (April 2011 )
In the Peloponnese, ARCHELON has turtle protection projects in Kyparissia, Lakonikos and just across the bay from us in Koroni. You can now support their work by sponsoring a baby turtle - or a whole nest!SPONSOR FORM or see their website www.archelon.gr/eng/gifts.php.
Cat trap: In Neochori there is now a cat trap for catching cats when they need urgent help or to be taken for castration. If needed, please contact Heidi Schmied tel. 27210 77972(afternoon) schmheid\otenet (German) or Claudia Petrimeas 27210 / 78140 petrible\gmx (German/English/Greek)
Transport boxes: I can lend 2 medium sized travel boxes for transportation to the vet, suitable for large cats or dog puppies. L 55cm W 42cm H 40cm. If needed, contact Heidi Schmied tel. 27210 77972(afternoon) schmheid\otenet GERMAN ONLY enquiries in other languages with an interpreter please
Kalamata Animal Welfare Society ( greek abbr.: PHOK) is a legal non government organisation that works under Greek laws. It is financed exclusively by donations and member fees. KAWS was founded in 1996 by a small group of Greeks and foreign animal lovers who wished to help the stray animals in the city of Kalamata and the surrounding area. It soon found support from the local but also from the foreign community of Kalamata and consequently its board is made up of members from various countries.
If your dog is poisoned here is what you need to do,
From Eva Lang....
If your dog is poisoned it needs an injection of FILTALON first, this is an emetic. For a dog with 20-25 kilogramms you need 0.5 ml = half an ampoule.
Afterwards you inject ATROPINE, that stops the spasms. For a dog with 20-25 kilogramms you need 2.5 ml = two and a half ampoules.

You inject the dog in the neck, under the skin, it has to happen within 10 minutes of the poisoning!!! Before you are ready to do that try to make the dog drink as much water as possible, you can also inject water after Filtalon.

When I go for a walk with my dog I carry everything with me, just in case. (2010)
If you are uncertain about giving an injection, Eva can help tel. 6972-775870. She has given injections to dogs, cats and horses.
Kalamata vet: (recommended by Eva Lang) Evangelos Papadimitrios has been providing local residents with veterinary services, for a number of years. He frequently makes home visits in the Stoupa area. His prices are reasonable and he speaks good English. His main concern is animal welfare. You can contact him by email on evpapadi\otenet or by phone 27210-94327 and 6944 931126. He speaks good English.
Kalamata vet Kostas Antonopoulos speaks very good English and some German. He does work for KAWS. He will make home visits in the Stoupa area. His website is in English German and Greek veterinarian ALSO HAS A CLINIC IN STOUPA
---