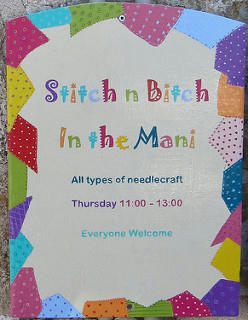 STITCH 'N BITCH IN MANI 11am THURSDAYS, PATRIKO CAFE, STOUPA
New members and visitors welcome!
For information and contact tonyandelaine\hotmail.co
Or by Phone: Elaine Beacher 6981409941
For information about the Stitch 'n' Bitch movement see Wikipedia entry Stitch'n Bitch
Surprise visit from knitware designer Jean Moss. One of her knitting tours came to Kardamyli, and while they were here, visited Stitch 'n Bitch. Unfortunately, the tour came without Jean as she had just been diagnosed with myeloma, and her world was turned upside down, as she fought for her life. She has only recently recovered enough to want to travel, and the Mani is her first destination.
We were surprised and delighted to see her when she turned up with Philip on our first day back at Patriko. Her first design since her illness is her 'Oriel' hat, so named as it reminded people of a stained glass window.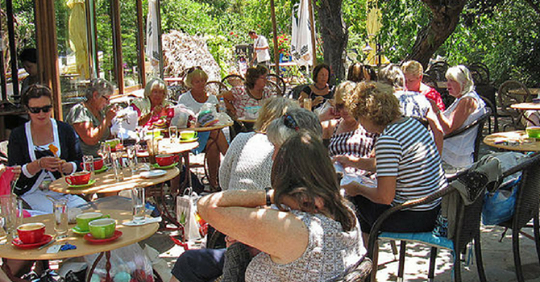 SnB at Patriko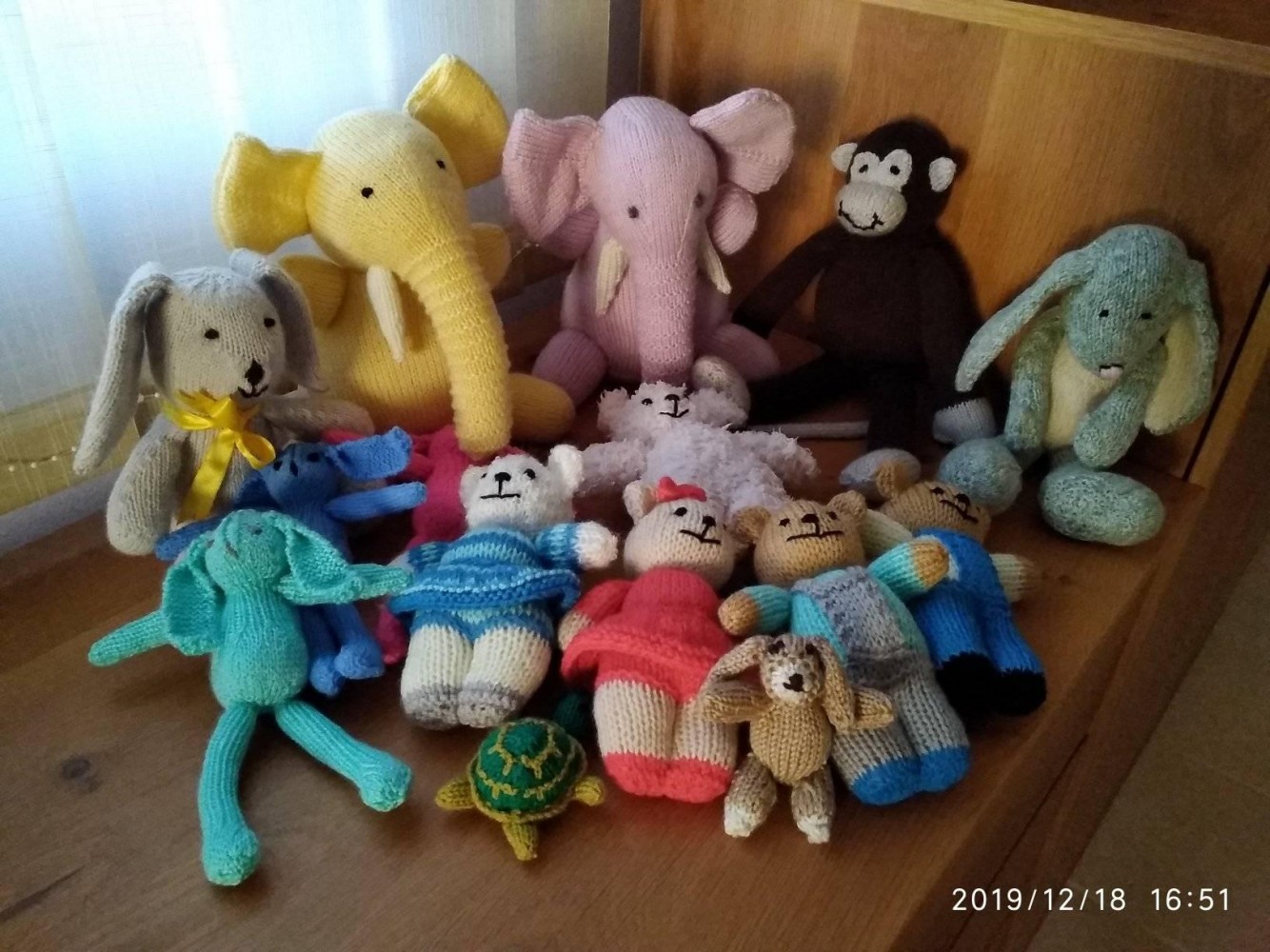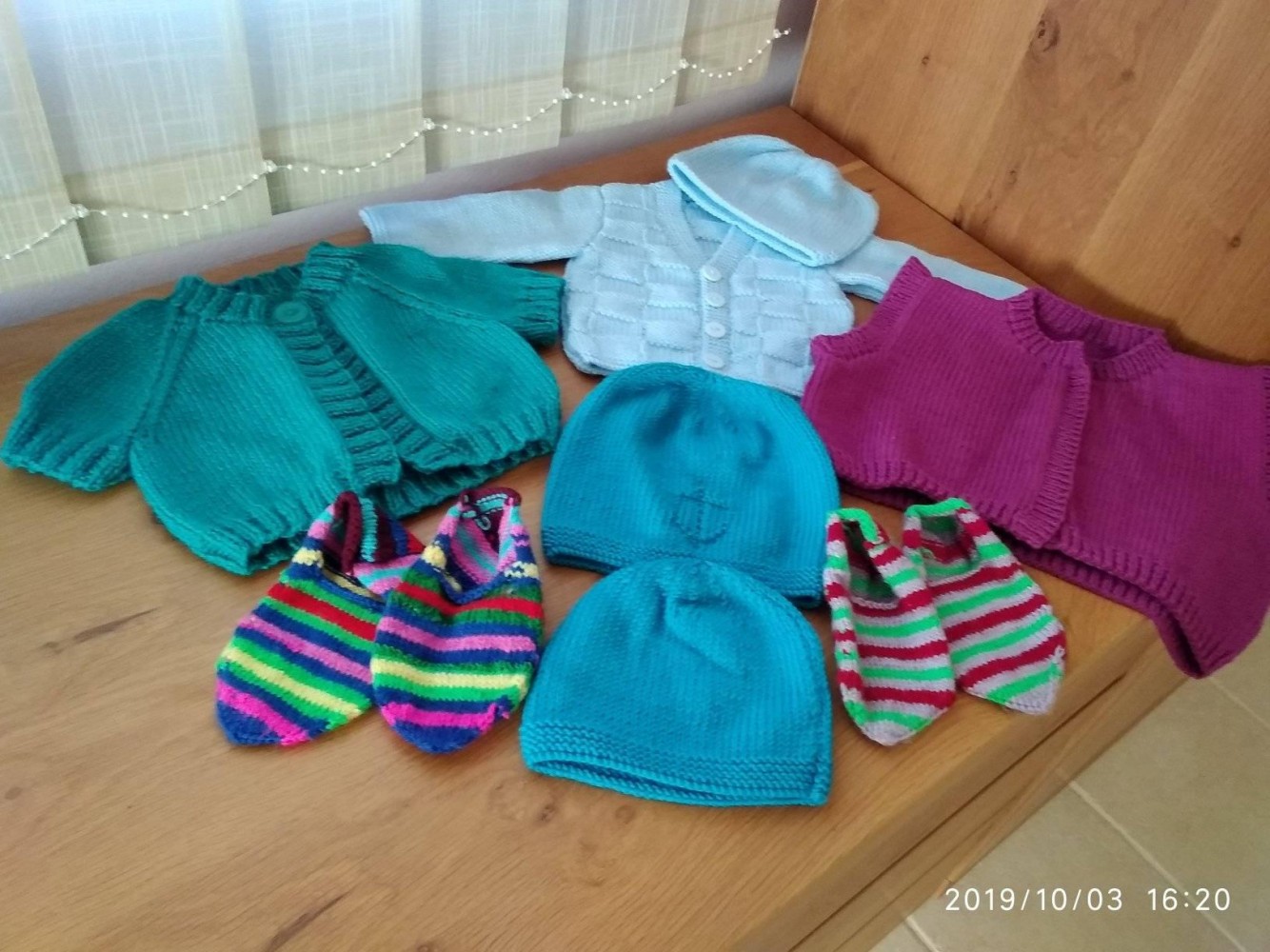 Members have been busy over the winter and boosted their charity fund with sales at several local bazaars. It is not only regular members who have been keeping our charity stall supplied , several visitors have also turned up with very welcome contributions. The group is also receiving contributions from an Albanian lady who makes many things, including beautiful slipper socks, made from recycled yarn.
We inspire each other! One member intrigued by a knitted lion another member had made, persevered with the loopy stitch needed for the mane, and went on to make her own lions. But she did not stop there - she is making an ark load of soft toys for our charity stall! Another blanket has been completed, but this time it is being donated for local flood victims - many people suffered in the storms/floods of September 6th/7th
SnB will continue through the summer. Although for many, it is a bit warm for stitching, a few people are likely to found in the leafy shade of the Patriko garden, on Thursday mornings. Our charity work continues**, and if anyone wants to donate knitted squares (5"x5") for blankets or items to sell, they would be very welcome. A recent visitor came with a couple of crochet animals, one of which was sold to one of the group, as soon as it arrived!
Would you like a quality hand made blanket, made to YOUR specifications, at a bargain price? Members of SnB give their stitching time for charity, so the cost to you is only the materials + a little extra for the SnB charity fund. Soft toys in a range of sizes and species can also be made to order. However, we cannot give a guarantee when an item will be completed! Here are some examples of a blanket and soft toys ' Would you like one of these?
Stitch 'n Bitch in Mani now has this permanent sign on the wall outside Patriko, and Janet sent a contibution of 15 SnB poppies to the WW1 poppy appeal (see below) .
Stitch 'n Bitch in Mani, which gives a feeling of our gathering, and Stitch 'n Bitch products.
At the beginning of June, Elaine took more supplies to the SOS Children's Centre in Kalamata, which included a number of items made by members while they were in the UK. Another blanket has been sold, and a further 42.50 € was raised at the June Bazaar in Stoupa, so we have plenty of funds to keep us stitching!
At S'n B we have some wool, if anyone would like to make a poppy, perhaps in memory of someone in your family, who died in WW1. Janet Robinson will be collecting poppies at Stitch 'n Bitch , or you can join us to make some If you are not in Mani, you can send your finished poppies with your name and address, as they do try to write to everyone, to Mary Bird, Head of Marketing, Woman's Weekly, IPC Media, 110 Southwark Street. London SE1 0SU. Please feel free to include a donation for The Royal British Legion
---
The story of how S'n'B got started in Mani - see STITCH 'N BITCH IN MANI 2012-3
---