Further promotion of the mountain path Velanidia - "Lagou Hani" - Alagonia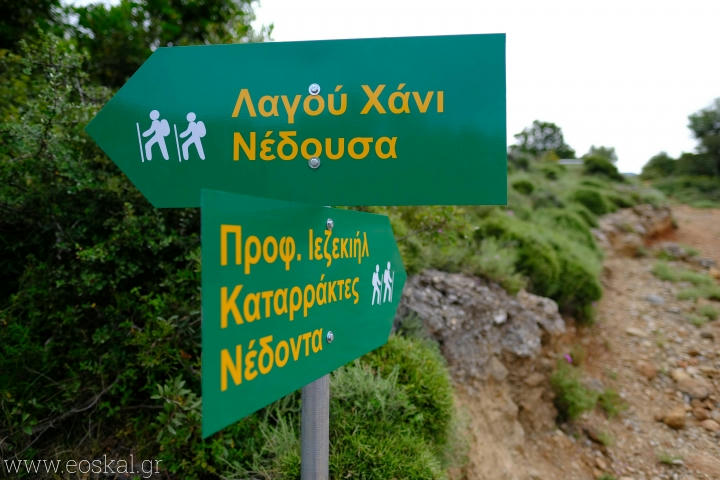 11/05/2022
Cleaning and highlighting works of the path from the Holy Monastery of Velanidia to "Lagos Hani" and Alagonia will be done after assigning works to a forester from the Peloponnese Region.
It is foreseen that cleaning works will be carried out on the path in a length of 9,800 meters, while a budget of 24,304 euros has been foreseen.
Path next to Nedontas
The Peloponnese has a variety of hiking trails, which run through mountainous destinations and lead to important sites archaeological, cultural, tourist, ecological, etc.
An effort of the Region is to highlight these routes, which in most cases were in the past important roads of communication and transport of goods and could now be a nucleus of attracting visitors, with the direct result of upgrading and improving the living standards of the inhabitants of the areas. intervention.
In this context, the promotion of this route is included, which starts from the Holy Monastery of Velanidia, reaches the place of Lagou Hani, before the village of Nedousa and continues through the impressive five-arched stone bridge of Polykarpos to the Community of Alagonia.
Most of the path of the path is parallel to the riverbed of the river Nedontas, while the whole is located within the boundaries of the Municipality of Kalamata.
Mild interventions
The main purpose of the intervention is the protection, utilization, promotion and environmental awareness of citizens, in the context of prevention and protection of natural ecosystems.
This path had been highlighted in the past through small-scale works, which provided hikers with the necessary facilities.
However, by utilizing the trail now, as a safe walking route, it is possible to attract and facilitate the access of the public who seeks recreation close to nature.
The path has good views and dense vegetation that can attract the public, creating the right conditions for ecotourism development in the area.
The work that is planned to be done is mild, perfectly adapted to the environment, without creating negative effects.
The vegetation will be cleaned and the deck of the existing path will be educated, in a length of approximately 9,800 meters, in places and along.
The clearing of the deck of the path will be carried out in a width of about 1.00 m. To 1.50 m. And includes the removal of vegetation from the deck, as well as the pruning of peripheral trees and shrubs, if required.
Source: Tharrosnews.gr