"My Greece": Despina Vandi's show in Messinian Mani
Messinian Mani will be the next stop of the Mega show "My Greece", presented by Despina Vandi.
With Vicky Stavropoulou at her side, where she is connected to the area due to the band she has created with Christos Hatzipanagiotis in Platoma, they will visit important monuments, get to know the history of the place, look for information on how local products are made, participate in the daily life of the locals, while they will also collect raw materials.
The episode is double and will be shown: SATURDAY 22 AND SUNDAY 23 MAY AT 18:40 AT MEGA Megatv.gr
Source: Eleftheriaonline.gr
On Saturday, May 22, Vicky Stavropoulou opens her estate in Avia, Messinia, for the first time to welcome "My Greece" and Despina Vandi. With Taygetos in the background and a view of the whole Messinian gulf, Despina and of course the viewers witness the life of Viki in the "village" as she calls it, with the trees and the garden. An enjoyable tour with surprises, laughter, singing and cooking with garden products.
A walk in the impressive gorge of Ridomo that starts from the peaks of Taygetos to end up in the sea after 25 km and the old stone bridge of Koskaraga, which connected Messinia with Laconia.
Tour of the Plain of Avia, one of the cities that Agamemnon donated to Achilles to go to Troy. A sea ​​picnic on one of the hidden beaches of the area is evolving into a fast-paced survival lesson, as Despina and Vicky collect salt from the rocks, critically from the beach, light a fire in the sand to prepare a meal with the aroma of Mani and sea.
A walk on the beautiful beach of Kalogria and a journey back in time, where Nikos Kazantzakis spent two years of his life with Zorbas in the old mines of the area and was inspired by his famous work "Life and State of Alexis Zorbas". The quiet port of Agios Nikolaos is ideal to let time pass slowly and try, like Despina Vandi, the genuine Mani flavours.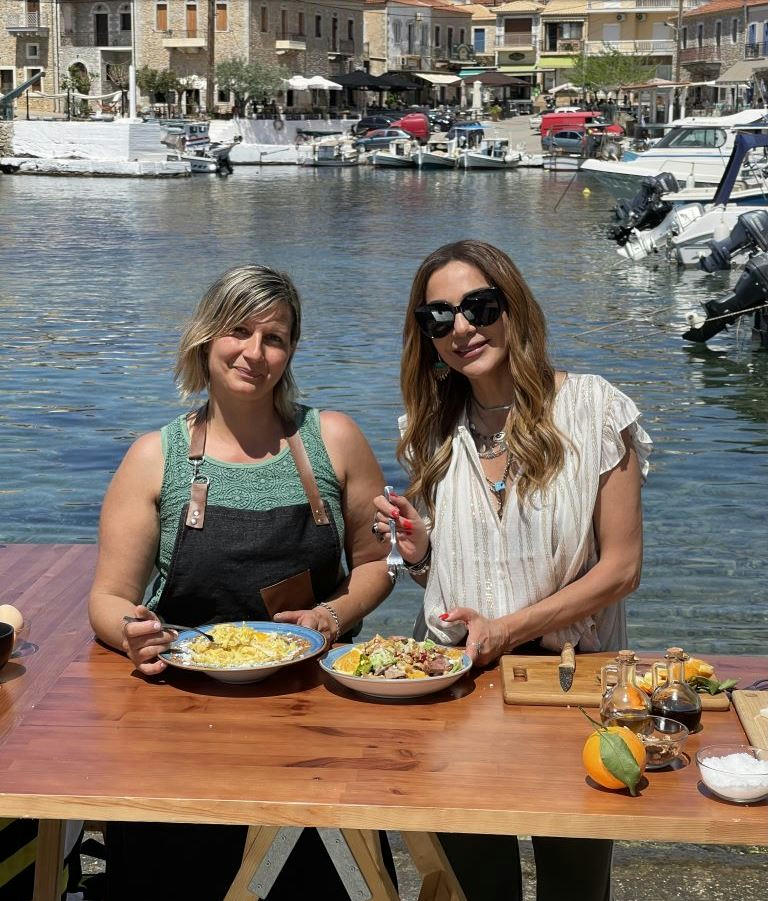 The adventures continue on Sunday, May 23. Despina Vandi reaches Laconian Mani and the historic Areopolis. The picturesque stone village reminiscent of a movie set is the place where Petrobeis Mavromichalis proclaimed the revolution on March 17, 1821.
"My Greece" dives into the turquoise waters of Limeni and is enchanted by its wild beauty. Despina Vandi meets Vicky Stavropoulou in the castle town of Palia Kardamili and the Tower of Mourtzinos .
The stone mansions of the village take you back in time and rocks that dive into the sea create impressive beaches hidden from prying eyes. The tour is complemented by local delicacies and cuisine with laughter and… questions.
This weekend Despina Vandi travels to the favorite places of Viki Stavropoulou and guides you to the impressive and full of changing images of Messinian Mani.
Come and travel to Greece together!
Source: Messinialive.gr