The area of ​​Mani has been without an ambulance for 15 days
due to the suspension of its drivers.
PARKING THE AMBULANCE AND OUT OF THE BATTLE IS WAITING FOR A DRIVER…
We are forced to come back with a new post on such an important issue, since today, September 15, the Health Center of Agios Nikolaos still does not have a driver for its only ambulance for 15 days ! There may have been some political moves, but the bottom line is that no driver was moved or detached and the vehicle is parked and out of action.
According to information from Messinialive, the Voluntary team GAIA Mani , on the initiative of the Commander of Costa Xydeas, took from the crew - without repairing his serious injury - its own ambulance, to partially cover some of the incidents that occur daily . Finally, to point out that the area of ​​the Municipality of West Mani during this period has increased tourism, mainly older people, with whatever this may mean. A solution must be provided immediately so that the residents and visitors of the area can be covered and transported to a Health Center or Hospital, in case of need,
THE REPORT WE HAD DONE ON 11.9.2021
IMMEDIATE RESOLUTION OF THE ISSUE SINCE THE MUNICIPALITY OF WEST MANI IS WITHOUT AN AMBULANCE HERE FOR 11 DAYS!
The area of ​​the Municipality of West Mani has been without an ambulance for ten completed days. According to the report of Messinialive , from September 1, when the unvaccinated health workers were suspended , the available drivers of the only ambulance of the Agios Nikolaos Health Center were suspended due to non-vaccination , while the same happened for 5 other employees in specific health structure. As a result, today, for the eleventh day, the tourist area of ​​West Mani, which is at the peak of its traffic, can not cover the transfer of incidents.
Note howThis issue has arisen other times in the past , either due to the failure of the old ambulance that has literally "written" more than 1 million kilometers and has completed its turnover, a fact that we had highlighted in our previous report in 2017 - or due to non-coverage of all shifts and shifts due to lack of staff .
The issue becomes even more serious, since several times these gaps were filled by the modern but θε illegal ambulance of the GAIA volunteer group based in the area. However, this year the following happened: on August 25, with a public post, the Commander of GAIA Mani, Costas Xydeas , informed that their own ambulance,is with a very serious damage in a workshop in Kalamata and is unable to fill the gap.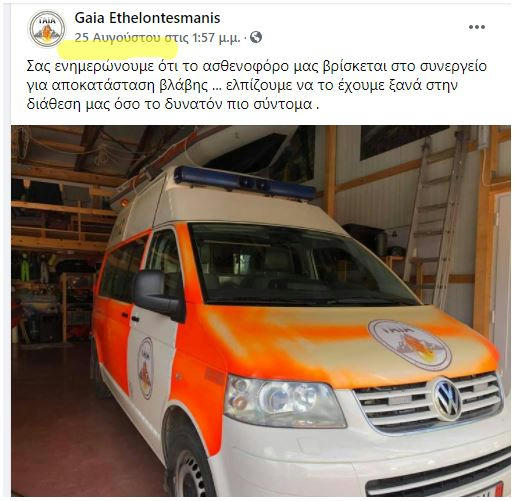 Understandably, today we are talking about a serious incident - which has occurred a lot during this period - the consequences may be tragic.
Source: Messinialive.gr