Kalamata Choir
International Allegri Chorus in Kalamata.
ALLEGRI INTERNATIONAL CHOIRS WITH 26 ACTIVE MEMBERS FROM EUROPEAN COUNTRIES WITH varied repertoire.
MAESTRO Ms. AGGELIKI LAZAROU
The International Choir Allegri was constituted an association with a new Board and with many new members after the elections of November 6, 2020.
Despite its new name, in essence it is the continuation of the Allegri choir which was part of the association of the German-speaking women of Messenia. It has contributed to the musical cultural events of the city of Kalamata since 2012. Even today, after it was constituted a cultural association, it remains an international choir, since its choir members originate from many European countries, such as Greece, England, Ukraine, the Netherlands, Moldavia, Russia, Germany, Austria, and Italy.
Guided by our conductor, excellent relations and love for choral music, the choir members have succeeded in integrating the different cultural and musical backgrounds and producing work of a high quality.
Our maestro has selected a choral music repertoire which includes a wide range of Greek and foreign songs. The choir has also participated in many song festivals and meetings with other choirs in Greece and abroad:
the Nafplio International Festival, the Koroni Festival, the Thessaloniki Summer Festival, the International Festival Elegia; in Halkidiki, the second International Choir Festival (INTERKULTUR) and at the events organized by the Association (NARTURA) in Stoupa and the church of Agioi Taxiarches of Kalamata (Nov 2019). The choir participates in the Catholic Christmas services in Kalamata every year and has sung in the big Christmas concert in the Catholic church of Ag. Andreas in Patras, as well as in the important event for the;Year of the Holy Bible; at the Cultural Center of Kalamata. Its most recent performance was at the celebration for the 20 years of the Messinian Writers; Union in October 2020.
Our conductor Ms. Angeliki Lazarou continues to lead us on beautiful musical journeys through her encouragement, perseverance and patience. In her unique way, she ensures the unity and success of the choir.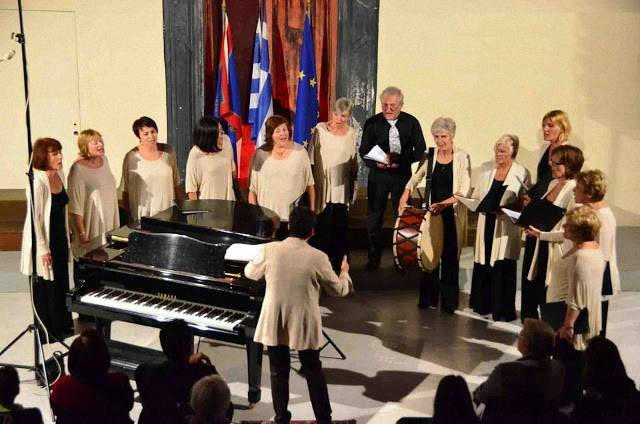 The next big event will be participation in the Kalamata International Choir Festival, 7 - 11 October 2021 Interkultur.com
New members, preferably with some choir experience, are welcome.
For information please please contact Allegri Choir at 693 666 5907,
(BvL 9-1-2021)
---