DO YOU CARRY A GREEK ORGAN DONOR CARD?
April 2011 : Soon it may not be necessary to carry a donor card! A draft law before Parliament is proposing an 'opt-out' system which presumes consent
A draft bill introducing an opt-out system regarding organ donation was presented by Health Minister Andreas Loverdos at the Cabinet on March 30. The bill foresees the principle of presumed consent to organ donation, according to which all citizens will be considered potential donors unless they have expressly stated otherwise. The National Transplantation Organisation will be entrusted with the relevant registry, in which adult citizens who do not wish to become donors can refuse their consent and be excluded from transplant procedures. The bill further includes provisions regarding cases of organ transplantation from a living donor, as well as criminal sanctions for organ trade. (Source Ministry of Health )
Meanwhile, if you want your organs to be available, you need to carry a Greek Donor card - see below

According to Wikipedia :-
The EU does not regulate organ donation uniformly; the decision is left to member states. According to a 2010 New York Times article, a total of 24 European countries have some form of presumed consent (opt-out) system, with the most prominent and "hardest" opt-out systems in Spain, Austria, and Belgium yielding high donor rates. In 2008, the EU parliament overwhelmingly voted for an initiative to introduce an EU organ donor card in order to foster organ donation in Europe . In the United Kingdom organ donation is voluntary and no consent is presumed. Individuals who wish to donate their organs after death can use the Organ Donation Register, a national database. The UK has recently discussed whether to switch to an opt-out system in light of the success in other countries and a severe British organ donor shortfall .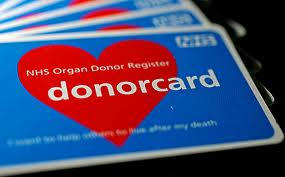 However, as yet there is NO Europe wide donor card and UK or German donor cards will probably NOT be recognised here in Greece!
The importance of registering here is high-lighted in a moving article in THIS IS NOT MY COUNTRY by deviousdiva October 20 2010. Here is an extract.....
BECOME AN ORGAN DONOR
"G reece has one of the lowest rates of organ donations in Europe , again probably due to religious beliefs and taboos but also a lack of knowledge of the system. For more information on becoming an organ donor in Greece, please go to the Hellenic Transplant Organisation. It is a fairly simple procedure of filling in a form at your local KEP* office and the organistion will send you a donor card.
Please also let your family know of your wishes in the case of your death. It is a horrible thing to have to discuss but time is of the essence when it comes to transplants. Any contest of your wishes will delay organs being harvested and render them useless.
Please do consider becoming a donor now. Don't put it off, thinking "I'll do it one day in the future". It could be too late…"
THERE IS NO AGE LIMIT TO BEING AN ORGAN DONOR - THE OLDEST PERSON SO FAR WAS 105! (For more on who can be an organ donor see WHO CAN DONATE ?)
There is a registration form on the Hellenic Transplant Organisation site. (July 2018 - currently the site has issues that prevent obtaining the form, local KEP offices may be able to provide one) You can print it out and send it to the organisation. They will then send you an official card . The form is in Greek, but here is the translation of the information requested
| Greek | English |
| --- | --- |
| ΕΠΩΝΥΜΟ | SURNAME |
| ΠΑΤΡΩΝΥΜΟ | FATHER'S NAME |
| ΗΜΕΡ. ΓΕΝΝΗΣΗΣ | DATE OF BIRTH |
| ΟΔΟΣ | STREET NAME |
| ΑΡΙΘΜΟΣ | HOUSE NUMBER |
| ΤΑΧ.ΚΟΔ | POSTCODE |
| ΠΟΛΗ | CITY |
| ΤΗΛΕΦΟΝΟ | TELEPHONE NUMBER |
| ΥΠΟΓΡΑΦΗ | SIGNATURE |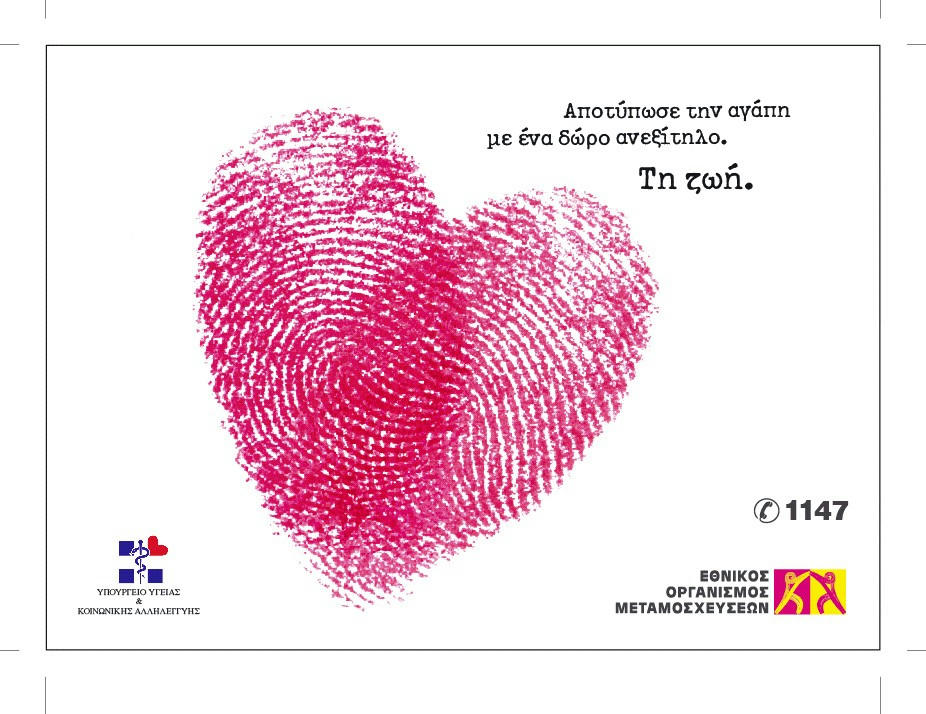 *If you take your passport to the KEP office in Kardamyli, they will fill in the registration form online for you.
---