BLUE BIN RECYCLING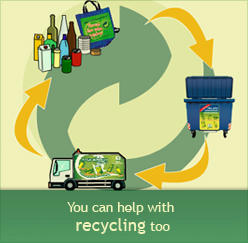 All blue bin recycling is carried out by the HELLENIC RECOVERY RECYCLING CORPORATION- HE.R.R.Co
It is just one of their recycling projects. They have a very informative website in both Greek and English (see HE.R.R.Co .)
Video showing how to recycle and what happens to your recycled packaging BLUE BIN PROJECT
More about recycling promotion/events is on the

page ΑΝΑΚΥΚΛΩΣΗ ΣΥΣΚΕΥΑΣΙΩΝ ΣΤΟΝ ΜΠΛΕ ΚΑΔΟ - RECYCLE
August 2016 : HE.R.R.Co is actively promoting correct use of blue bins by issuing leaflets/cards and promoting recycling events.
October 2014:
Even people who try to recycle, are often 'getting it wrong' and making things more difficult and costly to recycle. An article in Tharros explains the problems:-
WHAT YOU SHOULD NOT THROW IN RECYCLING BINS
General rubbish - The blue recycling bins are often used by citizens as regular garbage bins, inside which one finds the most unsuitable materials, indicating a lack of awareness that pervades much of the population.
There is a long list of materials that create problems for Blue bin Recycling Sorting - these include videotapes, gloves, sandpaper, leather items, cd disks and dvd, lamps and bulbs, ink, toner, dolls and toys (even though it's plastic), wooden items, toothbrushes, shoes**, clothes**, garments and textiles in general**, diapers, sellotape, mattresses, pens, photos, medical waste, batteries, appliances, branches, building materials, soil, fireworks and flares, plastic cutlery, paper towels, even if it is unused, and broken glassware.
Pieces of paper less than A4 - pieces of paper thrown in the blue bins must not be smaller than A4, because it can not be managed by the system, so no tickets and torn pages.
According to analytical report in the newspaper "Kathimerini", recycling containers provide an insight into the major problems still facing recycling in Greece. There is confusion and lack of information about what should be dropped or not in the blue bins.
UNSUITABLE MATERIALS CAUSE PROBLEMS IN MANY WAYS
• occupy valuable space,forming a mixed load which is very difficult or impossible to recycle
• soiling and damage to recyclable materials
• threaten to injure employees sorting waste
• biodegradeable plastic bags should NOT be put in for recycling because the decomposition process may begin while they are in the blue bins or sorting center, creating many tiny pieces and helping to create a slurry of garbage (While simple plastic bags can be recycled and made into ​​plastic film, biodegradable ones decompose - if in doubt, DON'T put plastic bags in recycling bins)
PLASTIC BOTTLES CAN BE RECYCLED, but the tops should be separated from the bottles, because they are recycled differently.
**
Clothes, bags, belts, paired shoes and household linens are all welcome in the RED BINS in Kalamata RedBin scheme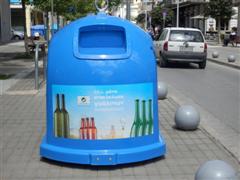 Unbroken glass can be put in the main blue bins, but since April 2014, it is better to put glass in the special Blue Bells >> in Kalamata, which are just for glass.
For more information about how to recycle various items see RECYCLE WHAT WHERE
.................................................oOo................................................
A FEW REMINDERS from the HE.R.R.Co website:-
WHAT CAN BE RECYCLED IN THE BLUE BINS?
In BLUE BINS we dispose of all PACKAGING ITEMS, namely: aluminium, tinplate, plastic, glass and paper. Aluminium Packaging , e.g. soft drink cans, beer cans, etc.
Tinplate Packaging , e.g. used for evaporated milk, tuna, animal feed, concentrated tomato juice, etc.
Plastic Packaging , e.g. water bottles and containers, soft drinks, yogurt, butter, oil, detergents, cleaning materials, shampoos, shower gels, films, tooth paste, deodorants, plastic carrier bags, etc.
Glass Packaging , e.g. bottles and jars, juices, soft drinks, alcohol beverages, food etc.
Paper Packaging & Cartons , e.g. from electric devices, milk, juice, cereals, pizza, biscuits, sugar, detergents, paper carrier bags, etc.
HOW SHOULD IT BE RECYCLED CORRECTLY?
# Sort the used packaging materials from other materials in the household on a daily basis.
# Scrape out all remains from packaging.
# Squeeze as many packaging items as possible and fold cartons.
# Do not put packaging items in the bin in tied-up carrier bags; we put them loose instead.
# Never put ordinary rubbish in the blue recycling bins.
# Spread the message οf recycling packaging to all friends and people you know.
.........oooOOOooo..........
ABOUT THE HELLENIC RECOVERY RECYCLING CORPORATION - HE.R.R.Co
This corporation was formed in 2001. Today (10/05/2011), more than 1,680 companies, covering the entire spectrum of business activities , have joined C.A.M.S.- RECYCLING, of HE.R.R.Co S.A. The long list of companies affiliated with HE.R.R.Co proves that the Collective Alternative Management System (C.A.M.S.- RECYCLING) has gained extremely wide popularity and acceptance among all packaging operators, operating and active in our country.
Recent figures for our local Blue Bin scheme (from Municipalities participating in the scheme)
MESSINIA R.S.C. of Kalamata( results for 2010 )
Polulation (31/12/2010) 161.381
Number of Bins 1.938
Number of Vehicles 7
Packaging Waste & Print Paper Recovery - annual total (tonnes) 4.857
---