ABOUT WATER - ITS SUPPLY AND USE IN W. MANI
If you are without a consistent supply of water, please contact the Dimos through the info\dimosdytikismanis or call:
Water Supply Defects
Responsible: Maria Kapitsinou
Phone: 27213 60919
with details of the problem, and the location of your house.
Water Supply Office at 27213 60904 Pousi Evangelia.
Deputy Mayor in charge of Water Supply and Civil Protection, Mr. Lympereas Christos +30 6973 992747 (with a term of two years, from 1-.9-2019 to 31-8-2021)
In W. Mani, we usually get plenty of winter rain, however, there is little collection and storage of winter rain, and the water distribution system is old and full of holes, so a lot of water runs to waste. Also, many people use water extravagantly.
The result, some people in West Mani, especially those living in hillside properties, that are not near village springs, are without water for days in summer.
As many people have had difficulty getting information or advice, we are working with the Dimos and others, to provide information about the water supply, on the Parea site.
We are adding to this page as we get information.
---
Cold weather tips for protecting your water supply:
If it is forecast for cold below 0 °C - you might be able to avoid your house meter and your water taps & pipes from having a problem.
Leave a tap on in each line of your water supply - only a very slight drip
will allow the expanded frozen water to push water out of the pipes to leave room for the frozen water - so your pipes should not break.
Make sure your solar water heater has its yearly check - cleaning out the salts from the system, and topping up with the proper anti-freeze for solar systems. Even a short freeze can break a water solar system. (Also cleaning out the salts and changing the rod inside helps have more hot water - greater efficiency - therefore less need for an electrical boost of power.)
Protect your automatic watering system with a covering - heavier market bags, might be ok, as long as the wind doesn't break the bags. However, a plastic flowerpot cut tightly to fit over the system and pipe, is enough protection to prevent them breaking. Maybe better to have both, if you are in an area at higher altitude, and had more frequent snow, than closer to sea level.
WATER BILL PAYABLE ON-LINE You can now pay your water bill by bank transfer.
Recent water bills eg (BILL IMAGE) have shown the W Mani Piraeus Bank account number, but you also need the IBAN.
ΤΡΑΠΕΖΑ ΠΕΙΡΑΙΩΣ (Piraeus Bank)
ACCOUNT NO 6343030022501
IBAN: GR8401713430006343030022501
SWIFT Code/ BIC PIRBGRAA
See below for detailed explanation of the rest of your WATER BILLS .
WATER BILLS :
Water bills are issued usually every 3 or 6 months and should be paid at the town hall in Kardamyli. The office is on the ground floor at the far end of the building. The exact location of the WATER SUPPLY OFFICE is in the GUIDE TO WEST MANI DIMOS The most recent bills cover the period July to September and should be paid BEFORE 31/12. Note that people with unpaid bills exceeding 100€ will have their supply cut off.
Click on the image to get an enlarged view of the bill with translation
When you hand in the bill and money you will be given an official receipt.
Electronic/card payments:
We ask our Citizens who want to pay the water bills with a card not to come to the Town Halls of Kardamili and Kambos ON THE LAST WORKING DAY EVERY MONTH because for technical reasons the payment will be made only in cash, all the remaining days can be paid at the card acceptance terminals (POS) at the Town Halls of Kardamili and Kambos.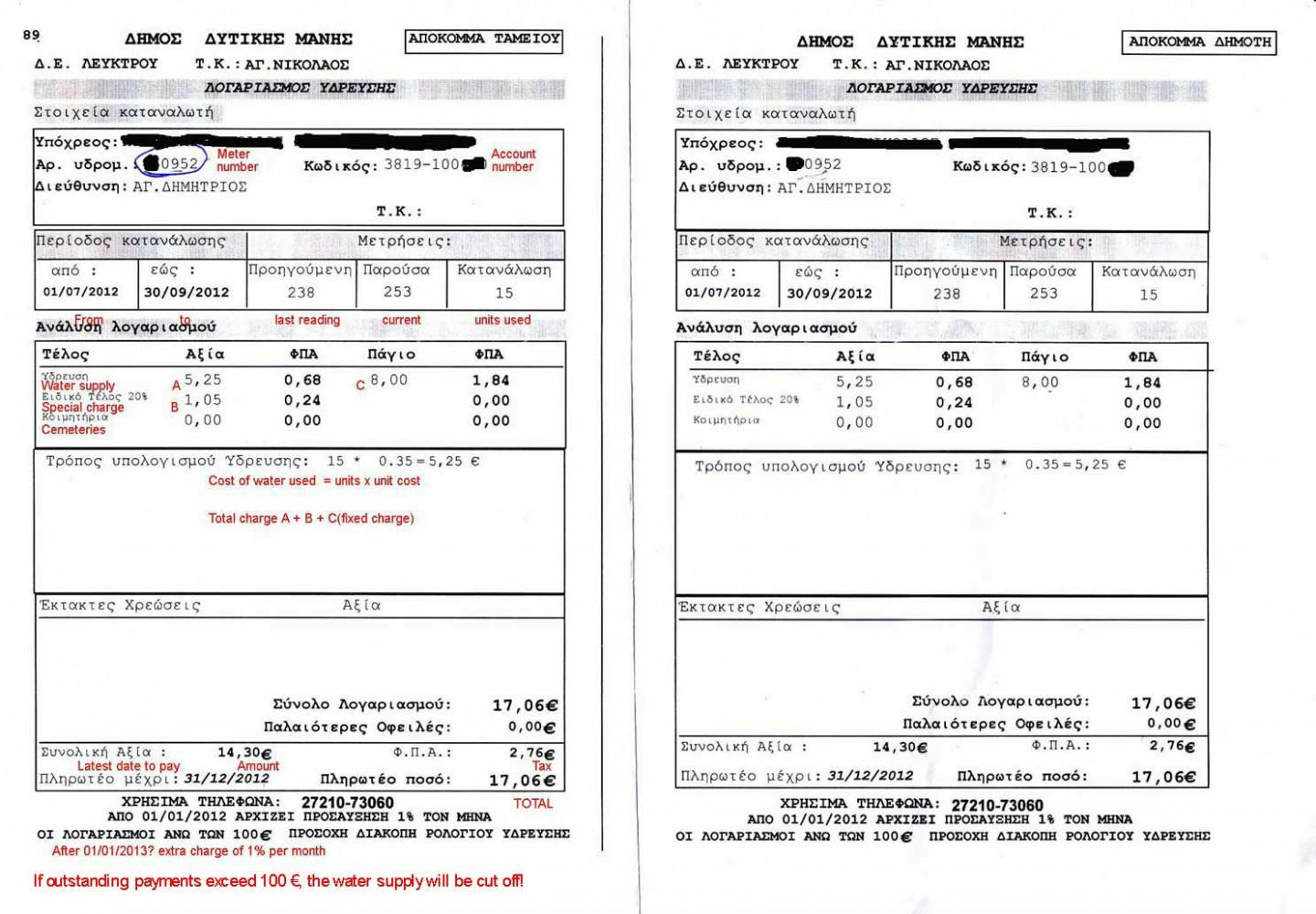 ---