BLOOD DONATION IN GREECE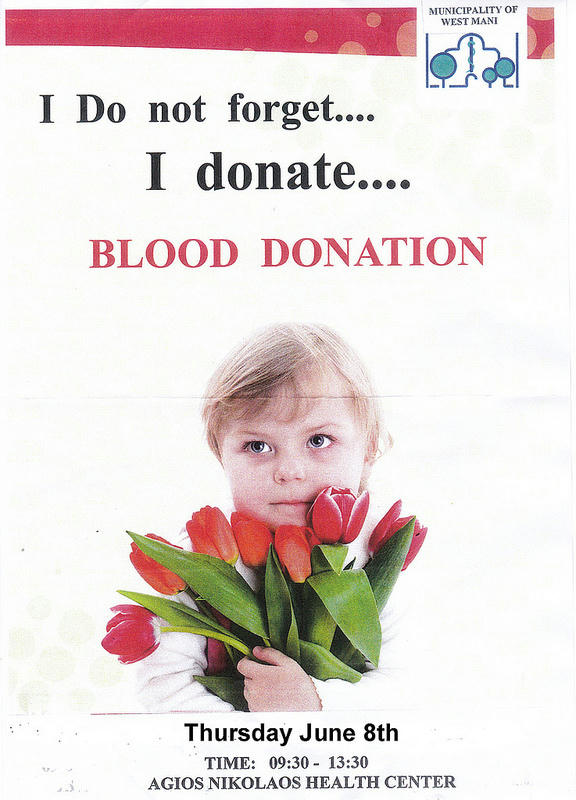 ​
" As usual we need blood! The next blood donation drive is
11 December, 2019
At Ag Nikolaos Health Centre
From 9.30 until 13.30
The donor age has increased to 65.

Note: In Greece people are expected to repay a blood debt, by donating an equivalent amount of blood. If there are not enough family mermbers able to donate, they rely on the generosity of the general public to help ensure there is enough blood available for the next emergency.
HAPPY DONORS at the Ag Nikolaos Health Centre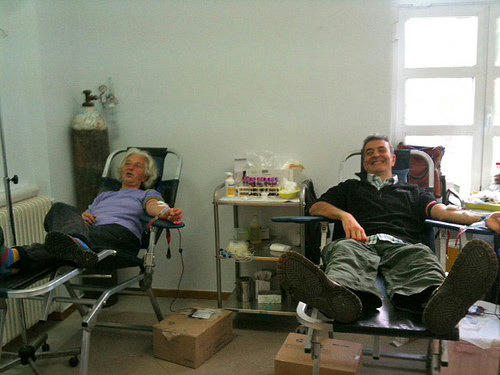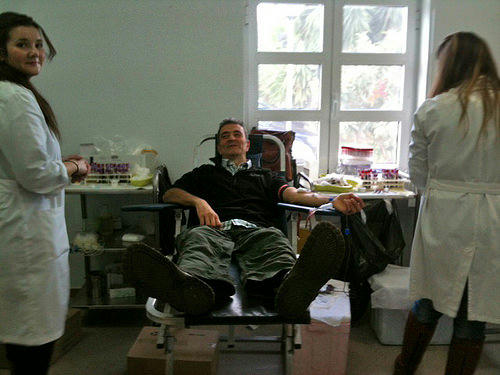 Unfortunately, if you are over 65 years old, or take blood pressure or cholesterol-reducing tablets, you CANNOT donate. If you are over 18 years of age and healthy, please consider donating.
Here are a few guidelines for first time donors:
No alcohol for 24 hours before. Eat breakfast beforehand, as you cannot donate blood on an empty stomach. Do not plan to do a lot of physical work after you have given blood. A small snack is offered to the donors afterwards. For more information, please call Kyriakoila Christea on 6979 044 606, or Pamela Garelick on 27210 77893 or 694 603 6793 (NOT between the hours of 3pm to 5pm!)
GIVING BLOOD
(Reprinted from Manifest issue 2)
In Greece, each municipality is responsible for supplying blood to the nearest major hospital. If someone has an accident and requires blood, they are asked where they live. The supplies are then checked to see if that particular municipality has donated enough, not only blood, but also the particular blood group that is needed. Sometimes urgent calls are made for individuals or family members to donate blood. Our municipality is required to supply Kalamata hospital with a specific number of bags of blood, but unfortunately the target is not always met. This is the reason that we organise at least two blood donation sessions a year in our local community, at the Aghios Nikolaos Health Centre.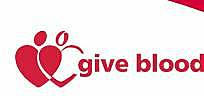 Ag. Nikolaos health center (Tel. 27210-77210) In this area you have the opportunity to donate blood at the Ag. Nikolaos health centre. The blood bus from Kalamata comes twice a year, the date is advertised in advance.
Kalamata hospital ( Tel. 27210-46000) You can also donate blood at Kalamata hospital. The blood donor centre is on the ground floor and is usually open from 9 -1pm. It is advisable to check the times in advance. To give blood you have to be under 65 years old, healthy and not on any medication.
---