PERIPHERAL BLOOD CELL DONATION FOR BONE MARROW TRANSPLANTS*
Bone marrow donation process no longer requires surgery but can be done through blood donations, and to register as a volunteer donor, all you need is a saliva sample.
* Video explaining a bit about why and how REGISTRATION
The Center for Media and Attracting Volunteer Bone Marrow Donor University of Patras (KEDMOP) has been promoting the need for donors. To learn about the ways you too can help a patient with blood cancer, visit www.xarisezoi.gr or call tel. 2610 997 510 (Mon-Fri 9 a.m.-4.00 pm).
Or you can get information and register in theGreek and global volunteer donor registry, at the Thalassemia-Hematology unit section of Kalamata Hospital
Registration Procedure for the Global Volunteer Bone Marrow Donor Registry (GREEK )
STEP 1 : register interest in becoming a donor.
♥ Visit a centre
♥ Fill in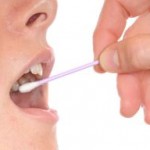 the bone marrow donor registration form.
♥ Give mouth swap(saliva sample ) or blood (5-6 ml of blood - less than you need for a simple blood count)
or, from your home
♥ Send a request by email to Give Life cbmdpatras\upatras and we will send you a dossier containing:-
-- Brochure for the donation of bone marrow, and the ways you can help the Give Life organisation.
-- Registration form for a bone marrow donor.
-- Instructions on how to collect oral swab, and the necessary paraphernalia to collect your sample yourself .
♥ Send your sample back to Give Life (High Aloni 11, 26224, Patras).
STEP 2 What happens next at Give Life
♥ Laboratory sample analysis (HLA typing), and if ok.
♥ Registration for the Greek (NTO) and Global Volunteer Bone Marrow Donor Registry (BMDW).
♥ Notification to donor of their registration in the World Volunteer Bone Marrow Donor Database (BMDW).
CONGRATULATIONS! You became a potential volunteer bone marrow donor !
STEP 3: If you find yourself compatible with a patient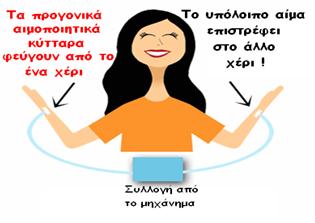 ♥ "Give Life" tells you that they found a match with a patient requiring transplant and asks if you still wish to make a donation.
♥ You are called for the necessary tests. You have to be completely healthy.
♥ Then donation cells are collected from your blood using a process called Leukapheresis - It is like giving blood
About BONE MARROW DONORS WORLDWIDE (BMDW)
........................................................................................................................................
There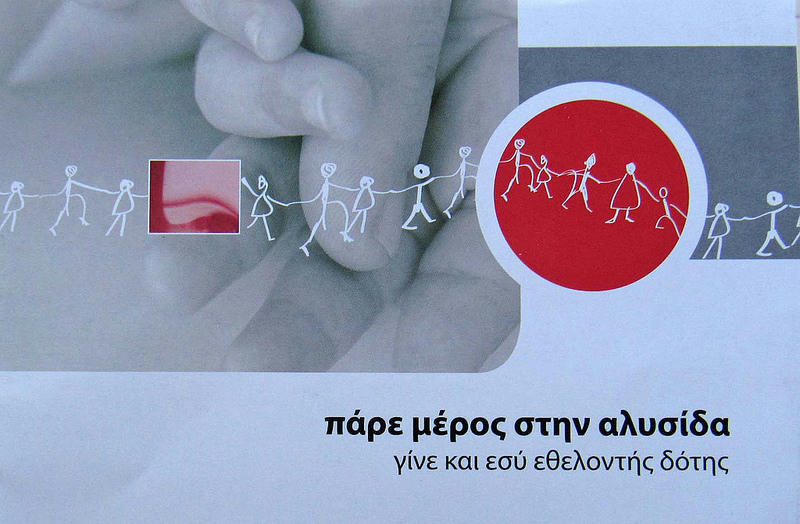 is now a much simpler process for collecting suitable cells for bone marrow transplants. It is called Peripheral Blood Cell Donation (PBCD). Unlike the earlier process of extracting cells, which requires the extraction of cells from within the donor's bones, this new process uses only cells extracted from blood . The donor's blood is taken from a vein in the arm (as for whole blood donation), the required cells are extracted, and the rest of the blood is returned to the donor. (2010)
Here in Greece, the Hellenic Society of Haematology ** is running a campaign to increase awareness of the process, dispel the many myths about donation, and persuade more people to register as donors for a National Bank of donors. Generally, people within a national group are more likely to find a match from within their own ethnic group, so more Greek donors will increase the chances of a match for a Greek patient.
Currently, Greece is well behind most of Europe in the number of donors per 1000 of the population, which means that anyone here needing a transplant is unlikely to find a suitable donor in Greece! ( Unlike in Cyprus, where, through education and the co-operation of the various communities, by the age of 18, most young people regard registering as a donor, a social obligation )
Unfortunately only about 1 in 3 patients will find a suitable donor within their family , the rest rely on volunteers.
COULD YOU BE A DONOR AND SAVE A LIFE?
Who is eligible?
If you are in good general health and aged 18-65 (up to 75 within your family) you are likely to be eligible. Anyone who can give whole blood is eligible, but many people who CAN'T give whole blood CAN be a blood cell donor.
If you have anaemia you CAN give cells
If you have high or low blood pressure you CAN give cells
If you have thyroid problems you CAN give cells
If you have had an operation you CAN give cells after 6-12 months
How do you register?
The first step is to fill in a general questionnaire and give two small phials of blood for testing. This can be done at many registration centres thoughout Greece, usually in hospitals, including Kalamata. The plan is for the mobile Blood Donation unit that visits Ag Nikolaos twice a year, to be able to take samples for testing.
What happens if you are asked to donate?
The liklihood of being called to donate is low, but if you are, you will need to go to your nearest donation centre. From the Mani you will need to go to Patras or Athens. Once at the centre, you will have a thorough medical, be asked a lot more questions, and if all is well, your cells will be harvested. As for a blood transfusion, a needle will be put in your arm to extract blood . The blood will go through a special device that extracts the cells needed and the rest of your blood will be returned through your other arm. The process will take a few hours.
The cells extracted from you will be sent to the patient wherever they are in the world!
YOU MAY SAVE A LIFE!
PLEASE REGISTER AS A DONOR IF YOU CAN , AND ENCOURAGE EVERYONE, ESPECIALLY YOUNG PEOPLE, TO CONSIDER REGISTERING AS DONORS
** If you understand Greek these videos will tell you more. BLOOD STEM CELL DONATION
---