Household Composting
As part of the Dimos plans to tackle the problems of solid waste management, they are working on a series of measures for waste reduction and recycling at source. Encouraging household composting is part of the scheme. Anyone interested in knowing more or already composting at home, please contact tel. Department of Environment and Cleanliness, 1st floor, Town Hall, 2721360907 or iexarhoulea\dimosdytikismanis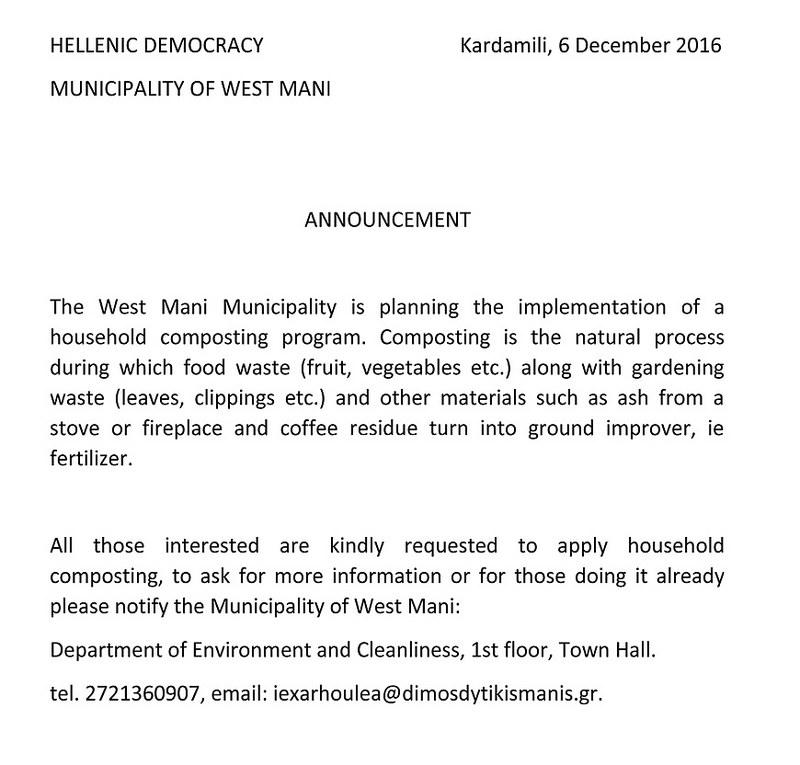 COMPOSTING IN GREECE
July 2016 :Composting made even easier! With rubbish disposal in the summer heat, reaching crisis point again in W Mani, we need to make every effort to reduce the waste going to landfill, and composting is something nearly all of us can do. Shelley sent us this YouTube video How To Make Compost - Easy Composting Tips -- The process is quick, but if you want 'worms' to speed things up, as suggested in the video - see below!
Composting made easy!
If you want to do your bit for the environment as well as reducing waste, a small household composter could be the answer. Last year Voula Kyriakea started a campaign to encourage both households and businesses to compost their organic waste. There is also a system in place in Kalamata for communal use of bins** - RETHINK PROJECT Now Di Billinge can help you overcome the problem of finding a suitable composter, if you do not have space in your garden for a compost area. She is an agent for SUN-MAR composters, and can arrange delivery and give advice. If you would like to know more, please contact her on dianehilary\googlemail (July 2014)
July 2013 - As part of the campaign to tackle the rubbish crisis, the W Mani Business Assoc. produced a series of leaflets to promote rubbish reduction through recycling and composting. Below are composting information/instruction pages in English and Greek. Click on the links for full size leaflets you can print out.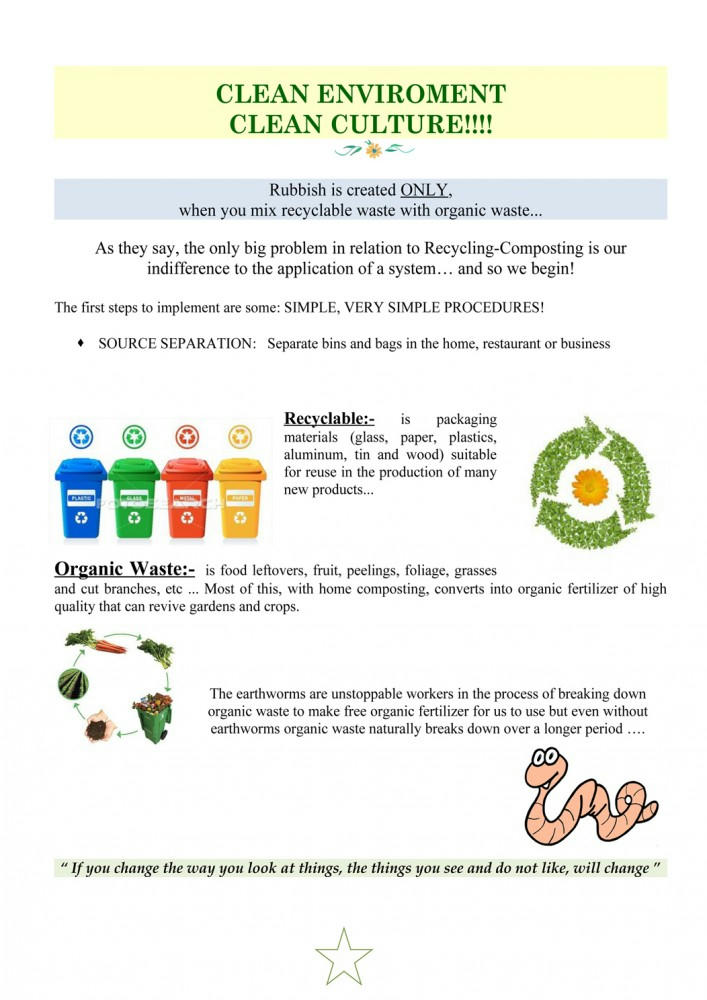 ..
..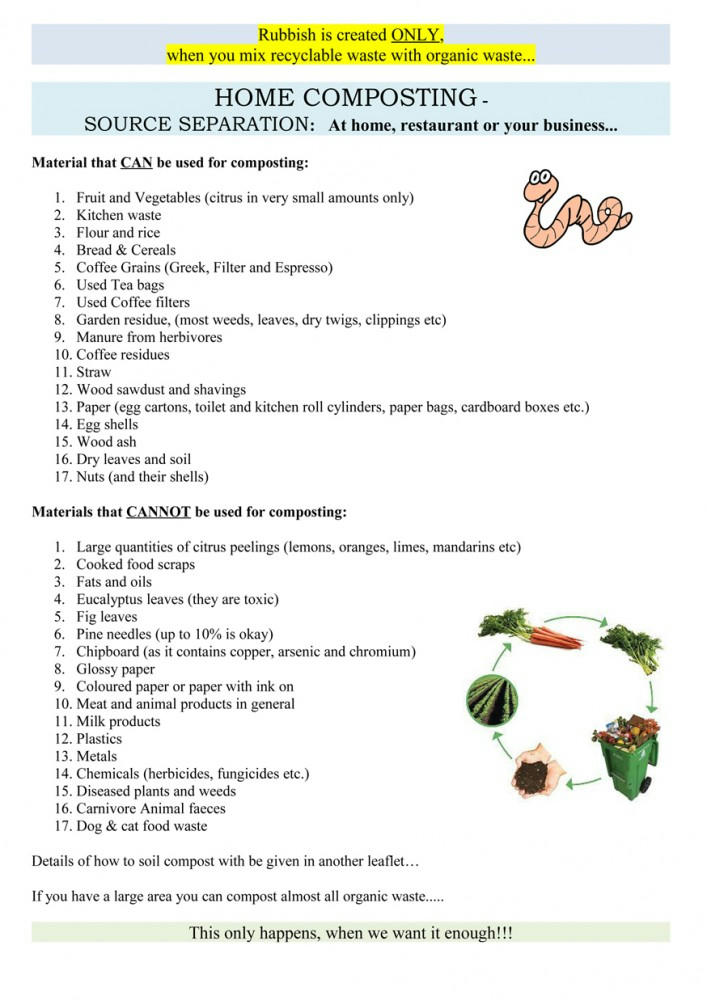 ..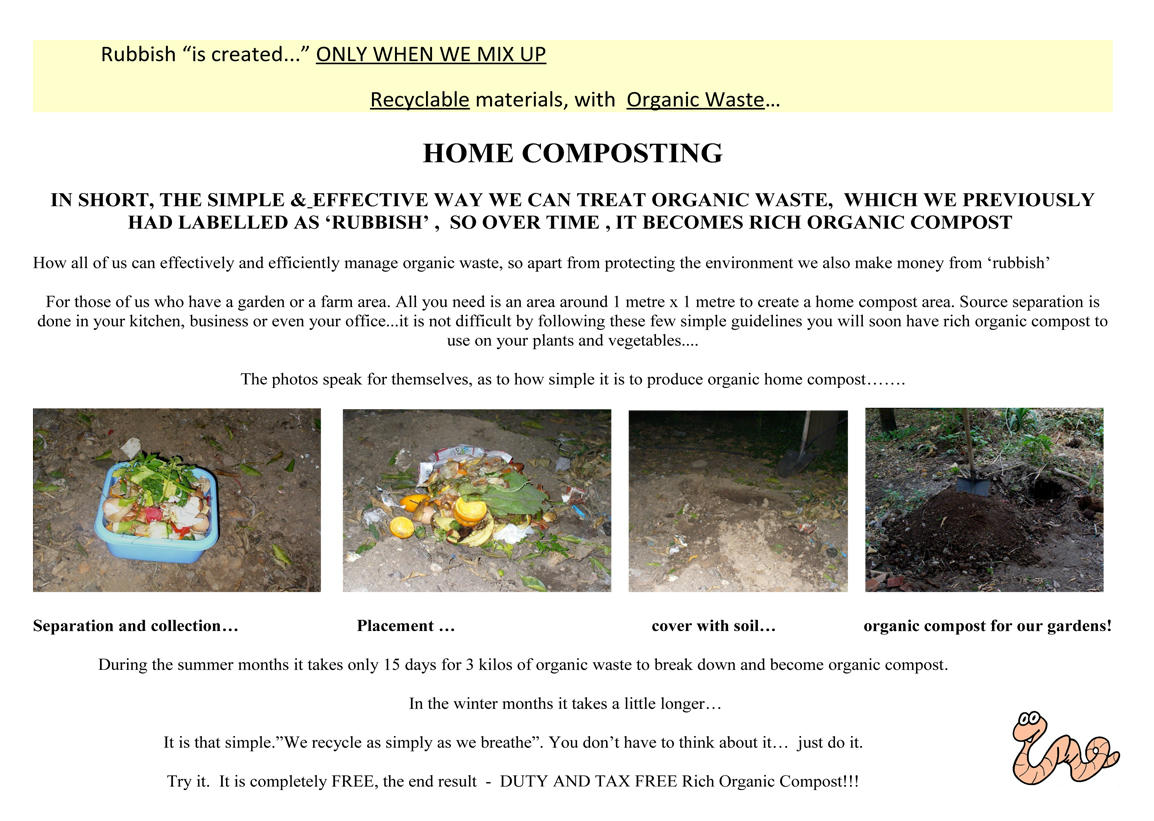 (1) separation ............. (2) ways to compost ....................... (3) what can be composted ............... (4) rubbish->compost
(1) Separation at source : ENGLISH .................... GREEK
(2) Ways to compost : ENGLISH...................... GREEK
(3) What can/can't be composted : ENGLISH ...................... GREEK
(4) From rubbish to compost : ENGLISH ..................... GREEK
.......................................................................................................................
2010 - Here in Greece composting is a relatively new concept, but is gaining support because of the need to reduce waste$. For information on how to compost in this climate, see the article by Kerry in the Manifest Magazine (issue 5) Here is an extract .....
I have been composting successfully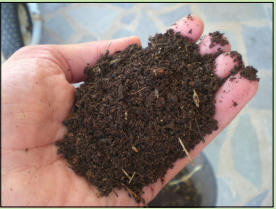 in Greece for the last 6 or 7 years, but I have had to make a few refinements. The first issue is moisture. If you have an open heap then it will quickly dry out between the months of May to September, so it is better to contain the waste. Even so during the summer a light sprinkling of water is required about once a week. Keep the pile covered with cardboard or old cotton fabric to conserve moisture.
A household shredder is used to shred our scrap paper and thin cardboard. This is then added to the composting pile to keep it light and airy but also to absorb and conserve moisture.
The third ingredient to successful composting is an activator. For this I use a sack of goat manure (fouski) from the local nursery. A sprinkling every now and then adds nitrogen which accelerates the breakdown and probably adds useful bacteria. The heat generated will also kill many seeds in the pile and act as a steriliser. If the mixture is not mixed well it becomes anaerobic, where the lack of oxygen will lead to a foul smelling mess.
The sort of things that you can add from your kitchen are uncooked vegetable and fruit waste, fish bones, tea bags, coffee grounds and egg shells but no cooked food or meat......
Kerry also has a wormery with a special type of worm that will stay within the compost heap, so it is possible to have a compost heap without a special container. These worms will do the same job as goat manure. If you want to know more about this contact Kerry on 27210 78240 info\thespiritoflife.co for information and a supply of worms for your heap! Before long you will have enough worms to supply your friends. Lets start worm chains!
There is also a useful website HOW TO MAKE YOUR OWN WORM COMPOST with detailed instructions on getting started.
.....Vermiculture, or worm composting, allows you to compost your food waste faster than you ever imagined, while producing the highest quality compost and fertilizing liquid. Best of all, it's self-contained and nearly odorless! ...
$ Composting units can now be purchased at various nurseries and supermarkets in Kalamata.
---