HEALTH CENTRES IN THE AREA
AGIOS NIKOLAOS HEALTH CENTRE
(Messinia)
December 7th 2016: Local residents & staff of the Ag Nikolaos Health Centre, angry and frustrated by the lack of progress in resolving the staffing issues, have published
an OPEN LETTER OF PROTEST (English & Greek) to The Health Authorities.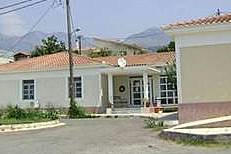 Nov 6th 2016 : Health Centre will remain open 24hours. There is still uncertainty about how the Ag Nikolaos Health Centre will be able to continue offering a 24hour service, but the Director has been told officially that doctors must work extra shifts, if necessary, to provide cover until alternative arrangements can be made. However, the protest meeting at the Health Centre on the 21st, and the publicity it received, seems to have given impetus to finding a solution, It is understood that 2 temporary doctors, perhaps trainees from Kalamata or Army medics will be transferred to Ag Nikolaos for the 4 or so months until the 2 permanent replacement doctors arrive.
** Even BEFORE the latest loss of staff, doctors were working some extra, unpaid shifts!
CONTACT INFORMATION
Address : Agios Nikolaos, PC 24024
Tel: 27210 77210
We also have other medical help in the area . We have a doctor in Kalogria(Stoupa) and Gaia volunteers.
Dr Sofia Xristofilopoulou: 27210 77771 or 6977 779 314 : Dr Sofia takes both private and IKA patients. Opening Hours : Morning : 09.00 - 13.00 and Evening 19.00 - 20.30, but from October 2013, she will see patients in the evening by appointment only. She is able to issue a limited number of free prescriptions at the beginning of each month, after which there is a small charge.
Gaia volunteers: 6972 388 717 or Gaia base 27210 79199 : Gaia volunteers are trained in first aid, have an AED(defibrillator) and are available 24/7, for emergency call out. They have equipment for rescuing and transporting casualties from road, mountain or sea accidents, to the health centre or Kalamata Hospital.They may be able provide or arrange free medication for people in need, from their social store, or through their links with the Medical Social Solidarity Network based in Kalamata
---
AREOPOLI HEALTH CENTRE (Laconia)
The Areopoli Health Centre is located on a small road leading off to the left (as you enter the town from the north), just past the AVIN petrol station. Its phone number is 27333 60011 . It is open 24/7 for emergencies, and otherwise Mondays to Fridays from 7.30 a.m. to 3.00 p.m. for non-urgent matters. It has facilities for x-ray and blood tests. X-ray services are available until 3.00 p.m. every week day, but not on weekends. For blood tests, if you go in on Tuesdays and Thursdays between 7.30 and 10.00 a.m. to have the blood taken, they should normally have the results for you by 2.30 p.m. on the same day. Being in Lakonia, the AHC usually refers patients to the hospital in Sparti, but they can also refer to Kalamata. They accept patients from both Messinia and Lakonia
More information from the Sparti Hospital site:-
Areopolis Health Center (Κέντρο Υγείας Αρεόπολης)
The Health Center Areopolis a decentralized primary health care units of Sparta General Hospital, with projected three (3) beds.
Director of the Health Center Areopolis Anargyros D. Mariolis
The Areopolis Health Center operates 24 hours a day along with five (5) Regional clinics serve about 15,000 patients-citizens from the region of Municipalities Itylos and Eastern Mani.
The Areopolis Centre usually has two (2) ambulances to serve the citizens. Weekends operates permanent staffing (medical and other).
CONTACT INFORMATION
Address : AREOPOLI LACONIA, PC 23062
Tel: 27333 60011, 27330 51242 and 27330 51259
Fax.: 27333 60025 : Email: hcareopolis\gmail
Kalamata hospital is situated north of Kalamata on the right hand site of Athinon Street after the airport intersection, tel.: 27210-46000.
For further information on Peloponnes' hospitals please check http://www.ellada.net/ellada/hospitals-peloponnese.php
---