Olive: Alternative method to combat the Dako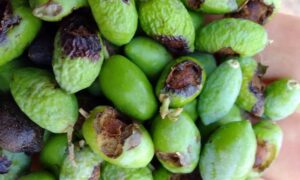 Posted on 17/10/2022
Mass trapping is an alternative control method, which can be integrated into an integrated framework for the control of dako
In a program of comparative experimental works of the Ministry of Rural Development and Food with the aim of protecting 5,000 olive trees from the olive blight, the Directorate of Agricultural Economy and Veterinary Etoloakarnania participates .
The specific program evaluates the effectiveness of combating the olive borer through mass trapping, using closed attract-and-kill traps.
The method of mass trapping is an alternative method of control, which can be integrated into an integrated framework for the control of dako.
Its main advantage is that it is a method friendly to the environment, the user and the consumer .
What is dacos
The dacos can reduce the production and degrade the commercial value of the olive fruit
The damage caused by the dacos to the olive fruit, if the appropriate preventive measures are not taken in time, it is possible to exceed 50-60% . The damage is quantitative and qualitative .
In particular, the dakos can reduce the production and degrade the commercial value of the fruit, but also cause quality damage to the olive oil produced mainly due to the increase in acidity, oxidation and the alteration of its organoleptic properties. In our country it has 3-7 generations a year.
The optimal spawning temperature range is 20-28 °C, and it stops below 15 °C or above 33 °C. Summer temperatures above 31°C and low relative humidity (20-25%) cause high mortality in eggs as well as young larvae (especially 1st and 2nd instar).
Source: Messinialive.gr